2023 Ducati Panigale V4 Is Out
The Panigale V4 has been modified by Ducati for the 2023 model year. The Panigale V4's most recent update made significant improvements to the engine, winglets, and bodywork. The most recent update now includes improved circuitry. With these small adjustments, the Panigale V4 should be easier for riders to control. All of the new Panigale V4 and V4S versions have these upgrades.
Ducati claims that rather than keeping its race-spec bikes in the same state of tune for several years, the updates are more in line with changes to its race-spec machines each season. Having said that, existing Panigale V4 owners will also receive a software update to receive the updated electronics. Owners can update their Panigale V4 by visiting the closest servicing facility. The 2023 Ducati Panigale V4 now costs Rs 23.50 lakh and the V4S costs Rs 28.40 lakh (ex-showroom, Delhi). Although the prices are now steady, we anticipate a rise for the 2023 model year.
Updated programming for Engine Brake Control (EBC) Evo 2 software, with gear-by-gear calibration on the three selectable levels, is included with this incredibly fast motorbike. The technology has also been modified by Ducati to function effectively with each gear in the three levels; this enhances the bike's stability and accuracy when braking and cornering and, overall, perfect the intensity of engine braking. After a vigorous ride or a demanding stint on the track, the radiator fan's modified programming prevents heat build-up.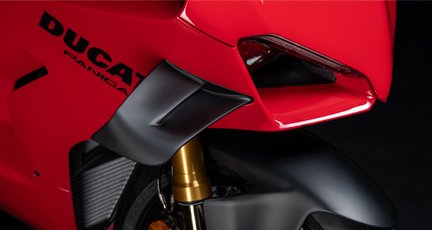 The Panigale V4's 1,103cc, V4, liquid-cooled Desmosedici Stradale engine, which produces 216.95PS and 124Nm, is fundamentally the same. Nevertheless, the European specification has 218.4PS more power. The new Ducati Quick Shift is added to the upgraded Panigale V4 (DQS). A partial and full power, the fast shifter offers smoother shifts. The previous update abruptly stopped the ignition for partial throttle shifts, while the new update delays ignition timing and makes the gear change happen more smoothly. An upgraded ride-by-wire system is included with the Panigale v4 to enhance the torque delivery on the motorcycle when the throttle is turned.
Are you excited to know more about the 2023 Ducati Panigale V4? Comment down below
Also, see