Harley-Davidson X 440 Roadster Unveiled
The business unveiled the future Harley-Davidson made-in-India motorcycle, less than two months after we first saw it. The Harley-Davidson X 440 Roadster, the first motorcycle to result from Harley's collaboration with Hero MotoCorp, has a flat handlebar, neutral ergos, and a butch styling that more closely resembles H-D's vintage XR roadsters than its hallmark cruisers.
Although not much has changed since the first photos surfaced, these fresh images do provide us with a clearer view of the motorcycle. We now know that its meaty-looking, oil-cooled, single-cylinder engine will have a displacement of 440cc. It is probably going to be significantly more potent and torquey than something like a Royal Enfield Classic 350 (20hp/27Nm), given its displacement and the fact that it is oil-cooled. From this motor, you could potentially see as high as 40Nm, which should make for a reasonably simple urban experience. This is just the second contemporary Harley, after the Pan Am, to use a chain drive as the final drive.
Although there are neither forward-set footpegs nor swept-back handlebars like on a standard cruiser, ergonomics are nevertheless quite neutral. Instead, there is a flat handlebar (placed on some substantial risers) and mid-set pegs, which should result in pretty upright, possibly slightly athletic seating.
The tires are one change that has been made. The Harley-Davidson X 440 Roadster was previously spotted using CEAT Zoom Cruz tires, however, it has since been sighted mounted on MRF tires with a vintage tread design like that of the Pirelli Phantom Sportscomp. The motorcycle has 18-inch front wheels and 17-inch rear wheels, which give it a good, commanding posture.
The headlights, indicators, and mirrors all have a circular design, and the taillight is an oval-shaped pod that protrudes from the back fender. The indicators have some nice decorations with Harley logos in the middle, and the headlight has an LED DRL bar going down the middle.
Overall, the motorcycle appears to have been well crafted, and the fit and finish are excellent. This is indicated by details like the engine's polished cooling fins and the fasteners all over the motorcycle. Despite not being visible in these most recent photos, we are aware that the instruments will be entirely digital and have a single, rounded pod-like shape.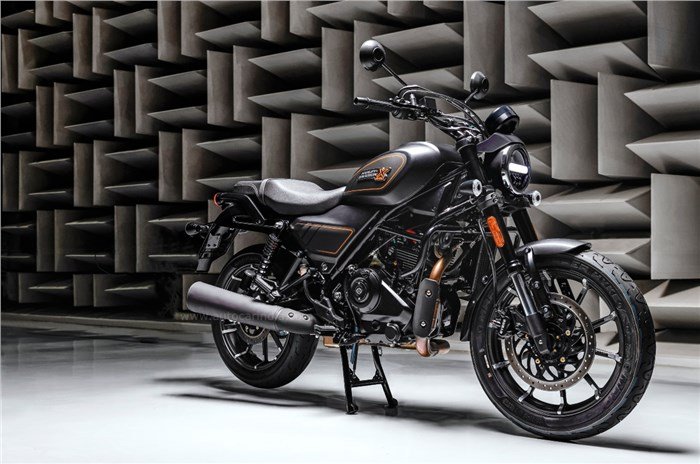 The huge, somewhat square-shaped gasoline tank dominates the motorcycle's front, while the back has a more streamlined appearance. With fairly substantial hold rails on either side, the single-piece seat curls up as it flows into the pillion portion. The exhaust system, which appears quite plain and straightforward in comparison to the rest of the motorcycle, maybe the one rather uninspiring design detail.
The Harley-Davidson X 440 Roadster is held together by a tubular frame with a single-downtube design that is located underneath the bodywork. It is supported by preload-adjustable twin shock absorbers and an upside-down fork. At each end, there is a single disc brake, and dual-channel ABS is standard.
The Harley-Davidson X 440 should sell for between Rs 2.5 and 3 lakh (ex-showroom), based on what we can tell from these photographs when it is released in early July. The entry point to the range might be a somewhat different version from what we see above, possibly with less complicated equipment. For comparison, the RE Classic 350 is priced between Rs. 1.9 lakh and Rs. 2.2 lakh (ex-showroom, Delhi).
Are you excited about the Harley-Davidson X 440 Roadster? Comment down below
Also, see
2023 BMW 5 Series Sedan Revealed
Follow us on KooApp – here