Kawasaki Eliminator Unveiled
We reported a few months ago that Kawasaki had launched a new-generation Eliminator 400 for the Japanese market. That Kawasaki Eliminator has now been presented in the United States but with one major difference: a new 451cc parallel-twin engine.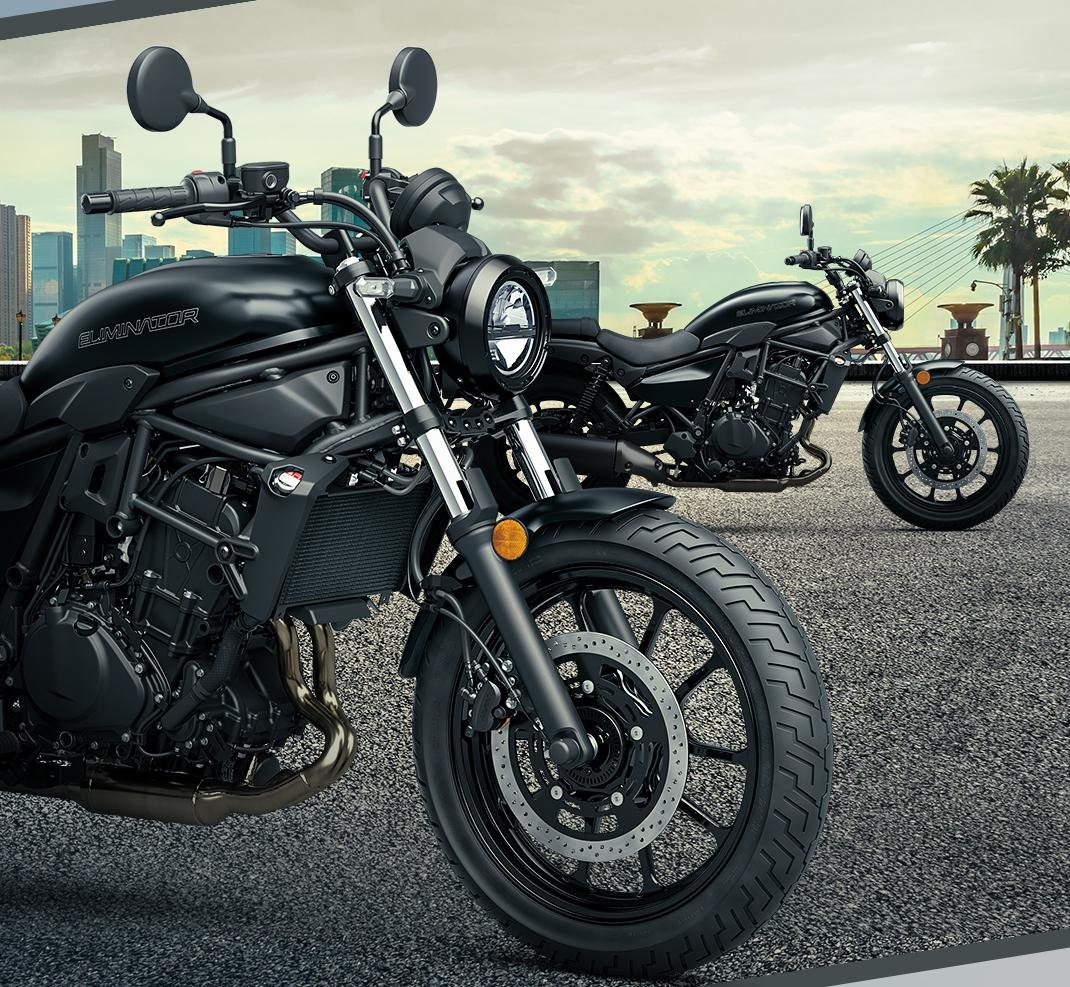 This engine began as a Ninja 400 engine but with modifications such as a 6.8mm longer stroke, larger 32mm throttle bodies, and a massive 5.8-liter airbox. According to Kawasaki, the goal was to make the bike more relaxed with enhanced low-speed rideability. It remains to be seen how much of the Ninja's peaky, sportbike-like personality has been lost. The Kawasaki Eliminator has a six-speed transmission with a slip/assist clutch.
Kawasaki Eliminator, like the Eliminator 400, features a completely redesigned chassis. The dual rear shock absorbers on this frame give it a more realistic cruiser look than the mono shock on the Vulcan 650. The frame architecture allows for a long and low design motif, and the new Kawasaki Eliminator appears to be a more modern, better-looking version of the Vulcan S with more attractive proportions.
It sports a big 18-inch front wheel, like the Vulcan S, but the rear wheel is 1 inch smaller than the Vulcan S's 17-inch. There are single-disc brakes on both ends, and two-channel ABS is an option in the United States.
The Kawasaki Eliminator sports a low seat height of 734mm and, like the larger Kawasaki Vulcan 650, Kawasaki's ero-fit technology. Customers can adjust the bike to their height and comfort by selecting from a variety of customizable handlebar and footpeg configurations. Ground clearance is 150mm, and the bike weighs a mere 176kg in US-spec, making it significantly lighter than the 226kg (US-spec) Vulcan.
This bike is currently only mentioned on the Kawasaki USA website, although it has been teased for the European market as well. If Kawasaki develops a Euro 5 (and thus BS6) certified version, there's a high possibility this bike will make it to our market.
Are you excited about the Kawasaki Eliminator? comment down below
Also, see
Kawasaki ZX-6R Could Relaunch In India
Follow us on Twitter – here