2021 KTM 1290 Super Adventure R Unveiled
The biggest road-focused bike that KTM makes is the 1290 Super Adventure R which is now re-engineered for MY 2021.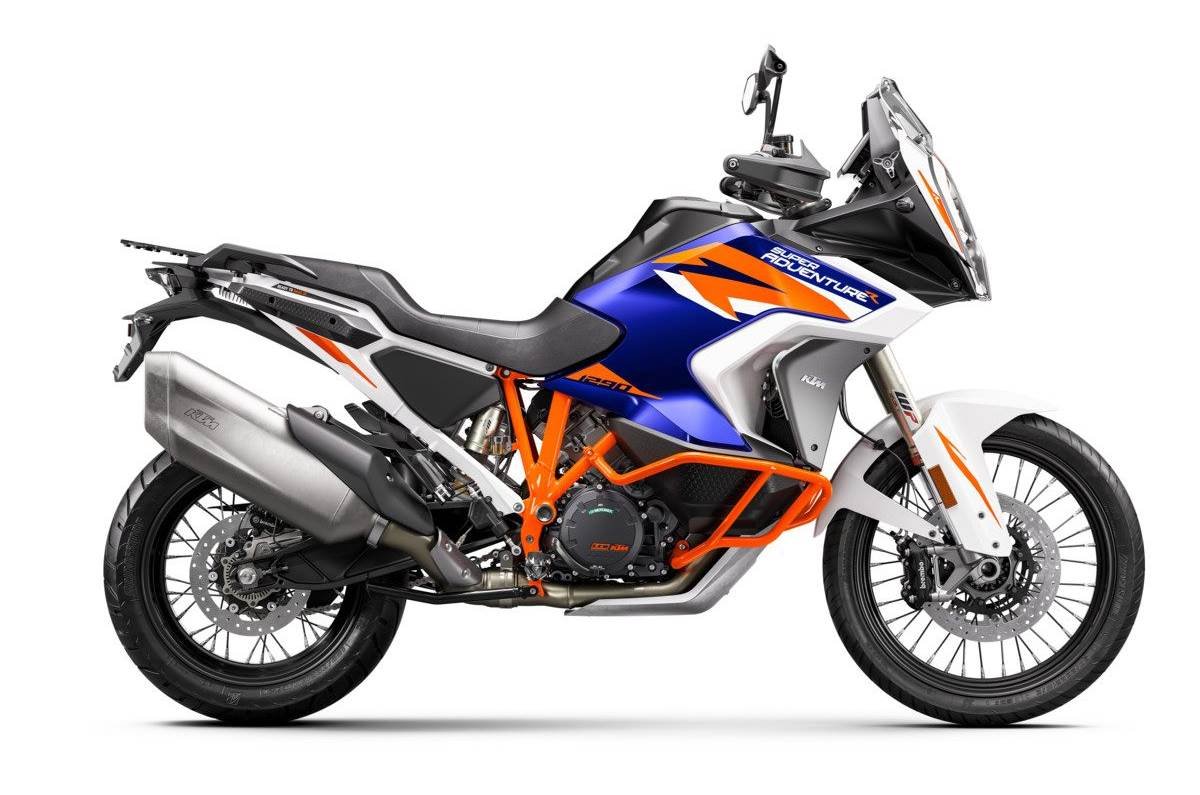 With the aim of making driving simpler and much more capable, KTM went to the drawing board for their huge adventure bike. To do so, the firm designed the frame, sharpened the steering head back 15mm, and put in a longer swingarm. The tank has now been divided into 3 parts with two on the sides-like 890 Adventure and 890 Adventure R but not as low. This allows building a lower middle, with 23 liters of fuel, and KTM has reworked all the bodywork to boost ergonomics. The position of the handlebars, foot stock, and levers can be changed to match individual riders.
On basis of suspension, the bike starts with a fully controlling 48mm WP XPLOR fork and a fully adjustable 220mm WP PDS rear suspension. The seat is 10mm lower now, but it still is impressively high at 880mm. The bike is 221 kilograms without fuel, which weighs 3-kilograms more than its predecessor. A BMW R 1250 GS is a fully-fueled BMW weighing 249 kg, while the R 1250 S adventure is 268 kg with its larger fuel tank of 30 liters and a supplementary suspension.
The 2021 KTM 1290 Super Adventure R is fitted with an adventure pneumatic Bridgestone A41 tire. The tires are mounted by the Italian Alpina maker on aluminum spoke wheels. Via the o-ring seal on the spoken nipples, these rims will operate tubeless tires.
A revamp of the powerful 1301cc V-twin engine from the previous motorcycle is available on the Super Adventure. Although 160hp remains the same power, the torque is slightly decreased from 140Nm to 138Nm. However, KTM says that they have done a lot of work in the engine, now compliant with Euro 5 transmission. New pistons, new surfaces in the material, and lighter motor cases are used. The engine is now 1.6 kg lighter and KTM claims that they have also been able to handle the 6-speed gearbox to respond quickly and lightly.
The airbox has been designed to make the air passage easy and is designed to treat sand and pollutants in a new way. There was also a reworking of the cooling system and a split radiator setting is in operation for the bike. This can be seen with the majority of dirt bikes and helps keep dirt from blocking the radiator. KTM also notes that the concept is to eliminate hot air from the rider which is very helpful at low speeds.
2021 KTM 1290 Super Adventure R is redesigned with a new full-LED headlamp. It looks much like a new Super Adventure S 1290, but the 2021 KTM 1290 Super Adventure R doesn't get its road-biased sister's radar-assisted cruise control feature. The bike is supplied with a new 7-inch TFT display powered by new switchgear.
The 2021 KTM 1290 Super Adventure R, like all major KTMs, has a range of electronic supports: induction control, cornering ABS, off-road ABS, engine slip regulation, cruise control, keyless ignition, and a control system. However, there are options for certain items like an up-down, hill-holding, and Rally mode, with its power of traction and gasket reaction.
Currently, KTM India relies on its local models. In this respect, we expect the company to start a new 790 Duke substitute and a new ADV midsize bike this year on the same platform. But the Mega Adventure collection is unlikely to be accessible in India anytime soon.
Are you excited about the launch of the 2021 KTM 1290 Super Adventure R ? Comment down b below
Also, see
2021 Bajaj Platina 110 ABS To Launch Soon