2022 Bajaj Triumph Spotted
Another sighting of the impending Bajaj-Triumph motorcycle during testing provides numerous cues that the vehicle is nearing completion. In February, we noticed the first bikes produced by this alliance being tested. At the time, both a street naked and a scrambler-style model were spotted. This time, the motorcycle has some intriguing new elements, and the street nude has been sighted once more.
Several components haven't changed much since we last saw this bike in February. The single-cylinder engine and gearbox for the 2022 Bajaj Triumph appear to be pretty much set in stone given that the entire powertrain appears to be identical from the outside and that data-logging equipment is not visible anywhere on this most recent test mule. However, this most recent sighting includes two test mules, one with cooling fins around the exhaust header that are blacked out and the other with fins that are finished in silver, indicating that Triumph may still be making minor adjustments.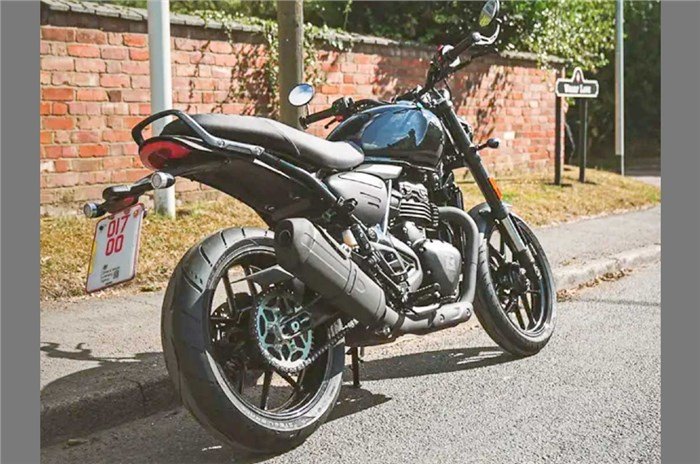 Exactly how much this engine will displace is still a mystery, but the radiator up front still looks just as massive (by middleweight standards) as it did in February, and the exhaust pipe diameter seems rather meaty too, suggesting that we could be looking at something above the 350cc mark.
The chassis also seems to be close to finalized, with the design of the front fork, swingarm, wheels, and brakes all appearing very similar to earlier, though suspension internals could still be a work in progress.
When it comes to the places where the bike differs, the instrument cluster is one of the most significant new components. The test mule had a rectangular, KTM-like digital display in February, but the most recent photos show a round, retro-looking unit that looks more Triumph-appropriate and has a smaller, square-like appendage. The general design resembles the Honda H'ness CB350 display quite a bit.
Smaller aesthetic changes have been made all over the motorcycle. The rear grab rails' shape has also changed, and the horn, which was formerly very obviously mounted above the exhaust header, has been hidden away more neatly inside the motorcycle. The 2022 Bajaj Triumph has a single-piece grip rail instead of the prior model's split design. In contrast to the earlier-seen rectangular ones, this most recent test mule has sleeker circular indicators, however, it's possible that they are accessories rather than standard fittings.
The bodywork, headlight, taillight, and mirrors all have a similar appearance to older models, but the overall design has mostly not changed. All of these things suggest that the 2022 Bajaj Triumph's essentials are basically in place and that Triumph is currently fine-tuning this product. The seat also appears to be essentially untouched. What this means for you and me is that we should witness an official reveal shortly, perhaps within the next few months, given the proximity of EICMA in November.
Are you excited about the 2022 Bajaj Triumph launch? Comment down below
Also, see
2022 Hyundai Tucson To Launch In India At A Price Of INR 27.7 Lakh
2022 MG Hector Design Unveiled