2022 Monster Energy Yamaha Moto GP Edition Launched- Priced At Rs 87,330
The model lineup for the 2022 Monster Energy Yamaha MotoGP Edition has been unveiled by Yamaha Motor Pvt. Ltd. The Call of the Blue, a strategic brand campaign, has been used to launch the new lineup. The RayZR 125 Fi Hybrid scooter, the Dark Warrior MT-15 V2.0, the Maxi-sports Scooter AEROX 155, and the Supersport YZF-R15M are all part of the new Yamaha portfolio.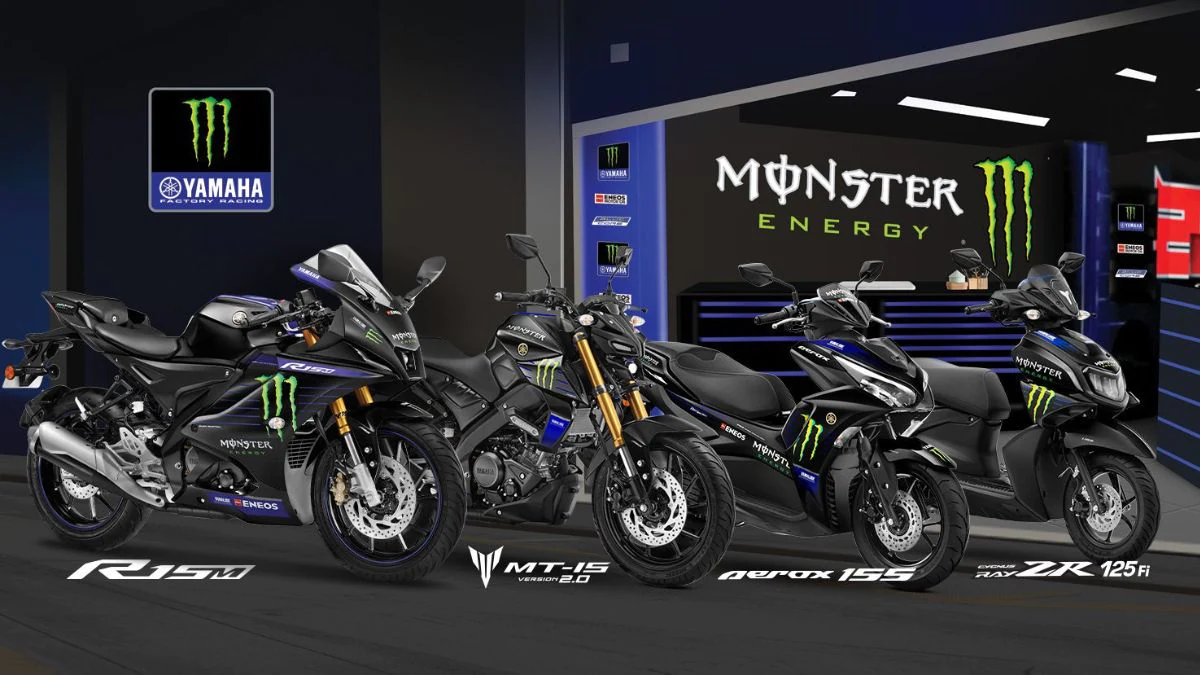 Customers can browse the Monster Energy Yamaha MotoGP Edition model lineup at all of India's high-end Blue Square stores.
The new R15M is being sold by Yamaha for Rs 1,90,900, while the MT-15 V2.0 is being sold for Rs 1,65,400. The price of the RAY ZR 125 Fi HYBRID is Rs 87,330. The cost of the AEROX 155 has not yet been disclosed by the firm, although they have stated that it will. The 2022 Monster Energy Yamaha Moto GP motorbike model range, which includes the YZF-R15M and MT-15 V2.0, features Yamaha MotoGP branding on the tank shrouds, the fuel tank, and side panels to stay true to its racing heritage. While the overall body of the AEROX 155 and RayZR Monster Energy Yamaha MotoGP Edition bears a Yamaha MotoGP logo.
Yamaha wants to foster a global Yamaha racing spirit thanks to the success of the R Series, FZ Series, and MT Series. Yamaha also intends to move forward with MotoGP-inspired Editions in the future to reinforce the overall perception of excitement, style, and sportiness.
"Yamaha is known for its strong racing DNA in international motorsports," said Eishin Chihana, Chairman of the Yamaha Motor India Group of Companies. The Monster Energy Yamaha MotoGP Edition livery is the ideal illustration of our dedication to providing a model lineup that honors this illustrious history. With Fabio Quartararo continuing to hold the top spot in the rider standings, our performance in MotoGP this year has been fantastic. This highlights Yamaha's superior engineering and technology capabilities. Our goal at Yamaha is to provide clients with the same degree of thrills found in international racing. For our clients who are ardent
MotoGP fans ignited by the spirit of racing, we are happy to launch 4 2022 Monster Energy Yamaha Moto GP models today. As part of its brand commitment to India, the firm will release more innovative products in the future.
Are you excited about the 2022 Monster Energy Yamaha Moto GP Edition? Comment down below
Also, see
2022 Honda Dio Sports Edition Launched