2023 Lexus GX Globally Revealed
Lexus has launched the most recent version of its GX SUV. The 2023 Lexus GX is now in its third generation and offers a robust and boxy style that appears more purpose-built than its predecessors.
The original GX was released in 2007 and was based on Toyota's Land Cruiser Prado, therefore the look of the new third-generation Lexus GX could be a nod to the impending Prado.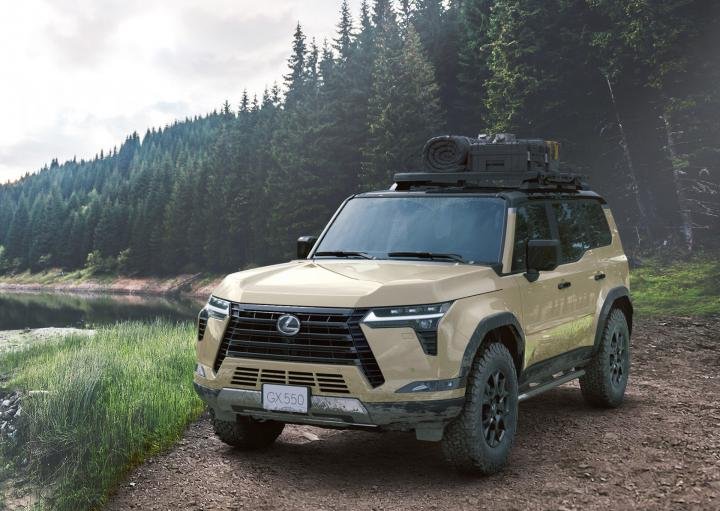 The 2017 Lexus GX has a fairly squarish profile while carrying on the brand's hallmark stylistic characteristics. The new GX has a 'Spindle Grille,' a slimmer headlamp cluster with integrated DRLs, a flat clam-shell bonnet, huge wheel arches and side-view mirrors, and rear taillights that span the whole width of the vehicle. In comparison to its predecessor, the new GX sports a longer wheelbase and better ground clearance. Lexus also sells the SUV in a new 'Overtrail' model, which features a two-tone paint job, a black underbody, and a few mechanical changes.
Inside, the new Lexus GX features a huge 14-inch touchscreen entertainment display with Apple CarPlay and Android Connectivity in the center. Lexus kept the traditional buttons and knobs for climate control, volume controls, and off-road modes. Among other things, the car has a head-up display, a digital instrument dashboard, heated and ventilated seats and an optional 21-speaker Mark Levinson surround sound system.
The Lexus GX 550 is built on the same ladder-frame basis as the Lexus LX600. Lexus' Kinetic Dynamic Suspension System and Adaptive Variable Suspension are standard, as are 4WD and a Torsen limited-slip center differential. An electronic locking rear differential is standard on the Overtrail model.
The GX550 is powered by a 3.4-liter twin-turbo V6, which replaces the previous 4.6 NA V8. The new engine has 344 BHP and 649 Nm of torque and is mated to a 10-speed automated gearbox.
Lexus has confirmed that the new GX will be available in select regions by the end of 2023.
Are you excited about the 2023 Lexus GX? Comment down below
Also, see
Maruti Suzuki Alto K10 Tour H1 Launched At A Price Of Rs 4.80 Lakh
Follow us on Twitter – here