Maruti Suzuki Premium MPV To Launch By July 5
As shown in these spy images outside Toyota's Bidadi factory, Maruti Suzuki's next launch for India, the Innova Hycross-based MPV, appears to be ready for series production. The business had previously mentioned that it might be called the "Engage" when it is released; we know that it will be constructed by Toyota for Maruti Suzuki India.
The Maruti Suzuki Premium MPV shares the majority of its components with the Toyota Innova Hycross on which it is built. The only noticeable differences are cosmetic in order to distinguish it from its Toyota counterpart.
The grille on the Maruti is substantially larger, with a honeycomb mesh design, dual chrome bars, and a giant Suzuki emblem in the centre. The grille is integrated with the front bumper, which has a prominent chin with a broad air dam and separate enclosures for the fog lamps. The horizontally positioned daytime running lamps and indicators are similar to those found on the Hycross.
While powertrain specs are not yet available, we anticipate that the new Maruti MPV will use the same powertrain options as the Toyota Innova Hycross. This includes a 2.0-liter, 4-cylinder petrol engine producing 173hp and a hybrid producing 183hp. These engines are either paired with a CVT or an e-CVT gearbox.
Toyota already has a 1,20,000-unit order backlog for the Innova Crysta and Hycross, as we reported in April 2023. This means that Maruti Suzuki's product will initially be confined to low volumes. Toyota, on the other hand, has begun an extra shift at its Bidadi facility in order to clear the large order backlog.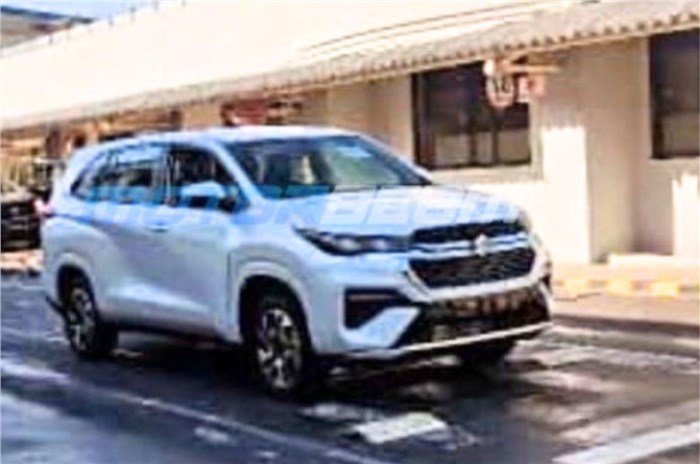 Maruti Suzuki presently sells the Ertiga and XL6 MPVs, and while they are popular, the Hycross-based MPV will be the company's premium product. The Innova Hycross is now priced from Rs 18.55 lakh to Rs 30.00 lakh. Maruti Suzuki's most expensive vehicle is now the Grand Vitara Hybrid Alpha+, which costs Rs 19.79 lakh ex-showroom. As a result, the new MPV, which is due to go on sale on July 5, will be the most expensive product in Maruti's lineup.
Are you excited about the Maruti Suzuki Premium MPV? Comment down below
Also, see
Volkswagen Virtus 1.5 TSI Manual Launched At A Price Of Rs 16.89 Lakh
Follow us on Twitter – here