2023 Hyundai Grand i10 Nios Spied On Indian Road
The Grand i10 Nios mid-life update is about to go on sale from Hyundai. Both the left-hand drive export vehicle and the test mule built for India were seen close to the company's plant in Chennai. In 2023, the upgraded Grand i10 Nios is anticipated to go on sale.
The forthcoming Grand i10 Nios's partially veiled exterior can be seen in the spy photos. The most noticeable modification is the placement of the boomerang-shaped LED daytime running lamps, which are now situated closer to the bumper's edges rather than the grille, which now features a hexagonal pattern.
The alloy wheels on the redesigned Grand i10 Nios can be seen in profile sporting a fresh look. Even though the car's back was highly disguised, it is clear that the new Grand i10 Nios will have revised taillights.
The 2023 Hyundai Grand i10 Nios is a sky blue color, according to earlier spy photos of Hyundai's hatchback, which were captured in Germany. If that is introduced here, the hatchback in India would have a fresh color scheme. Both test mules are dressed in white in the espionage images obtained in India. Five colors—Titan Gray, Typhoon Silver, Aqua Teal, Fiery Red, and Polar White—and two dual-tone paint schemes are currently available for the Grand i10 Nios in India.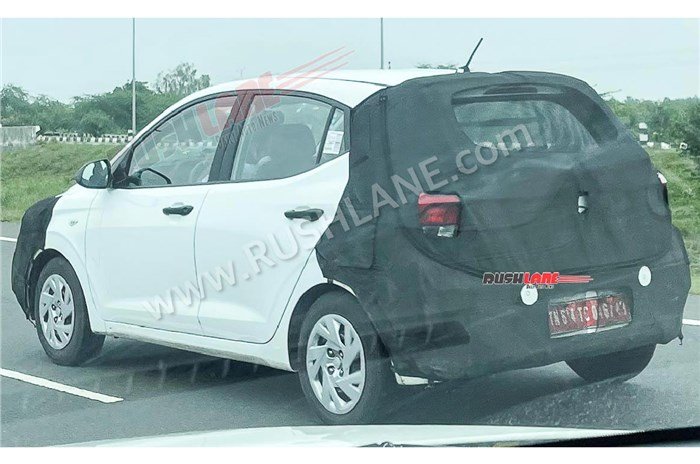 Although the Grand i10 Nios' interior is not adequately depicted in the spy photos, it is anticipated to receive a revamped dashboard, a new instrument cluster, and an interior makeover.
The 2023 Hyundai Grand i10 Nios is not anticipated to include any engine modifications. The 1.2-liter gasoline engine, paired to either a 5-speed manual or an AMT transmission and producing 83 horsepower and 113.8 Nm, will continue to power the vehicle. It also comes with a 1.0-liter turbocharged gasoline engine that generates 100 horsepower and 172 pound-feet of torque, but it only comes with a 5-speed manual transmission. The 1.2-liter petrol engine also offers the option of a factory-installed CNG kit; however, this engine only produces 69 horsepower and 95.2 pound-feet of torque and is mated to a 5-speed transmission.
The redesigned Grand i10 Nios will compete directly with the upcoming Maruti Suzuki Swift, which will go on sale in 2024. In India, the Swift will be the sole hatchback with a potent hybrid drivetrain.
Are you excited about the 2023 Hyundai Grand i10 Nios? Comment down below
Also, see
Ultraviolette F77 Launched At A Price Of Rs 3.80 Lakh
Follow us on Instagram – Here