2023 Hyundai Verna Now Comes With Level 2 ADAS
The new-generation Hyundai Verna 2023 will come standard with a number of safety measures, according to information recently released by Hyundai Motor India Ltd (HMIL). The outstanding point is the ADAS Level 2 capabilities and 30 standard features that will be accessible with every sedan type.
The 2023 Hyundai Verna is slated to be on sale on March 21. For a small cost of Rs 25,000, both online and at authorized dealerships, reservations are now accepted. The all-new Hyundai Verna, which will boast of a comprehensive safety feature package of 30 standard safety measures, perfectly represents this ambition.
The 2023 Hyundai Verna will also come with Hyundai SmartSense – Level 2 ADAS, which will set a new standard in this market, as we get closer to offering futuristic mobility experiences, said Tarun Garg, COO, of Hyundai Motor India Ltd., in a statement on this most recent development.
Hyundai will provide a number of ADAS features with the brand-new Verna. There are two radar sensors for this, and they are placed at the front and back of the car. By identifying obstructions in front of the car, the front sensor can assist in preventing crashes in low-visibility conditions like dense fog and heavy rain. Safe exit warning, lane departure warning, forward collision warning, driver attention warning, forward collision-avoidance assist-car, lane keeping assist, forward collision-avoidance assist-pedestrian, blind-spot collision-avoidance assist, forward collision-avoidance assist-cycle, blind-spot collision warning, and forward collision-avoidance assist-junction turning are some of the safety features offered by ADAS.
The ADAS, which also incorporates additional driving convenience features, makes driving the 2023 Hyundai Verna simple and comfortable. High beam support and Smart Cruise Control with Stop & Lane Following Assist are included in this. The system has functions including rear cross-traffic accident warning and avoidance assistance, and it even works when parking.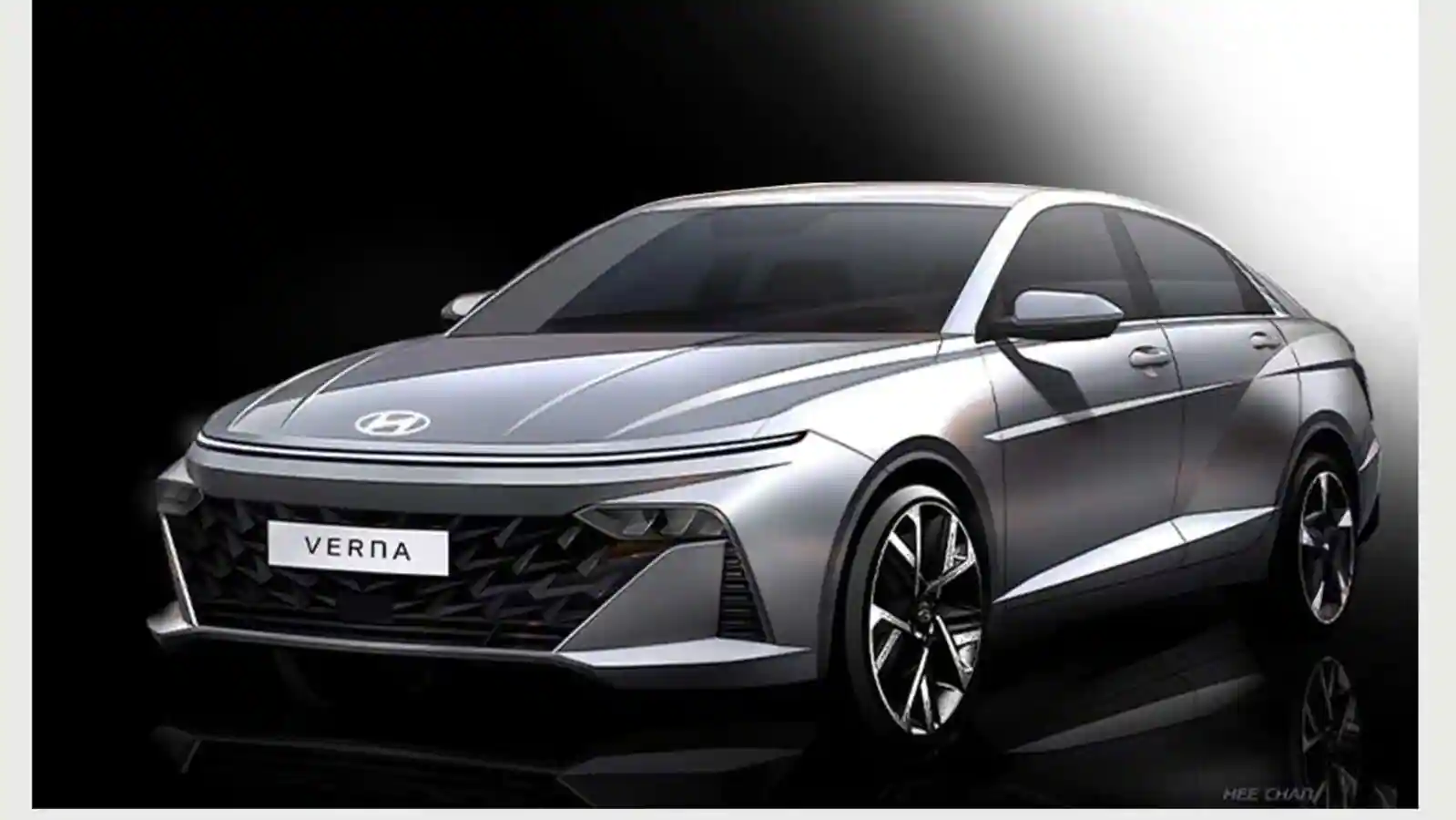 Car safety has been a prominent subject in India, thus automakers are continually improving it. Hyundai will standardize 30 safety measures on the new Verna, which will be offered to start with the basic model. These features comprise – seat belt reminder (all seats), keyless entry, burglar alarm, rear parking sensor, rear defogger, lane change indicator, headlamp escort function, ISOFIX, Emergency Stop Signal (ESS), impact sensing auto door unlock, six airbags (driver, passenger, side & curtain), speed sensing auto door lock, ABS (Anti-lock braking system) with EBD, all 3-Point Seatbelts (all seats), and automatic headlamps.
Hyundai SmartSense, six airbags (driver, passenger, side, and curtain), TPMS (Highline), ESC (Electronic Stability Control) with VSM, cornering lamps, Hill Start Assist Control (HAC), ECM (electrochromic mirror), all-disc brakes, front parking sensors, and EPB are among the cutting-edge safety features that will be available on the new Verna (electric parking brake).
The 2023 Verna will come with a new 1.5-liter turbo-petrol engine and a 1.5-liter normally aspirated (NA) petrol engine. The 6-speed manual transmission and IVT automatic are the possible transmissions for the NA and Turbo petrol engines, respectively.
The sedan will sport a 10.25-inch touchscreen display and a completely digital instrument panel. An eight-speaker Bose Premium Sound system will be attached to the system. Hyundai will provide a switchable infotainment and temperature control panel for the first time, which can switch between settings for the infotainment system and the climate control system. The heated and ventilated front seats of the Verna make it a climate-appropriate car for India.
Due to the number of features and dimensions that the upgraded Verna is expected to provide, the present vehicles will surely face fierce competition when it enters the Indian market on March 21.
The next-generation car is expected to cost between Rs 9.99 lakh and Rs 17 lakh. The outgoing automobile was priced between Rs. 9.64 lahks and Rs. 15.72 lahks. Everything is priced ex-showroom. The Hyundai Verna will be rivaled by the new 2023 Honda City, Volkswagen Virtus, Skoda Slavia, and Maruti Suzuki Ciaz.
Are you excited about the 2023 Hyundai Verna? Comment down below
Also, see
Follow us on KooApp – Here