Benelli TRK 702 To Launch Soon
In our country, Benelli provides the 500cc TRK 502 adventure tourer, and during EICMA a few years ago, the 754cc TRK 800 was presented for overseas markets. A Benelli TRK 702 is on the way, according to type approval documents, and it will sit between the two aforementioned types in Benelli's model line.
The Benelli TRK 702 will be powered by a parallel-twin engine, just like the other two TRKs, with a displacement of 693cc this time around. This engine has recently debuted in some of QJ Motor's domestic market offerings and appears to be quite similar to the CFMoto 700CL-X, which is based on the company's suspiciously Kawasaki-inspired 650cc engine. Peak power is 75 horsepower, which is surprisingly close to the 76 horsepower of the TRK 800. The 700CL-X, for example, produces 70.7hp and 61Nm.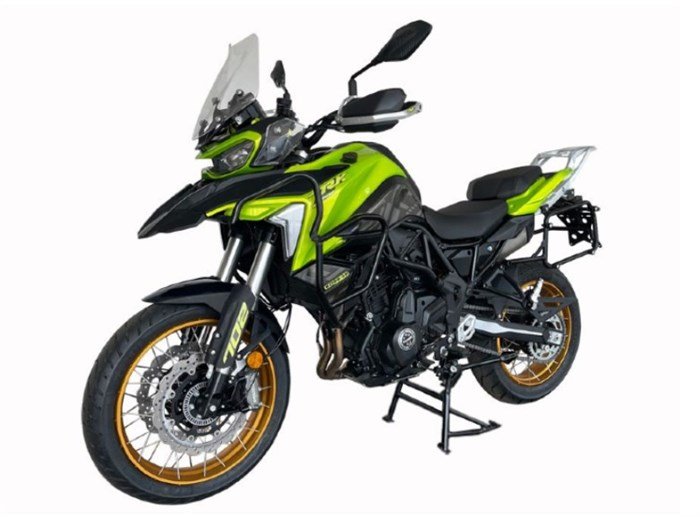 Although the new engine demanded a new frame, the steel trellis architecture is shared with the larger TRK 800. The swingarm has also been modified, and the 702 will be available with two different wheel configurations. There's a street-oriented version with 17-inch alloy wheels that should compete directly with the Kawasaki Versys 650, as well as an off-road version with 19-inch/17-inch wire-spoke wheels.
The latter appears to feature the same wheel sizes as the TRK 800, which means a 110/80-R19 front and 150/70-R17 rear, as well as the radially mounted callipers from the larger TRK. The alloy-wheeled version has larger wheels, with a front tyre of 120/70-ZR17 and a rear tyre of 160/60-ZR17. The type approval paperwork also depicts a version of the bike with hard luggage – an aluminium top box and panniers – although it's unclear whether this is a separate model or just an accessory.
In India, Benelli's motorcycle lineup currently solely includes 500cc models. Perhaps it was thought that the TRK 800 would be too expensive to introduce in its existing form in India. If that's the case, the TRK 702 would be an excellent option for gradually introducing a more expensive Benelli motorcycle to Indian shoppers. So don't rule out a launch in India just yet. Expect an official unveiling from Benelli soon, with type approval forms filed and images showing a very complete-looking motorcycle.
Are you excited about the Benelli TRK 702? Comment down below
Also, see