Honda CB350RS Launched At Rs 1.96 lakh-Details
The new Honda CB350Rs has been launched at a price of Rs 1.96 Lakh(ex-showroom). The Honda CSB50RS has a lot of similarities with the Honda H'ness CB350 with regards to the frame, engine, and other accessories.
The Honda CB350RS looks radically different, albeit based on the Honda H'ness CB350, in the form of the front mudguard, revamped LED headlamps, side panels, stubby tail, and up-swept exhaust. The single, flat seat is also entirely new with numerous textures on the side of the rider and pillion. The smaller rear wheel and wider tire are other features that separate this model from the regular bike.
The motorcycle features all-around LED lamps, even indicators that seem to have been withdrawn from Honda Hornet 2.0. Features such as the switchgear and instrument cluster from the standard CB350 have been transferred.

Unlike the regular CB350 which is available in 2 variants-DLX and DLX pro, the CB350RS will only be available in one variant. Like the CB350 DLX pro, the CB350RS also gets a dual-tone tank.
Like the H'ness Cb350, the Honda CB350 scrambler also gets the same 349cc single-cylinder engine. This engine is fitted with the same 5-speed gearbox as the CB350 and is also supported with the Honda Selectable Torque Control (HSTC).
The Honda CB350RS is based on the H'ness CB350 with the same cradle frame, telescopic fork, and twin shock absorber. Based on this latter experience, the RS can deliver a convenient ride on damaged roads.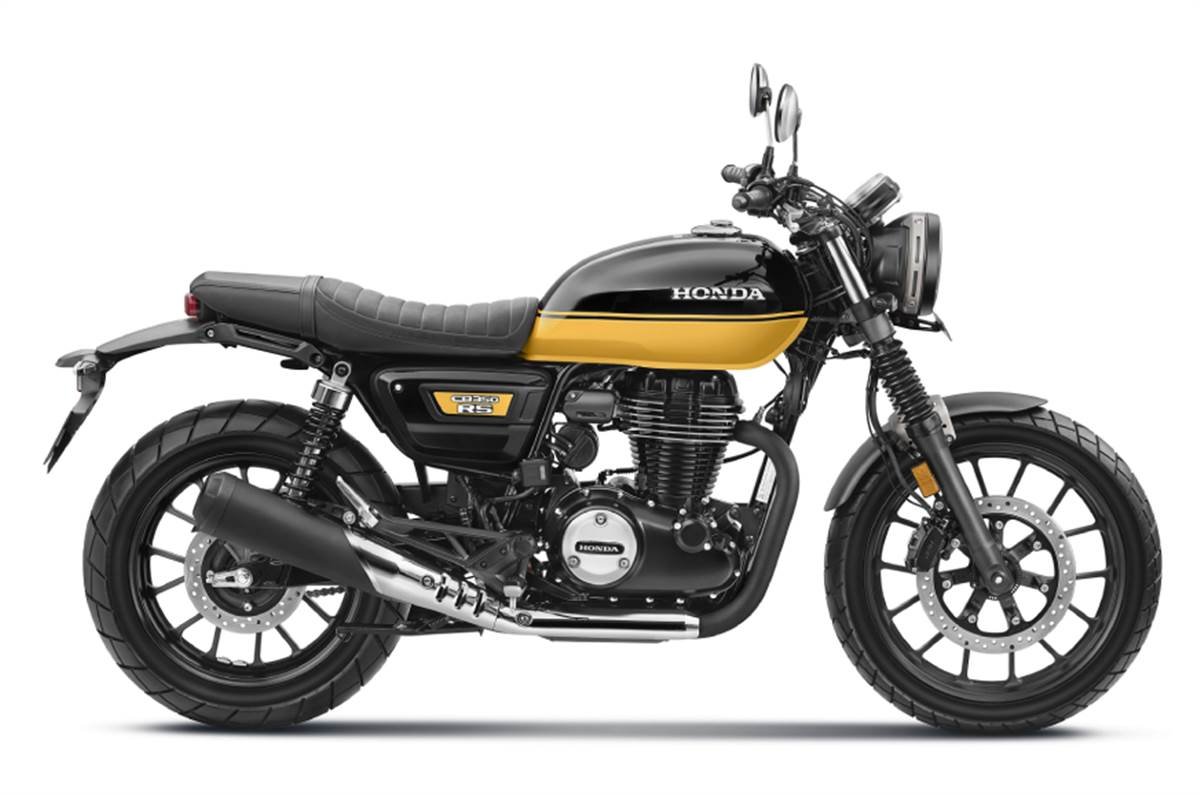 With a 310mm disc at the front and a 240-mm disc at the back and regular dual Channel ABS, the Nissin brakes have been brought on from the H'ness.
The CB350RS weighs 179kg which is 2kg less than the CB350s. Ground clearance of 2mm and a seat height of 800mm are also hardware improvements.
This makes it marginally more Rs 3,000 more expensive than a CB350 DLX Pro, which is just under Rs 1.93 lakh. The CB350RS is priced at a cost of Rs 1.96 lakh (ex Showroom).
The CB350RS is sold in two colors: Radiant Red Metallic and Pearl Sports Yellow Black, with bookings available through all Major dealerships in India.
Are you excited about the launch of the Honda CB350RS? Comment own eblwo
Also, see
Genesis G80 sedan Spotted In Mumbai
2021 Jawa 42 Launched AT Rs 1.84 Lakh-Gets Tubeless Tyre