KTM 390 Adventure V is Now Available At A Price Of Rs 3.38 Lakh
The new, low-seat-height version of the conventional bike, the KTM 390 Adventure V, has started to arrive at dealerships. Although KTM hasn't officially introduced the 390 Adventure V yet, we've heard that it's already on sale at a number of dealerships. The bike costs Rs 3.38 lakh (the same as the standard bike), and it's available for purchase online.
The company has managed to lower the seat height on the 390 Adventure V to 830mm, addressing the significant difficulty that short riders encountered with the conventional KTM 390 Adventure's 855mm seat height. The bike will now have a large drop of 25mm, making it more accessible to shorter riders.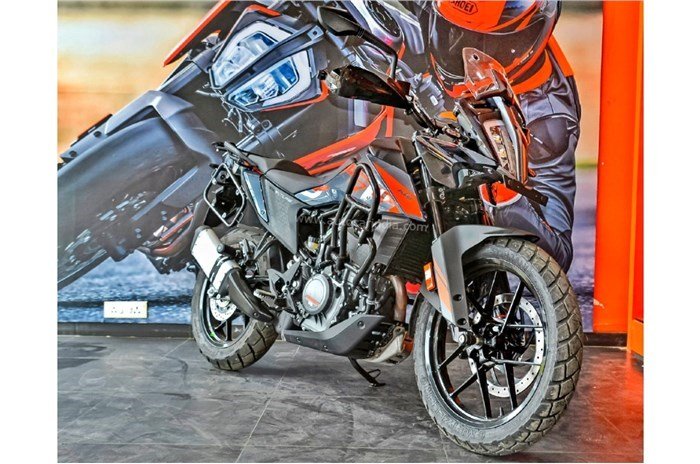 KTM used a new suspension with reduced travel at both ends to accomplish the lower seat height. According to reports, the suspension travel is significantly less than the conventional bike's 170mm (front)/177mm (rear) travel. As a result, the ground clearance has also decreased, though we are told that it is not significantly so.
The 'V' variation should be more approachable if you are a small rider and have always wanted to purchase a KTM 390 Adventure but the 855mm seat height was a dealbreaker. In comparison to a standard bike, the compromises made in terms of ground clearance will limit the bikes' off-road capability to some extent. However, overall, the 390 V will be just as capable of devouring highway miles as the standard bike.
The best thing is that the low-seat-height 390 Adventure has all the amenities found on the standard model, unlike the recently released KTM 390 Adventure X, which is substantially less expensive but lacks a number of functions.
Are you excited about the KTM 390 Adventure V? Comment down below
Also, see
Maruti Suzuki Innova HyCross Based Premium MPV To Launch Soon
Follow us on KooApp – Here