Maruti Suzuki Alto K10 Gets 2-star Rating In Global NCAP
After a recent crash test by Global NCAP, the new Maruti Suzuki Alto K10 received a 2-star safety rating for adult protection and a 0-star rating for child passenger protection. This is one of the first crash tests that GNCAP has undertaken this year, along with the Maruti Wagon R, the Volkswagen Virtus, and the Skoda Slavia. The tested model was made in India for domestic use and had front seat belt reminders, seat belt pre-tensioners, and twin front airbags as standard equipment.
The previous-generation Alto 800 was one of the first vehicles assessed by GNCAP as part of the Safer Vehicles for India initiative, and it had received 0 stars for adult production and 2 stars for kid occupancy at that time, albeit under a much older procedure.
The 2023 Maruti Suzuki Alto K10 received a score of 21.67 out of a possible 34 points for adult occupant safety, comprising 8.2 and 12.4 points in the frontal offset deformable barrier test and the side moveable deformable barrier test, respectively.
The Alto K10 performed well in the frontal crash test according to GNCAP, however, both the driver's and passenger's chest protection was just minor. Knee protection for the driver and passenger was minimal to inadequate since they might contact potentially hazardous objects behind the dashboard. In the side impact test, the protection for the head, pelvis, and abdomen was satisfactory, while the protection for the chest was subpar.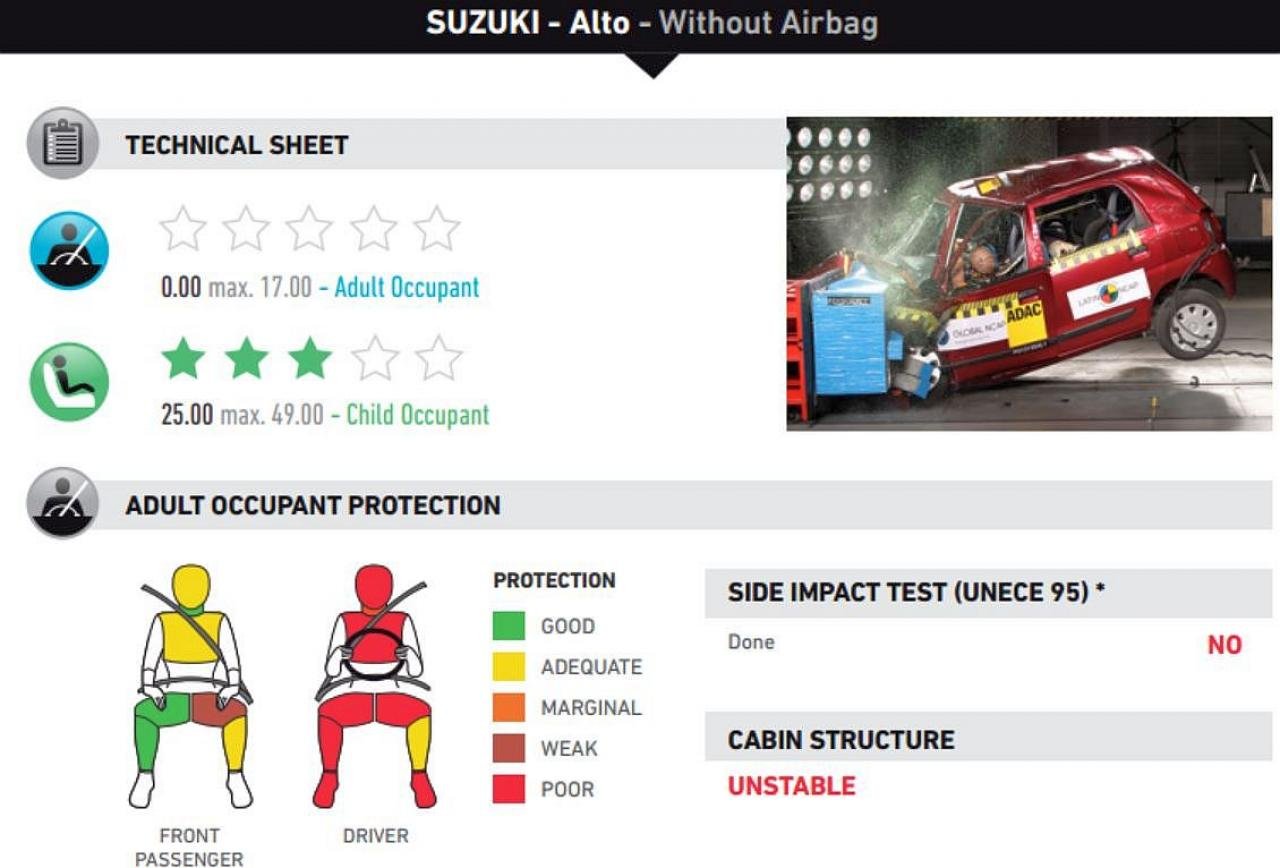 The bodyshell and the footwell region were both sturdy and able to bear additional loads, according to GNCAP. Nevertheless, because the Alto K10 lacks side airbags, GNCAP did not test it for the side pole impact test. The Alto K10 was not evaluated for safety assist systems either because it does not come equipped with Electronic Stability Control (ESC). Moreover, it does not meet the standards for UN127 or GTR9 pedestrian protection.
Just 3.52 out of a possible 49 points were awarded to the Alto K10 for child occupant safety. As it received 0 points for the dynamic score, this just contains the CRS (child restraint system) installation score.
In tests using a 3-year-old kid dummy in forward-facing child seats with adult seatbelts, the Alto K10 was unable to stop the head from moving too forward during the impact, placing it at high risk. The 18-year-old kid dummy was tested using rear-facing child seats and adult seatbelts, and it demonstrated adequate head protection but poor chest protection.
The Alto does not include required CRSs or three-point seat belts for all five occupants. The lack of conventional ISOFIX anchorages on any of the seats and other factors all contribute to the low rating for child occupant protection.
Are you excited about the Maruti Suzuki Alto K10? Comment down below
Also, see
Skoda Slavia And VW Virtus Scores 5-star Ratings At Global NCAP
Follow us on KooApp – Here