MG Gloster Blackstorm Edition Launched At A Price Of Rs 40.30 Lakh
The Blackstorm edition of MG Motor India's flagship SUV, the Gloster, went on sale for Rs 40.3 lakh. The body and interior of the SUV are all black, and its mechanical components are unaltered.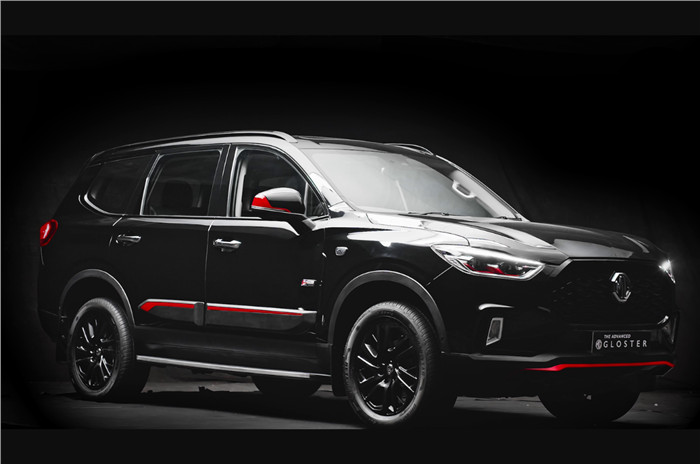 The Gloster's measurements are still 4,985mm in length, 1,926mm in width, and 1,867mm in height. However, this edition features a fresh appearance. The popular all-black style, which has been successfully employed by other manufacturers such Tata Motors' "Dark Edition," Maruti Suzuki's "Black Edition," and Volkswagen's "Deep Black Pearl," to name a few, has been chosen by MG.
The roof rails, headlamp and taillamp housing, window trim, and fog light housing are all black on the Gloster Blackstorm, which also comes in two paint colors: Metal Ash and Metal Black. To complete the whole design, even the alloy wheels are given the Blackstorm treatment.
In addition to being painted black, the exterior also uses red elements, including headlights, brake calipers, front and rear bumpers, and even wing mirrors.
With all-black interior upholstery and red accents on the steering and dashboard, the interior is also given the black and red treatment. All the bells and whistles found on the standard Gloster are included in the Blackstorm edition. These include an 8-way adjustable passenger seat, a dual panoramic sunroof, a 12-way adjustable driver seat, and a number of safety features such as advanced driving assistance systems (ADAS), which are available on other Gloster models and include adaptive cruise control and lane change assist.
Although MG has indicated that the Gloster Blackstorm will come in 6- and 7-seater versions, it appears that the 6-seater version of the standard Gloster is no longer available. While the 7-seater arrangement has a bench for the third row, the 6-seater layout has six captain chairs.
The 8-seater version of the standard Gloster, which is anticipated to have benches in the middle and last rows, has also been made public by MG.
The MG Gloster Blackstorm variant retains the same drivetrain with no performance improvement. The 2.0-liter turbo-diesel engine in the 2WD model has 163 horsepower, while the 4WD model has a 2.0-liter dual turbo-diesel engine with 218 horsepower. The 4WD model receives a drivetrain with a BorgWarner transfer case with shift-on-the-fly technology, though both of these engines are paired with an 8-speed gearbox.
The starting price for the MG Gloster Blackstorm edition is Rs 40.3 lakh for the 6- and 7-seater 2WD variants, and Rs 43.08 lakh for the 6- or 7-seater 4WD. Priced at Rs 41.77 lakh, the top-spec 7- or 8-seater Savvy model is more expensive.
Are you excited about the MG Gloster Blackstorm? Comment down below
Also, see
Tata Altroz iCNG Launched In India At A Price Of Rs 7.55 Lakh
Follow us on KooApp – Here