Tata Tigor EV New Range Launched, Price Starts From Rs 12.49 Lakh
The upgraded Tigor EV was introduced by Tata, with prices starting at Rs. 12.49 lakh and increasing as high as Rs. 13.75 lakh. The upgrade includes two new types, more features, and a greater operating range.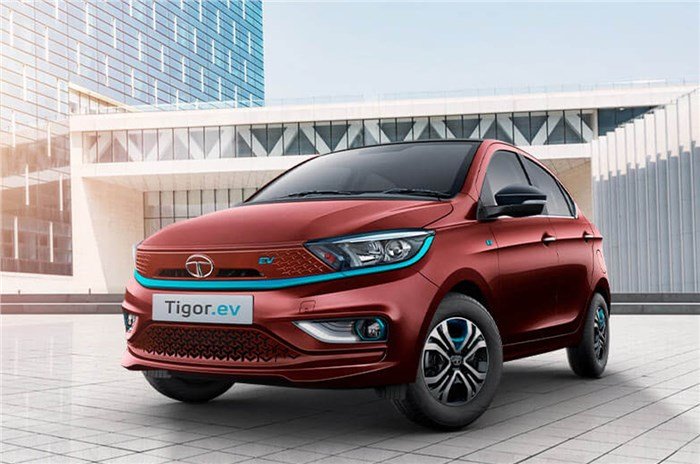 The Tigor's enhanced range of 315km, or 9km more than the previous model, is the biggest improvement. Tata has also added new capabilities to the Tigor that were only accessible on the Nexon EV Max and Nexon EV Prime previously. The multi-mode regen function with automatic brake lamp activation, which changes the brake lights during regeneration, is the most significant of these add-ons.
The Tata Tigor EV has a similar four-level regen braking system to the Nexon EV Prime and Max, where Level 0 stops regeneration and Level 3 is when it is strongest. This increases the practical driving range by assisting with battery recharge while moving, especially in stop-and-go traffic or on downhill slopes.
The Tigor EV also has innovative technologies including cruise control, an indirect tire pressure monitoring system via a smartphone app, and connectivity features built into smartwatches.
These new software-based functions have previously been made available to Nexon EV users without charge by Tata Motors. For the current owners of Tigor EVs, Tata is taking the same action.
In addition to receiving new amenities like a 7.0-inch touchscreen and steering-mounted controls, the Tigor EV XT model replaces the Tigor EV XM. The cost of the XT model is Rs 12.99 lakh. With cruise control, rain-sensing wipers, and auto headlights now available, the Tigor EV XZ+ has priced at Rs 13.49 lakh. In addition, Tata has introduced a brand-new, high-end XZ+ Lux model with a contrast black roof, leatherette inside, and a leather-wrapped steering wheel. The cost of this variation is Rs 13.75 lakh.
The same powertrain that was first introduced in the Tata Tigor EV last year remains in the upgraded model. It receives Tata's cutting-edge Ziptron high-voltage architecture, which makes use of a 75hp, 170Nm permanent magnet synchronous electric motor. As a result, the Tigor EV can accelerate from 0 to 60 kph in 5.7 seconds (claimed).
A 26kWh lithium-ion battery pack that has been rated to IP67 water and dust-proofing requirements, coupled with the electric motor, powers the Tigor EV. The Tigor EV has fast charging capabilities and can be topped off from zero to eighty percent in just 60 minutes. The battery and motor are covered by an 8-year/1,60,000 km warranty from Tata.
Are you excited about the Tata Tigor EV? comments down below
Also, see
Bajaj Pulsar P150 Launched At A Price Of Rs. 1.16 Lakhs
Follow us on Twitter – Here