Toyota Fortuner Again Gets A Price Hike
When it comes to bulletproof reliability and offroad capability, the Toyota Fortuner needs no introduction. It's very remarkable how the body-on-frame SUV maintains such strong monthly sales despite its high price! Last year, Toyota raised the prices of the facelifted Toyota Fortuner and Legender twice, and now they've raised them again! To put things in perspective, the 4*2 versions will see a price increase of Rs 66,000, while the 44 and Legender variants would see a price increase of 1.10 lakh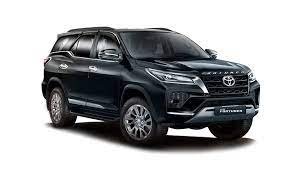 The standard facelift is more of an evolution of the pre-facelift version when it comes to the facelift and the Legender. The grille is a mesh-type grille coated in glossy black and flanked by slim LED headlights with integrated DRLs. It also receives a new front bumper. Aside from the new 18″ alloys, not much has changed on the side. LED taillights are sleek and crisp at the back. The Legender, on the other hand, has a distinct appearance, like a Lexus. It has a thinner grille and a more streamlined headlight cluster. On this one, the bumper and grille appear to be two separate beings.
It gets an aggressive bumper with LED fog lights that are tastefully integrated. It receives a new 5-spoke alloy wheel design on the sides. The taillights are the same as the front, but with a black line running across them. The Legender is exclusively available in a white paint scheme with a black roof. A huge entertainment system with Android Auto and Apple CarPlay, JBL sound system, linked car tech, front clearance Sonar, seat ventilation system, and more are among the inside features. There are also three driving modes: Eco, Normal, and Sport. The Legender has a Dual Tone (Black + Maroon) interior theme, whereas the basic facelift has tan upholstery.
The Toyota Fortuner now comes with an improved 2.8L turbo diesel engine that produces 204PS and 500Nm of peak torque in the Automatic version, and 420Nm in the Manual version. The 2.7L petrol engine remains intact, with top outputs of 166PS and 245Nm. There is a 6-speed manual transmission or a 6-speed torque converter unit available. On the 4×4 variants, MT and AT, it additionally has an auto limited-slip differential and a lockable differential.
Also, see
Maruti Suzuki Celerio CNG Launched, Price To Be Announced Soon