Triumph Bonneville Goldline Edition Launched
In India, Triumph Bonneville Goldline Edition has been launched. Special two-tone colors, hand-painted gold pinstripes, and gold emblems distinguish these motorcycles.
Triumph's in-house paint shop professionals hand paint the gold pinstripe on the bikes. The gold line marks the intersection of the two-color base scheme. The artist applies the line using a particular soft-bristled sword-liner, usually in one continuous stroke. It, of course, necessitates a steady hand and a great deal of patience. A clear coat of lacquer is sprayed after the pinstripe has been painted to protect the paint from the outdoors.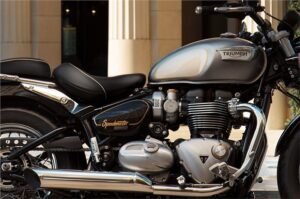 According to Triumph, the gold lining paint is manufactured by combining a powdered gold color with cellulose lacquer. The consistency of this formulation is ideal for painting with a smooth brush stroke. The artist marks his or her work with their initials to give it a personal touch.
The Goldline lineup from Triumph includes six motorcycles. The Street Scrambler 900, Bonneville T100, Bonneville T120, T120 Black, Bobber, and Speedmaster are the first models. Each of these motorcycles has a distinct paint scheme. For example, the T100 features a silver ice base with contrasting green panel stripes. A white and gold color scheme is used for the Bonneville T100 emblem, and an aftermarket fly screen is also available. On the other side, the Bonneville Bobber Goldline edition features a brilliant, Carnival Red fuel tank, twin black lines, and brushed foil knee pads.
Are you excited to know more about the Triumph Bonneville Goldline? Comment down below
Also, see