2020 Citroen C4: fresh details revealed
Citroen has released further information on its upcoming C4 hatchback line-up; information which includes the fact that an all-electric e-C4 version will also be available.
The 2020 Citroen C4 line-up replaces the C4 Cactus cross-hatchback intending to bridge the gap in the markets in which it competes between conventional hatchbacks and SUVs. The model will be sold with petrol, diesel, and electric powertrains, making it the first hatchback family in parent company PSA Group's portfolio to offer a zero-emission variant.
The 2020 Citroen C4's front grille is based on the latest concept that was recently seen first in production on the latest C3. It features V-shaped 'signature' lights and Chrome chevrons extending around the vehicle's width. The bonnet features a concave design resembling the next year's Indian-bound C5 Aircross SUV and the front bumper is finished in a matte black effect that Citroën claims provide safety in minor impacts. The air intake grille features a chevron pattern seen on the recent concept cars Ami One and 19_19.
The arches of the wheel to have the matte black finish. Citroën says the sloping roof is designed to accentuate the aerodynamics of the new C4, with the Citroën GS representing the rear overhang configuration.
Citroën claims the 156 mm ground clearance of the 2020 Citroen C4, combined with short front and rear overhangs, is designed to give higher viewpoints and greater overall visibility than rivals in the class. While it is more traditional than the C4 Cactus, there are some of the exterior design choices available for that model, including 31 different variations of colors.
Citroën CEO Vincent Cobée said: "We've probably been a little carried away on the [C4 Cactus] with our creative capabilities," adding that this 2020 Citroen C4 is a "more robust and enticing bid"
For the ë-C4 featuring an exclusive 18-inch Crosslite alloy wheel design, wheel sizes vary from 16 to 18 inches.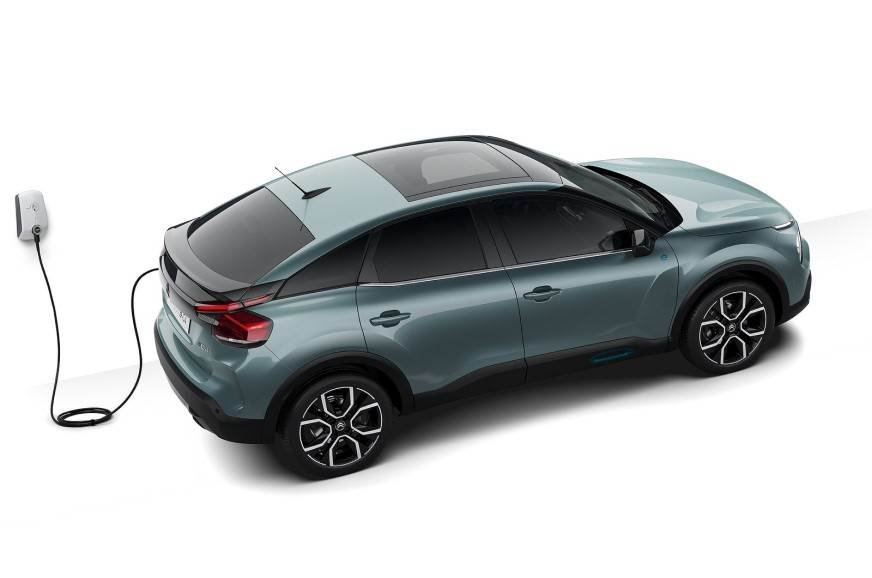 The C4 is based on the modular CMP architecture of the PSA Community which can accommodate both electrical and traditional powertrains. The ë-C4 features an electric motor with 136hp, 260Nm, which draws power from a battery with 50kWh. Citroën claims a range of 350km, a 0-100kph time of 9.7sec, and a top speed of 150kph. The car also recovers energy when decelerating and braking, and comes with three drive modes – Eco, Normal and Sport – that can alter the amount of engine power and the energy draw for the air conditioning to boost range.
The ë-C4 is fitted with an 11kW charger that can complete a charge on a 32-amp home wall box in about five hours, and a 100kW fast charger that can achieve an 80 percent charge on a public fast charger in 30 minutes. Charging can be managed via smartphone, with proprietors of ë-C4 being able to schedule it, for example, to take advantage of off-peak charging times.
A choice of three 1.2-liter three-cylinder turbo engines ranging from the Puretech 100 to the Puretech 155 will be offered for the petrol-powered 2020 Citroen C4. The most powerful petrol has an 8-speed automatic gearbox. There are two four-cylinder diesels, the BlueHDi 110 and the BlueHDi 130 auto-only engine.
Full performance specifications have yet to be released of the petrol and diesel systems that will be offered on the C4. There is also no indication as yet as to whether the model will be offered in hybrid or plug-in hybrid form, although these powertrains are likely to arrive later.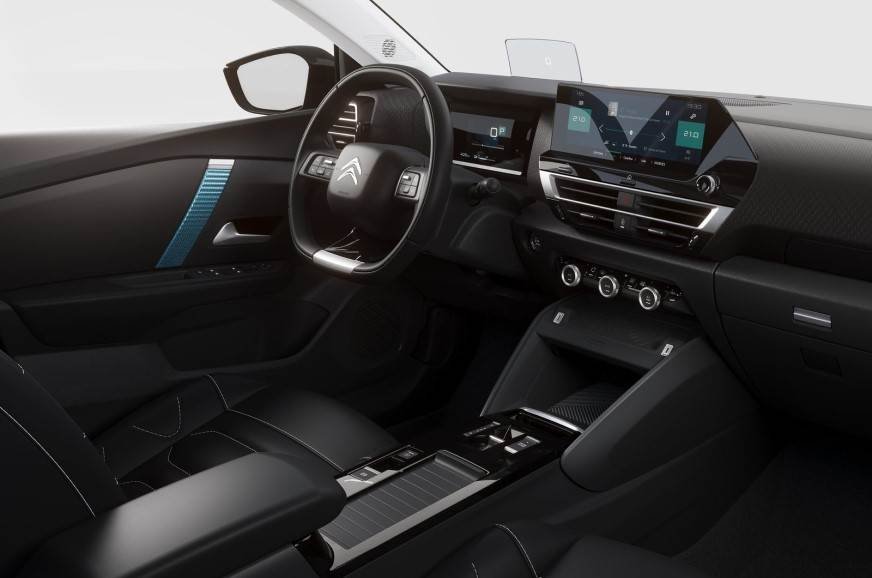 The C4 and ë-C4 are fitted as standard with the company's Progressive Hydraulic Cushion suspension, which uses two hydraulic stops to minimize bouncing and smooth the ride, in line with Citroën 's focus on comfort.
Within, Advanced Comfort seats, including optional heating and massaging systems, will be provided for the ë-C4 and some C4 models. It will deliver six interior color schemes, all built to make you feel "as if you're in your living room." Also, Citroën claims the best-in-class rear knee room and a wide range of storage compartments.
To complement digital instrumentation, the dashboard includes a newly designed 10.0-inch infotainment touchscreen with a large colored head-up display. Unlike recent models, Citroën has used physical controls to isolate the climate control stack from the touchscreen.
The infotainment uses the new iteration of Citroën's navigation system and is compatible with Apple CarPlay and Android Auto. Throughout the rear-view mirror is mounted a full HD camera that can take images or video loaded on a 16 GB memory card. The C4 also provides 20 driver assistance features including the Highway Driving Assist and a semi-autonomous level-two system that combines adaptive cruise control and lane maintenance.
The C4 and ë-C4 are due to go abroad for sale in the months ahead.
The 2020 Citroen C4 won't make it to India but the French brand will reach our market early next year with the C5 Aircross. The flagship model will keep Citroen dealerships running in the country before more mass-market offerings come along. Speaking of India's mass-market Citroens, the launch of the first "planned, produced, and manufactured in India" vehicle is on track and scheduled for later next year. This latest model, known as a compact SUV (codenamed C21), will boast high levels of localization and will bear a favorable Indian price tag.
Cobée recently told that the launch of the model had "huge" importance for the development of Citroën's sales in Europe. The company expanded year-on-year by 1 percent in 2019, selling 8,30,000 vehicles.
Cobée said: "Citroën will be the heart of the vehicle, in architecture, creativity, and comfort. And for us, in Citroën's overall growth this is one of three or four bullets. Citroën has massive legitimacy in this segment. It's the one with the most populist customer base."
Are you excited for the launch of 2020 Citroen C4 in India? Comment down below
Also, see
Next BMW Facility will be opened in Cuttack
Suzuki ACross SUV revealed and will come with a 9.0-inch touchscreen infotainment
2021 BMW G310 GS and 2021 BMW G310 R Spied Testing In India. Can We Expect A Launch Soon?