2021 Audi RS3 Unveiled
For the new, third-generation version of Audi's hardcore RS3, the company has introduced a slew of design, technology, and powertrain enhancements. The RS3 will be available in hatchback and sedan versions in the UK market starting in August, with first customer deliveries expected towards the end of the year.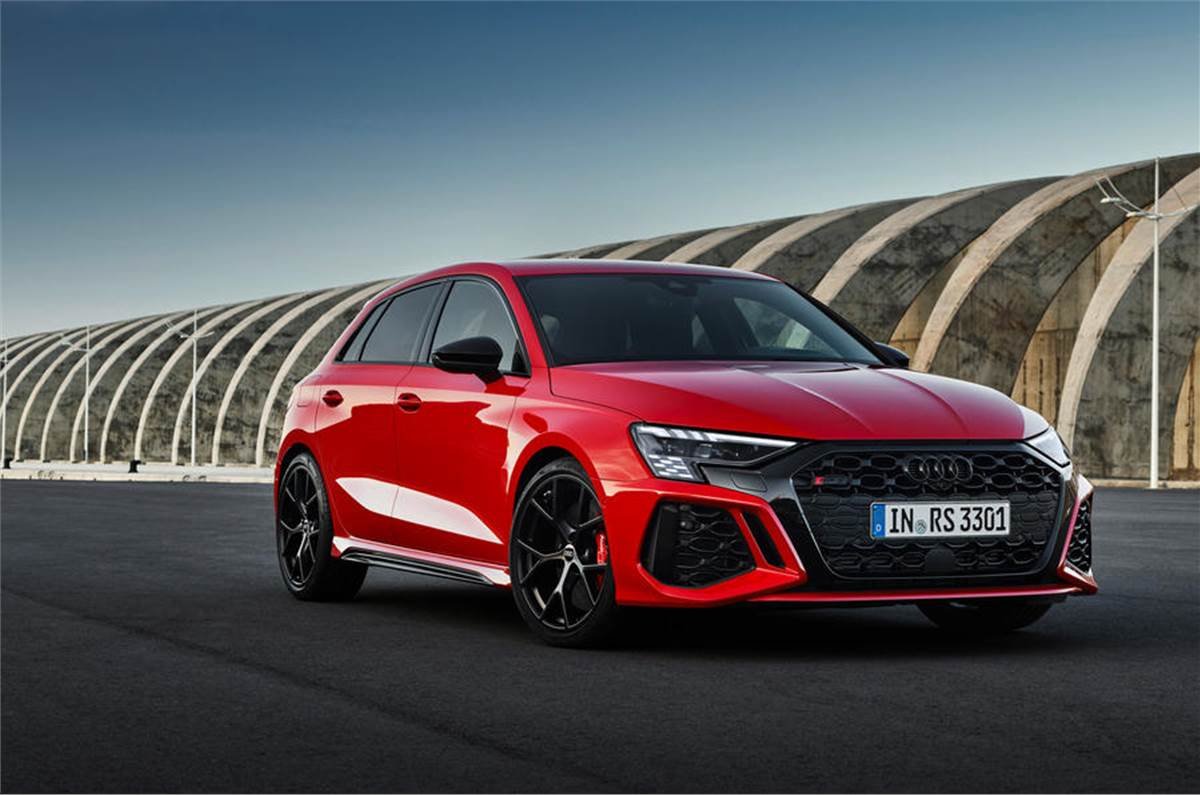 Audi's venerable 2.5-litre, five-cylinder turbocharged engine, which has been voted International Engine of the Year nine times in a row, returns for the new model. It distributes 400hp to both axles through a 7-speed dual-clutch transmission, just like the RS3's bigger RS Q3 sister. That's enough to power both the hatchback and sedan from zero to 100 kilometres per hour in just 3.8 seconds, with a top speed of 290 kilometres per hour as an option — figures that barely edge Mercedes-A45 AMG's S 4Matic for raw speed.
The 2021 Audi RS3 is said to accelerate "even faster from low ranges" than its predecessor, thanks to 500Nm of torque available at 2,250-5,600rpm. Its maximum power output can also be found throughout a wider rpm range.
The engine's unique 1-2-4-5-3 cylinder firing order also provides an "incomparable sound," according to Audi, with a new noise-control flap in the exhaust opening at different points in the rev range, depending on the selected driving mode, and an optional RS sports exhaust available for an "enhanced" engine note.
The torque splitter mechanism, which replaces the old car's rear differential and consists of a pair of electronically controlled multi-disc clutches to better distribute power across the back axle, is new for the third-generation RS3. In RS Torque Rear mode, the new technology allows for "managed drifts" by providing up to 1,750Nm of torque to each rear wheel as needed, eliminating understeer under intense cornering.
More responsive shock absorbers with an RS3-specific valve system increased wheel camber for more precise steering, and a modular vehicle dynamics controller (mVDC) that monitors lateral movement across drivetrain and suspension components to better modulate torque output are among the chassis upgrades over the old car.
The 2021 Audi RS3 has larger six-piston brake callipers, which are coupled to ventilated and drilled discs on each axle, which are touted to be larger and more stable than the previous car's, with cooling improved by 20%. On the front axle, ceramic brake discs are offered, with a brake pedal curve calibrated to match their improved performance and callipers in grey, red, blue, or black.
Audi will also sell the 2021 Audi RS3 with semi-slick tyres in some regions for increased on-track performance.
The RS version of Audi's family hatchback is distinguished by additional air intakes, special performance wheels, a larger exhaust, and more aggressive aesthetic elements, as is customary.
Audi has differentiated the 2021 Audi RS3 from the normal A3 for this generation by providing the hot vehicle with a customised front-end appearance that includes a contrasting black grille surround (either matt or gloss) that extends into the headlight clusters. The headlight cluster itself is available as a matrix LED item with black bezels as an option. The side skirts, wing mirrors, rear diffuser, and, optionally, the roof are all coated in black.
Meanwhile, a new outlet behind the flared front wheel arches channels air along the car's side. For greater handling and a wider stance, the axle track has been expanded by 33mm in the front and 10mm in the rear over the previous model.
The 2021 Audi RS3 comes in two additional colours: Kyalami Green and Kemora Grey.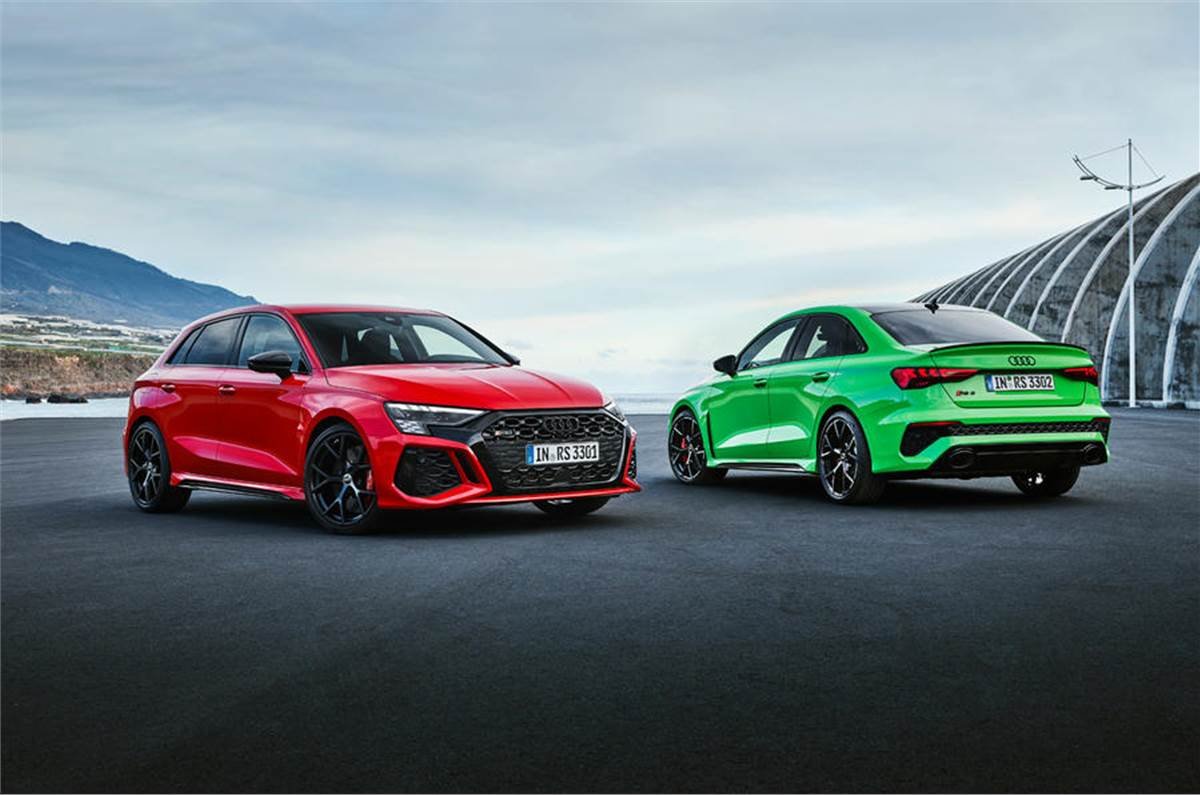 Inside, the 2021 Audi RS3 gets a similar treatment, with the fundamental layout of the ordinary car carried over but with a few aesthetic flourishes to highlight the car's performance characteristics. The instrument panel, for example, is composed of carbon fibre, and the sports seats are available with Nappa leather upholstery and black, red, or green contrasting stitching.
A 12.3-inch digital display is standard, and it includes RS-specific tachometer and power utilisation graphics, as well as an 'RS Runway' design that presents data "visually resembles an aviation runway," according to Audi.
There's also a motorsport-style gearshift indicator, and the 10.1-inch infotainment touchscreen can show an 'RS Monitor' that shows coolant, engine, and gearbox oil temperatures, as well as tyre pressures.
Audi India relaunched the current-generation A4 sedan in 2021, with redesigned styling and a 2.0-litre turbo-petrol engine choice, as well as the performance-oriented, upgraded S5 Sportback.
The all-electric e-tron SUV and e-tron Sportback SUV-coupe are Audi's next big launches in India. The automaker has begun taking reservations for the two models, which will be released on July 22. Audi India is anticipated to unveil the all-new A3 and Q3, as well as facelifted versions of the Q5 and Q7, later this year.
Also, see
Hyundai AX1 Can Be Called As Casper