2022 Honda Civic Type R Revealed
The 2022 Honda Civic Type R from Honda's sixth generation has been revealed. The new Civic Type R, which was first previewed in 2021, succeeds the fifth-generation model, which made its debut in 2017 and underwent a mid-life cycle update in 2020.
The new Civic Type R is far more subdued than the previous model, which had a striking exterior design. The new Type R, which is based on the 11th-generation Civic, has a revised bonnet with a scoop and an improved lower grille. In order to increase airflow to the engine, there are air vents located on the bumper on either side. The sporty hatchback receives new, lightweight 19-inch alloy wheels and improved brakes at the sides. The new Civic Type R has triple tailpipes, a blacked-out diffuser, and a sizable fixed rear wing.
The interior of the 2017 Civic Type R is totally redesigned and includes a 10.2-inch touchscreen, a digital instrument panel, blind spot monitoring, the classic red Honda emblem on the steering wheel, and Type R sports seats suitable for both road and track driving, and red suede-effect upholstery.
According to Honda, the 2022 Honda Civic Type R will be equipped with an updated version of the 306 horsepower, 2.0-liter, four-cylinder turbocharged petrol engine from its predecessor. The engine will be coupled to an improved six-speed manual transmission, and the front wheels will receive the drive. Although the company hasn't released the performance hatchback's specifications, it has claimed that the upgraded engine, coupled with the redesigned turbocharger and new compact housing, is the most powerful VTEC turbo in Type R history.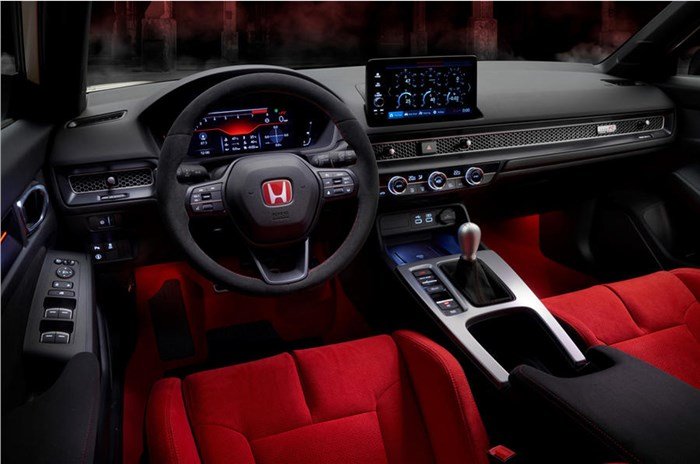 The new Civic Type R, according to the Japanese automaker, has an enhanced power-to-weight ratio, torque, and top speed over its predecessor thanks to revised mechanicals and aerodynamics. Honda has previously emphasized Type R's enhanced performance. Prior to its unveiling, the Type R set a new lap record by completing the 3.6-kilometer Suzuka circuit in 2 minutes and 23 seconds. The Honda Civic Type R GT Limited Edition, which is based on the previous generation, held the record for the longest time before the new Civic Type R broke it by 0.873 seconds.
After discontinuing the 10th-gen model due to a lack of demand, eliminating the CR-V, and stopping production at its Greater Noida facility, Honda is unlikely to bring the Civic brand back to India for the third time. Honda currently offers the City, Jazz, WR-V, and Amaze as part of its lineup, and it recently debuted the City Hybrid in India.
Are you excited about the 2022 Honda Civic Type R? Comment down below
Also, see