2022 Jeep Wagoneer & Grand Wagoneer Revealed- priced At INR 42.16 Lakhs
Jeep has launched a full-sized 2022 Wagoneer and Gran Wagoneer with new architecture, electronics, and safety features for the cars.
Jeep introduced the Grand Wagoneer Prototype in September of last year, which from the beginning looked futuristic. Fortunately, the Wagoneer and Grand Wagoneer production specs are almost identical to the concept car.
The SUVs have the same styling in three trim levels (series I, series II, and Series III). Both have Jeeps front grille trademark, deep bumper, almost vertical back, and broad glasshouse.
All are equipped with LED light, but the Grand Wagon has more chrome and a special badge to separate it.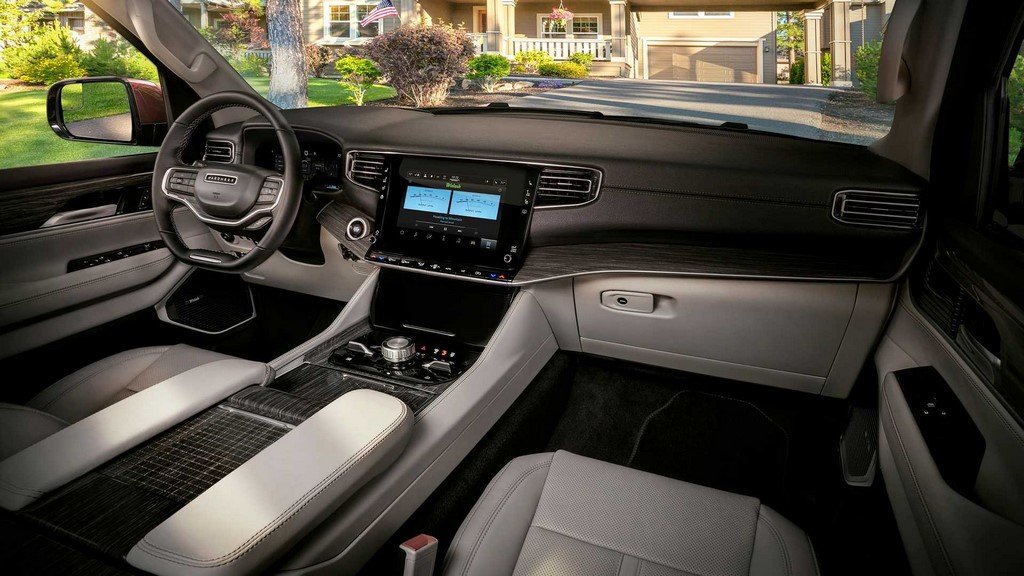 The interior is fitted with a 2-speed steering wheel that seems to make a comeback, horizontal air conditioners, digital instrument clusters (10.3 inches for the Wagoneer and 12.3 inches for the Grand ) and wide touch screens Uconnect 5 infotainment (10.1 inches on Wagoneer and 12-inches on the Grand).
The seats in Nappa leather are standardly upholstered, while the Grand Wagoner is also available for higher models with Palermo leather and a10. 3-inch front passenger productivity panel along with a 10.1-inch pair of screens in second-row passengers on the captain's chairs.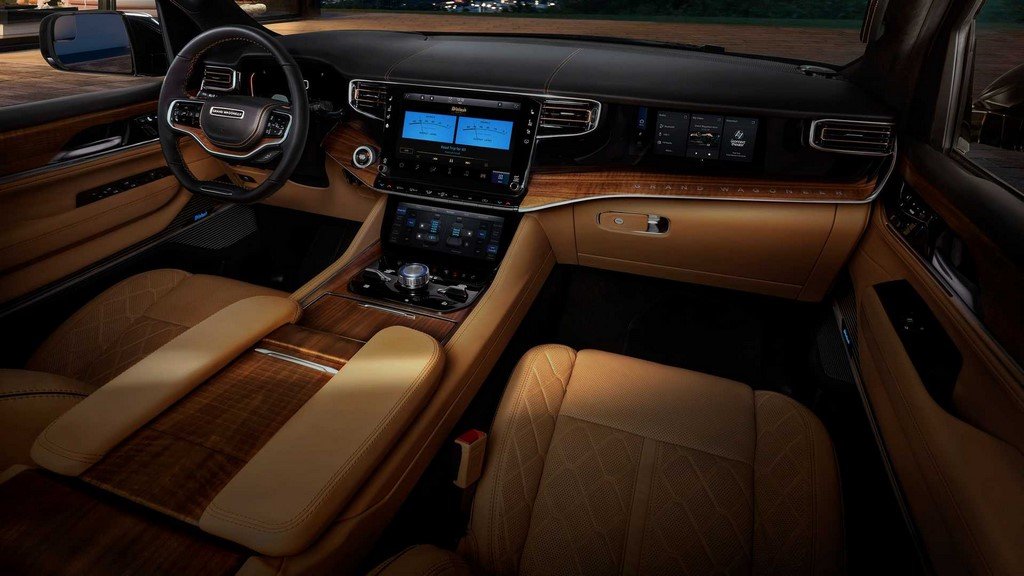 The second-row center console in the GrandWagoneer will also feature a projector for last-row occupants, featuring a more elegant cabin with wood and aluminum trim accents and ambient lighting.
In addition, there is also a big boot available for stuff even though the cars are entirely occupied (up to 8 seats offered).
In addition, clients who choose even more comfort can select the Obsidian Grand Wagon (that will come later) with metallic outer highlights from "Dark Onyx," more package, and 22-inch black wheels.
The 2022 Jeep Wagoneer is powered by a 5.7 liter V8 combined with mild-hybrid technology. A transmission is an eight-speed unit, which produces 392 hp and 548 Nm.
The 2022 Jeep Grand Wagoneer, on the other hand, receives a 6.4-liter V8 which is fantastic with 471 HP and an 8-speed auto with 627 Nm.
The 2022 Jeep Wagoneer includes the traditional rear-wheel drive, but 3 external systems of 4-wheel drive-Quadra-Trac I, Quadra-Trac, and Quadra-Drive II-are available in a motor vehicle.
The wagoneer is fitted with bucket springs while an optional air suspension improves ground clearance from 210 mm to 256 mm. The Grand is supplied with basic air suspension.
When selecting the Advanced All-Terrain Package, the SUVs with up to 4,500 kg towing capabilities will be provided underbody safety.
The 2022 Jeep Wagoneer family comes with hands-free Active Driving Assist, including lane-focused technology, adaptive cruise control, blind-spot detection, and forward-collision warning.
The Wagoneer begins at a price point of Rs 42.16 Lakh with Grand Wagoneer at a cost of Rs 63.24 Lakh, and the Obsidian at a cost of 72 lakhs. In the near summer, the first consumer shipments in the USA started.
Are you excited about the 2022 Jeep Wagoneer arriving in India? comment down below
Also, see
2021 Apache RTR 160 4V Launched At A Priced Of INR1.07 lakh
Volkswagen ID Electric Cars Confirmed-Also includes "People's Car"