2022 Volkswagen T-Roc Unveiled
The Volkswagen T-Roc has received a makeover, four years after the crossover was introduced to the brand's (European) lineup. The 2022 Volkswagen T-Roc gets a slew of external and interior design updates, as well as slightly tweaked petrol and diesel engines. The alterations are intended to boost the competitiveness of the popular crossover, which has already sold over one million units worldwide and has been applied to both the five-door variant and the two-door cabriolet.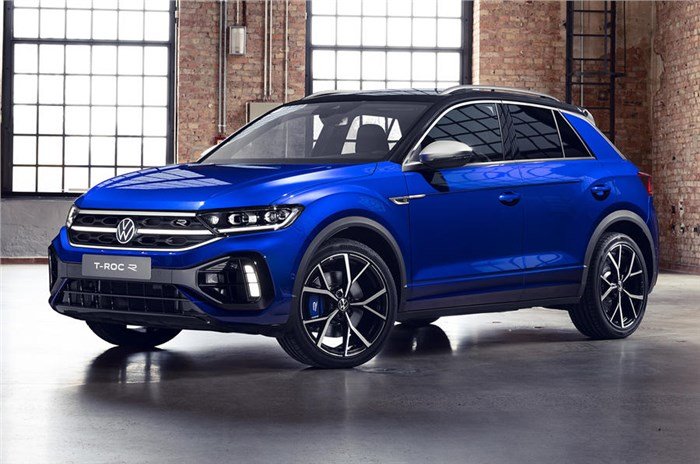 The redesigned front end represents a significant aesthetic modification for the first-generation T-Roc, which is almost halfway through its eight-year model cycle. It has redesigned headlights with a slightly different shape and new LED graphics (optional with IQ Light matrix units), a revised grille with a more heavily structured black plastic insert and a light band running on both sides of a larger Volkswagen logo, and a redesigned bumper with new daytime running lights and a new-look lower central air duct.
The taillights have been gently changed with new LED graphics, and the rear bumper has been tweaked. The revised alloy wheels range in diameter from 16 to 19 inches on the 2022 Volkswagen T-Roc.
The inside of the 2022 Volkswagen T-Roc, on the other hand, is where Volkswagen has spent much of its effort. A new soft-touch slush-molded dashboard is at the heart of its redesigned interior. It replaces the hard plastic unit used by the Volkswagen crossover and houses a new 8.0-inch digital instrument display and a new, free-standing touchscreen available in three sizes – 6.5-inch, 8.0-inch, and 9.2-inch – depending on the trim level.
A new multifunction steering wheel from the Golf is also included, as are reworked cloth door trims and redesigned switchgear, featuring digital controls for the air conditioning on the center console.
The 2022 Volkswagen T-Roc lineup, like previously, is led by a performance-oriented R model. It gets its own set of stylistic cues. A distinctive front bumper with black accents and vertically stacked daytime running lights, similar to the design of the newest Golf R, is included.
Other standard R styling details include standard 18-inch Jerez alloy wheels, aluminum-look exterior mirror housings, a larger spoiler, darkened tail-light lenses with new-look LED graphics, and a more heavily structured rear bumper with black detailing and integrated diffuser, as well as quad tailpipes (optionally available as Akrapovic titanium units, as on the Golf R).
The inside of the flagship R model is likewise sporty. There's a thicker-rimmed, flat-bottomed R steering wheel with an integrated R mode button, R-specific instruments, stainless steel pedal caps and footrest, more heavily contoured R seats, and a standard 9.2-inch infotainment display with a series of R-specific driving monitor functions, among other things.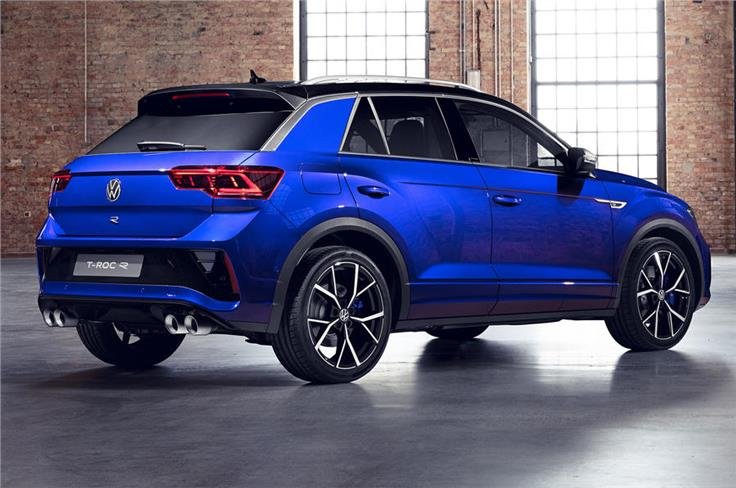 The engine lineup for standard variants of the 2022 Volkswagen T-Roc reflects that of the current international model, with three turbocharged TSI petrol engines and two turbocharged TDI diesel, mated with either a 6-speed manual or a 7-speed dual-clutch DSG transmission.
A 1.0-liter three-cylinder engine with 110hp is standard, as are two four-cylinder engines – a 1.5-liter with 150hp and a 2.0-liter with 190hp. The two four-cylinder diesel have the same 2.0-liter size and 115hp or 150hp options.
Except for the 190hp 2.0-liter petrol model, which comes with a 4Motion four-wheel drive, other models come standard with front-wheel drive. It is also available as an option on the 150hp 2.0-liter diesel.
The 2022 Volkswagen T-Roc, which is only available in a five-door version, retains a 2.0-liter, four-cylinder, turbocharged petrol engine with 300hp and 400Nm of torque, as well as a standard 7-speed dual-clutch DSG transmission and 4Motion four-wheel drive. Volkswagen promises a 0-100kph time of 4.9 seconds and a peak speed of 250kph for the performance-oriented T-Roc.
The pre-facelift VW T-Roc was introduced in India as a complete import in 2020 and was priced at Rs 19.99 lakh. Volkswagen sent the second batch of T-Rocs to our shores in 2021, but this time at a price of Rs 21.35 lakh. The 150hp, 1.5-litre TSI turbo-petrol engine was coupled to a 7-speed DSG transmission in the India-spec T-Roc.
Volkswagen India has not yet confirmed if the 2022 model would be released in our market. The fact that the previous edition was immediately snatched up by Indian shoppers would undoubtedly factor into the company's decision.
VW, on the other hand, now has the Taigun in its lineup. The model has a comparable overall length as the T-Roc, but it has a larger wheelbase. The Taigun is also supported by a substantially localized MQB-A0-IN platform, resulting in a more economical price range of Rs 10.54 lakh-17.54 lakh.
Are you excited about the 2022 Volkswagen T-Roc launch? Comment down below
Also, see