2023 Mercedes Benz CLA Facelift Unveiled
A mid-life upgrade for the 2023 Mercedes Benz CLA has been released, four years after the model's first release in 2019. Customers may select from a variety of powertrains and two body types, the four-door Coupe (C118) or the Shooting Brake (X118), like previously.
The CLA's design updates, like those made to the A-Class in October, are rather mild and don't alter the car's distinctively slender silhouette. The radiator grille has changed, and it is connected to the redesigned front bumper by small Mercedes-Benz stars.
A new LED daytime running light signature that terminates with dotted lines at the base of each cluster is also featured on the regular LED High-Performance headlights. The German automaker added that the rear receives a new diffuser to "sharpen the athletic character" and that the LED taillight also receives a new light signature.
Although 17-inch wheels are standard on all models, there are options with up to 19-inch wheels in a variety of styles. Extra paint colours termed hyper blue and spectral blue, the first of which is only available to CLA customers, provide additional personalization.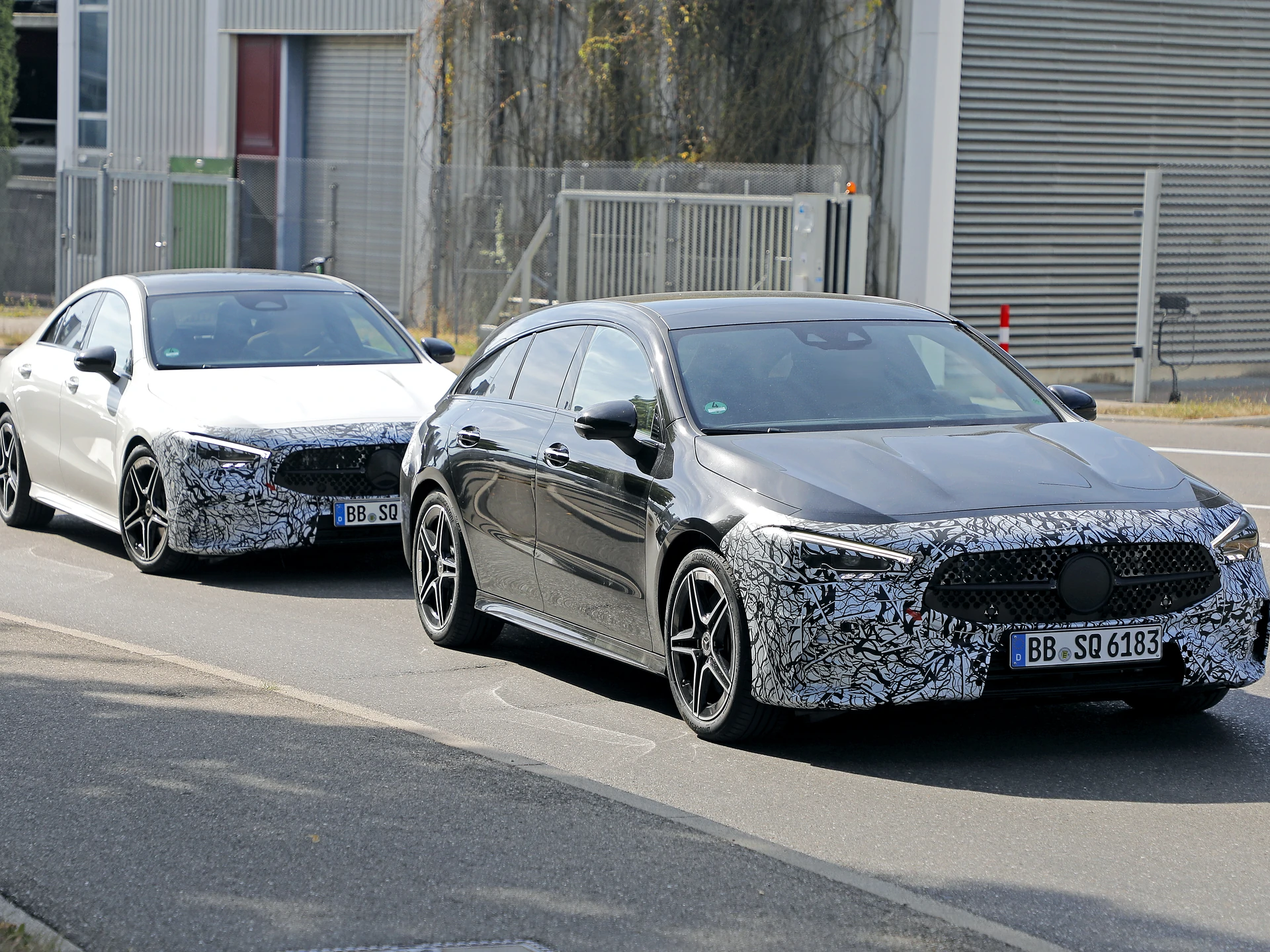 Moving inside, a seven-inch and 10.25-inch display are part of the Mercedes-Benz User Experience (MBUX) systems' basic setup. The system now provides three freshly designed display types named Classic, Sporty, and Discreet, and consumers may upgrade to twin 10.25-inch screens.
The upgrade also includes more USB-C ports, which offer more charging power and are lighted. Wireless Android Auto and Apple CarPlay are now supported if you don't feel like connecting.
The Hey Mercedes voice assistant can now converse and pick up on driver preferences with the most recent MBUX model. When combined with the optional Burmester surround sound system, the system can also give an immersive Dolby Atmos audio experience.
The touchpad in the centre console has been removed, similar to the most recent A-Class, to make room for a little more storage. As a result, the voice assistant, the touchscreen in the centre, and the steering wheel buttons are the sole ways to interact with the MBUX system. Thankfully, the climate system still has physical controls.
The steering wheel is now, according to Mercedes-Benz, covered in Artico synthetic leather for the first time, and heated steering wheels are now an option for vehicles with the AMG Line package. Additionally, there is a greater emphasis on recycled materials within the cabin, which has a choice of trim and finish options.
In response to consumer input, the equipment packages have also been simplified, making it simpler for clients to design their vehicles. Highbeam Assist, a reverse camera, and the USB package are standard on the CLA Shooting Brake starting with the Progressive trim line, while Parking Package, Mirror Package, and Easy-Pack tailgate are standard on lower trim levels.
We begin with the CLA250e, which is the only plug-in hybrid choice, in terms of powertrains. An upgraded electric motor has an increased output of 7 PS (7 hp or 5 kW), and is now rated at 109 PS (107 hp or 80 kW) and 300 Nm of torque.
The 1.3 litres turbocharged four-cylinder gasoline engine, which produces 163 PS (161 horsepower or 120 kW) and 270 Nm for a total system output of 218 PS (215 hp or 160 kW) and 450 Nm, is sandwiched between this and the eight-speed dual-clutch gearbox.
Continued usage of a 15.6 kWh (gross capacity) lithium-ion battery with an increase in maximum AC input capacity to 11 kW from 7.4 kW. A 22 kW DC rapid charging option is also available, which takes the battery from 0–80% state of charge in just 25 minutes. Due to the battery's increased useable energy capacity, the battery's electric-only range increases slightly to 71–82 km (Coupe) or 68–80 km (Shooting Brake) when fully charged.
Moving on, all petrol engines equipped with a seven-speed DCT now have a 48-volt mild hybrid system with a belt-driven starter-generator that can produce a boost of 14 PS for a brief period of time (13 hp or 10 kW). The CLA180 and CLA200 both use a 1.3-litre turbo four-cylinder engine that produces 136 PS (134 horsepower or 100 kW) and 230 Nm and 163 PS (161 hp or 120 kW) and 270 Nm, respectively.
These are joined by the CLA250 4Matic, which features an all-wheel-drive system and a 2.0-litre turbo-four engine that produces 224 PS (221 horsepower or 165 kW) and 350 Nm. While all three of the aforementioned petrol engines are offered for the Coupe and Shooting Brake, the former body shape is also available in CLA220 4Matic form, which employs the same 2.0-litre engine but has been tweaked to produce 190 PS (188 horsepower or 140 kW) and 300 Nm.
The CLA180d produces 116 PS (114 hp or 85 kW) and 280 Nm, the CLA200d produces 150 PS (148 hp or 110 kW) and 320 Nm, and the CLA220d produces 190 PS (188 hp or 140 kW) and 400 Nm; all three have a seven-speed DCT. Finally, there are three 2.0-litre four-cylinder turbodiesels that have no electrification at all.
Are you excited about the 2023 Mercedes Benz CLA? Comment down below
Also, see
2023 Hyundai Grand i10 Nios Launched At A Price Of Rs 5.69 Lakh
Follow us on Instagram – here