2023 Porsche Cayenne To Debut With Triple-Screen Dash
The 2023 Porsche Cayenne is now in the midst of extensive testing across four continents, including many rounds of endurance tests and technology evaluations. In 2018, the third-generation Cayenne was introduced in India. Later on in the year, it would get a makeover.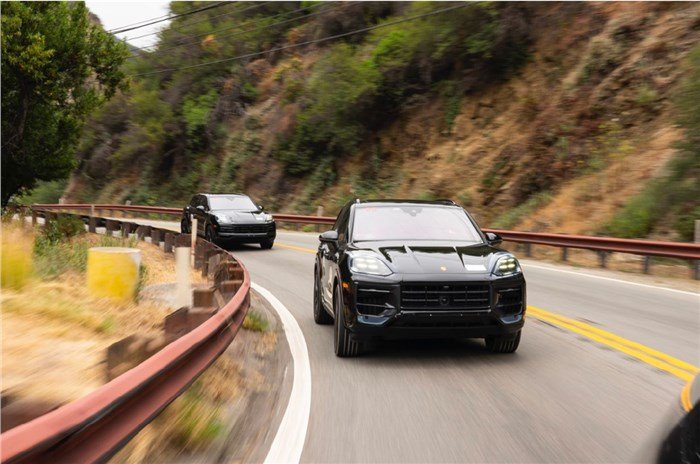 Porsche has thoroughly tested the upcoming Cayenne facelift before it is unveiled. It travelled more than 2,000 kilometres in a variety of environments, including city traffic, rural roads, and motorways. Porsche also tested the Cayenne in harsh environments, such as African deserts, Arctic ice tracks, and Germany's Nurburgring Nordschleife.
Porsche will keep selling the Cayenne as a normal SUV and a coupe SUV. Both will get a new front bumper up front with two thin LED daytime running lamps below the headlights and two large air intakes. Speaking of which, Porsche claims that these new HD Matrix LED bulbs will be twice as brilliant as the previous LED ones.
The Cayenne facelift will essentially not alter in front or back. But, the upgrade will also include matrix LED taillights for Porsche's top-of-the-line SUV.
Porsche will redesign Cayenne's interior to resemble the Taycan EV. It will have a significantly updated dashboard with a 12.3-inch infotainment touchscreen and a 12.7-inch curved digital instrument cluster. Moreover, a 10.9-inch monitor will be available for the front passenger.
The Cayenne's centre console-mounted gear lever will be replaced with a toggle switch adjacent to the new steering wheel, just like in the Taycan. Porsche will also add augmented reality visuals to the head-up display device. Moreover, the Cayenne will receive redesigned door trims, a 15W wireless charging pad, and enhanced ventilation and air conditioning.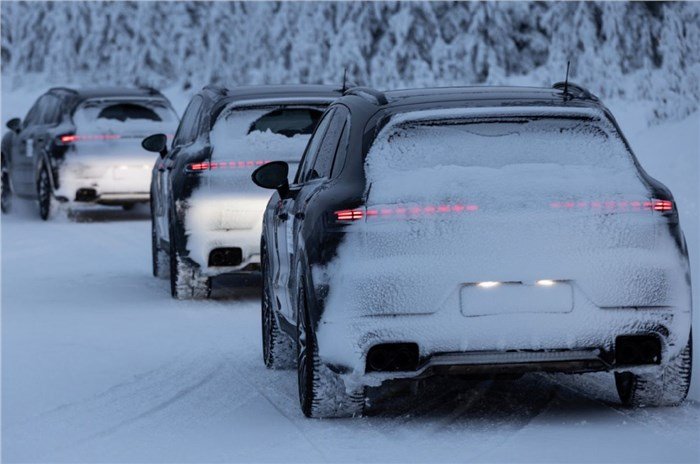 The base Cayenne's 3.0-litre petrol turbocharged V6 engine will now generate an extra 14 horsepower and 50 pound-feet of torque, for a total of 354 horsepower and 500 pound-feet. A 4.0-litre twin-turbocharged V8 petrol engine with 476 horsepower and 600 Nm will now be offered in the Cayenne S, which is not sold in India. With a more intensely tuned version of the aforementioned V8 engine, the top-of-the-line Turbo GT edition will have 660 horsepower and 850 Nm of torque.
Porsche will use a new gearbox-mounted electric motor for the Cayenne's plug-in hybrid versions. This motor now delivers 176 horsepower, an increase of 40 horsepower.
Also, Porsche will reduce the Cayenne e-3.0 Hybrid's litre petrol V6 engine's 340 horsepower to 304 horsepower. The aggregate power output will rise to 470 horsepower with the new e-motor, an 8 horsepower improvement over the existing model. Yet at 650Nm, it will produce 50 Nm fewer.
The battery sizes for Porsche's e-hybrid models will also be increased; they now have a 25.9kWh battery, an increase of 11.8kWh. Together with updated software, they offer quicker charging with a limit increase from 7.2kW to 11kW. It states that the PHEVs will now have an 80km all-electric range. There will be a third Cayenne PHEV type available globally in addition to the basic e-Hybrid and S e-Hybrid, although its specifics are presently under wraps.
With "significant changes" being made to the Cayenne's chassis system by Porsche's engineers in Weissach, the facelifted Cayenne will have a new, semi-active chassis.
Twin-tube variable rate dampers with steel suspension will be part of Porsche's standard Porsche Active Suspension Management (PASM) system. Instead of the present triple-chamber configuration, the optional air suspension will now have a dual-chamber design.
Porsche will also modify the Cayenne's rear-wheel steering system, which is available on higher-end models and will allow for sharper turns at slower speeds. Moreover, Porsche will replace the kinetic energy recovery system and modernise the braking system. The base and higher S models will all come standard with bigger 20-inch wheels worldwide. It is yet unknown if vehicles made for India would come standard with these.
Expect the Cayenne facelift to be on sale in India before the end of this year, even though its global premiere is scheduled for the first half of 2023. Although Cayenne's ex-showroom pricing ranges from Rs 1.26 crore to 2.57 crore, the new Cayenne may experience a significant price increase. The Cayenne, Porsche India's best-selling model in 2022, will compete with vehicles like the BMW X5, Mercedes-Benz GLE, and Range Rover Sport.
Are you excited about the 2023 Porsche Cayenne? Comment down below
Also, see
Royal Enfield Interceptor 650 Lightning Edition And Continental GT 650 Thunder Edition Revealed
Follow us on Instagram – here