Aprilia RSV4 Trenta Limited-Edition Coming Soon
Aprilia RSV4 Trenta Limited-Edition has been spotted testing abroad, suggesting that its release is soon. To mark the 30th anniversary of Aprilia's first world championship victory, this replica is being created.
The adoption of an aerodynamic appendage, known as the "spoon" because of its scooped-out shape, that is directly adapted from Aprilia's MotoGP weapon, the RS-GP22, is the most obvious aesthetic variation over the ordinary RSV4 series. This aerodynamic assist, which is positioned in front of the back wheel, helps to guide wind, which enhances stability.
When Aprilia does introduce the Trenta, it will probably feature the full-system SC-Project racing exhaust that was seen on this test bike. Although this particular motorcycle lacks any features necessary for traveling on the road, Aprilia might offer the Trenta as a road-legal motorcycle with a track-only kit (similar to MV Agusta's RC series) when it is released. Another strong possibility is that it is available as a track-only bike, similar to the track-only 225hp, 165kg (dry) RSV4 X, which was introduced a few years ago and made in 10 units to celebrate the RSV4's 10th anniversary.
Although it is difficult to say whether the engine's performance is improved, it will at the very least obtain a suitable tune to accommodate the race exhaust. Hardware for the suspension and brakes appears to have been brought over from the RSV4 Factory.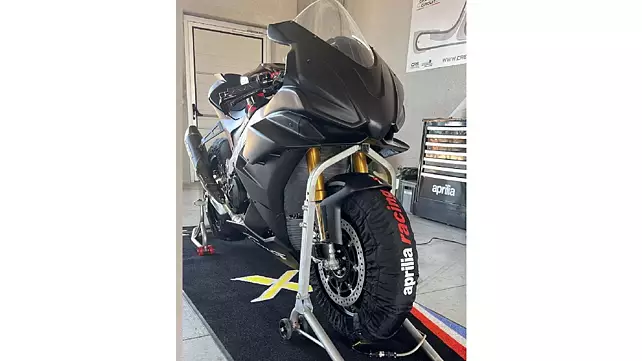 The Aprilia Racing division will be producing this RSV4 special version. Trenta means thirty in Italian, therefore even if production numbers haven't been made public, it's likely that 30 units will be constructed. And when they finally release it, anticipate that the price will be rather expensive.
The Noale-based brand has a distinguished racing history and 54 world championships to its credit, the first coming from Alessandro Gramigni in 1992 when he won the 125cc Grand Prix World Championship. In the two-stroke era and WSBK, Aprilia was a formidable competitor, winning multiple World championships with riders like Valentino Rossi, Max Biaggi, Loris Capirossi, and Sylvian Guintoli. With their first victory in the contemporary age of MotoGP and five podium finishes in the first half of the 2022 season, their MotoGP campaign has recently undergone an astounding reversal.
Are you excited about the Aprilia RSV4 Trenta Limited-Edition? Comment down below
Also, see