BMW M3 CS Revealed, Launch On March 2023
The F80 M3 CS, which is even more potent than the BMW M3 competition, is the most potent M3 that BMW has ever produced. Only sedan body styles and a small quantity of the BMW M3 CS will be marketed internationally.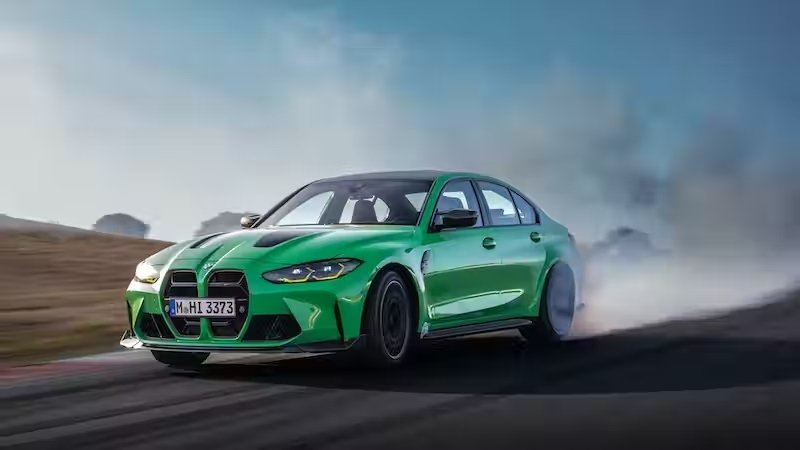 A number of aesthetic design changes, such as an open front grille that looks angrier and is supposed to mimic the front end of BMW's GT4-spec M4 racer, distinguish the M3 CS from the M3 Competition. The new-look snout is rounded off by wide air intakes. These are accompanied by a variety of aerodynamically beneficial features, such as a broad front splitter and a rear spoiler with a lip. It has unique gold V-spoke wheels that are 19 inches in the front and 20 inches in the back. The wheels are fitted with track-oriented tires. While carbon-ceramic brakes are also an option, the M compound brakes include red calipers.
The interior is similar to that of the M3 Competition in many ways, including the addition of the newest widescreen infotainment system from BMW. Merino leather seats are installed as standard equipment, however, and CS badging is visible everywhere.
The new BMW M3 CS sedan boosts the M3 Competition's already potent output by 40 horsepower. The M3 CS can accelerate from a complete stop to 100 kph in only 3.4 seconds thanks to its twin-turbocharged 3.0-liter straight-six engine, an upgraded version of the same engine found in the normal BMW M3 and BMW M4.
It only takes 2.6 seconds to accelerate from 80 to 121 kph, and the peak speed is electronically capped at 303 kph. The 650Nm of torque produced by the straight-six engine is transmitted to the wheels using BMW's xDrive four-wheel drive system. A selectable RWD option is also included.
One of the factors that contribute to the M3 CS's performance numbers is its lighter body, which was created by using a lot of lightweight materials throughout the vehicle (such as carbon fiber for the roof) and replacing heavy components with lighter ones (such as carbon fiber bucket seats and a titanium rear silencer). The M3 CS weighs 20 kg less overall than the M3 Competition, which weighs 1,780 kg.
The chassis is essentially the same as the one in the M3 Competition while having a customized setup, below. High-speed circuit driving is one use for which the M Dynamic driving mode has been designed. Other components include dampers, auxiliary springs, anti-roll bars, individually adjusted axle kinematics, and wheel camber adjustments. The quantity of M3 competitions that will be made is restricted yet unknown. In March, customer deliveries will start.
Are you excited about the BMW M3 CS? Comment down below
Also, see
Porsche 718 Cayman GT4 RS Makes Its Debuts In India
Follow us on Instagram – here