Porsche 718 Cayman GT4 RS Makes Its Debuts In India
Porsche introduced the 718 Cayman GT4 RS in May 2022, and it is presently on display at its Festival of Dreams event in Mumbai for Rs 2.54 crore (ex-showroom, India).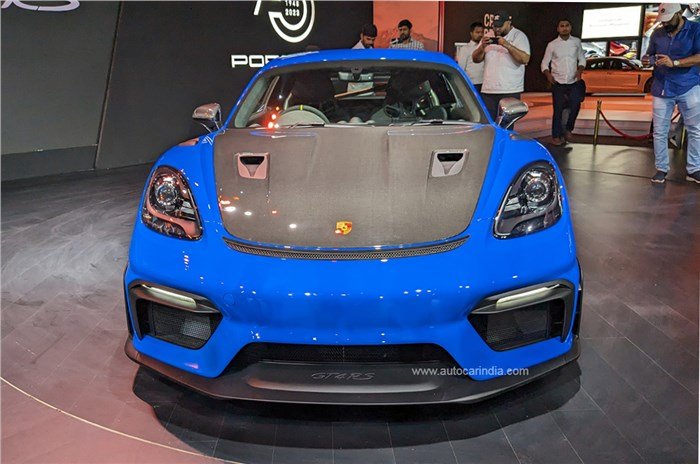 The GT4 RS, the highest model in the 718 lineups, is exclusively offered in the coupe body type. The base models of the 718 series in India are the Cayman and Boxster, with the GTS versions of both coming later. The performance-oriented Cayman GT4 and Boxster Spyder are positioned below GT4 RS.
The GT4 RS is Porsche's most extreme, track-focused, and performance-oriented 718 vehicles to date. It was able to record a time of 7:09.03 at the German racetrack Nurburgring, which was much quicker than the GT4 by 23.06 seconds.
This astounding lap time at the Nurburgring is caused by the GT4 RS's small weight savings and vastly increased power over the GT4. Its 4.0-liter naturally aspirated flat-six engine, which has 80 more horsepower than the GT4 and can rev to 9,000 rpm, delivers 500 horsepower. Additionally, it produces 450Nm of torque, 30Nm more than the GT4 does. This engine is the same as that of the 911 GT3, however, it has been slightly toned down.
The Porsche 718 Cayman GT4 RS can reach a high speed of 315 kph and complete the sprint from 0 to 100 kph in only 3.4 seconds thanks to all this power. The GT4 RS exclusively comes with the 7-speed dual-clutch automatic transmission; the GT4 is also offered with a 6-speed manual transmission. The substantial use of carbon-fiber-reinforced plastic for the bonnet and front wings account for weight savings, which may be up to 35kg when compared to the GT4. It also helps that the rear windscreen has a lightweight design.
When it comes to the RS models, Porsche's motorsport branch in Flacht, Germany, doesn't skimp on anything. Similar to the 911 GT3 RS, the GT4 RS boasts several aerodynamic improvements that are essential to its ability to accelerate quickly around a racetrack.
It gains a front diffuser that can be adjusted, a new air vent, and a swan-necked rear wing. Additionally, the Porsche 718 Cayman GT4 RS is 30mm lower than the regular Cayman. All of this, according to Porsche, has led to the GT4 RS having 10% more downforce than the GT4, and it increases to 60% in the track-oriented performance mode. Porsche claims that scooping away the rear quarter window to boost airflow to the engine also improves the sound.
The show-stopper at Porsche's Festival of Dreams was the 718 GT4 RS. The Porsche Taycan that we at Autocar India utilized for our epic drive from Kashmir to Kanyakumari was also displayed by the German automaker.
Are you excited about the Porsche 718 Cayman GT4 RS? Comment down below
Also, see
2023 Jawa 42 Tawang Edition Launched In India – 100 Units Available
Follow us on Instagram – here