Hyundai Exter Micro SUV Spied Before Its Launch On August
The Hyundai Exter micro SUV, Hyundai's next big launch for India, has been spotted in production form. While a global premiere and market launch in India is still a ways off, these spy images, which appear to have been taken in Korea, provide a clear glimpse at the future Exter's design.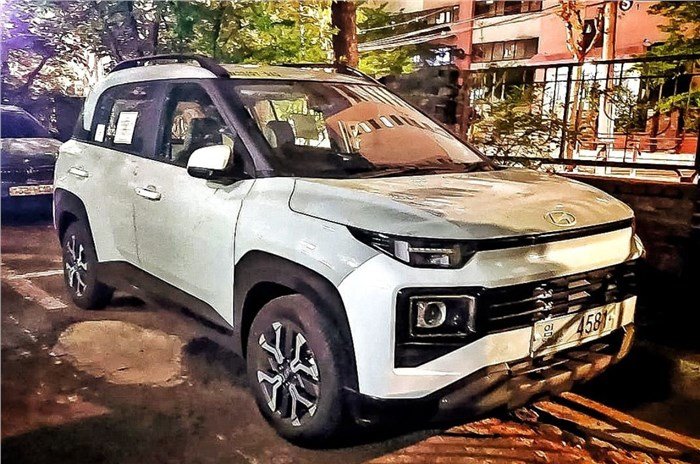 While the Hyundai Exter shares its underpinnings with the Grand i10 Nios, the style is distinct, with a flat bonnet and a three-tiered nose. On the top, the indicator lights at each corner are linked by a black strip, which in some variations may include a connected LED. These lights have H-patterned LED daytime running lamps, which will be seen on more Hyundai SUVs in the future, such as the Santa Fe and Creta facelifts for India.
The square headlamps are positioned inside the grille enclosure, which is large and sits directly in the center. The headlamps appear to be projector units with LED lights for higher models. The third layer up front comprises the chin and extra paneling, both of which are coated in matte black to complement the Exter's SUV appearance.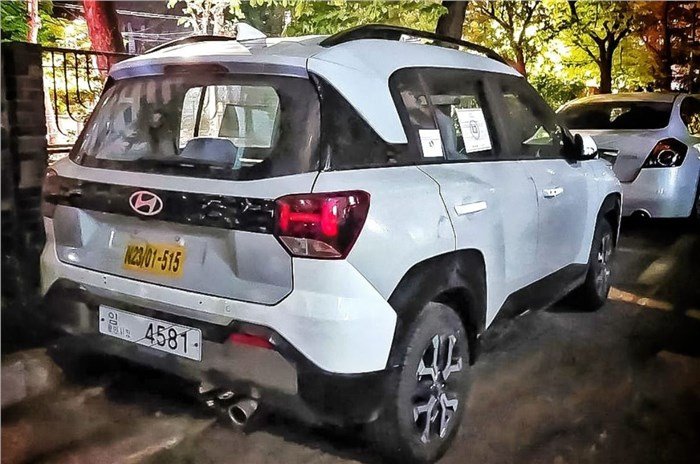 The Exter features round and slightly flared wheel arches on the sides, as well as thick cladding over the length, which adds to the SUV's squarish appearance. Both the front and back doors appear to be spacious to allow for easy access and egress, and the glasshouse appears to have been kept basic with large windows all around. The Exter seen in these spy pictures has elegant dual-tone alloy wheels, roof rails, and a contrast matte black finish on the A and B pillars, as well as aft of the C pillar, which gives the rear window a linked effect.
The tailboard of the Exter is upright, with the rear glass inclined at a little angle. It has a shark fin antenna and a small built-in spoiler directly over the back glass; the rear bumper is tall and flat, with a dual-tone finish that combines body color and matte black.
The tail lamps resemble those of the Grand i10 Nios, although they are more angular and joined by a contrast black panel, as seen on the contemporary Hyundai Venue. On this black panel, Hyundai's new 2D logo takes the central stage. Between this panel and the rear bumper is the license plate enclosure.
Meanwhile, the tail lamps appear to have an H pattern for their LED parking lamps, and higher variants may have a connected LED strip between the tail lamps.
The Exter's base engine will be the same 83hp, 1.2-liter naturally aspirated petrol used in the Venue, Grand i10 Nios, and Aura. Hyundai may subsequently add a 1.0-liter turbo-petrol engine. The Exter will also receive a factory CNG option, and there are rumors of an all-electric variation joining the lineup in the future.
Are you excited about the Hyundai Exter? Comment down below
Also, see
Citroen C3 Shine 1.2 Turbo Launched At A Price Of Rs 8.80 Lakh
Follow us on Instagram – here