Hyundai Grand i10 NIOS Corporate Edition Launched, With No Mechanical Changes
Hyundai Motors has introduced a new special edition for its Grand i10 NIOS to increase sales for this festive season. It is based on the Magna version but also receives certain additional premium features together with some minor cosmetic upgrades. Slightly more than the normal Magna variant, this special version is priced.
Even if you don't still find the major changes that are necessary such as dual tones or shark fins, but some other minor changes to cosmetics, including ORVMs, colored in the body, and integrated turn indicators are shown in this Hyundai Grand i10 NIOS Corporate Edition. The older 14-inch steel wheels are replaced now by new 15-inch alloy wheels with their flat and blunt wheel caps. The new design and the gunmetal-shine grey finish are new.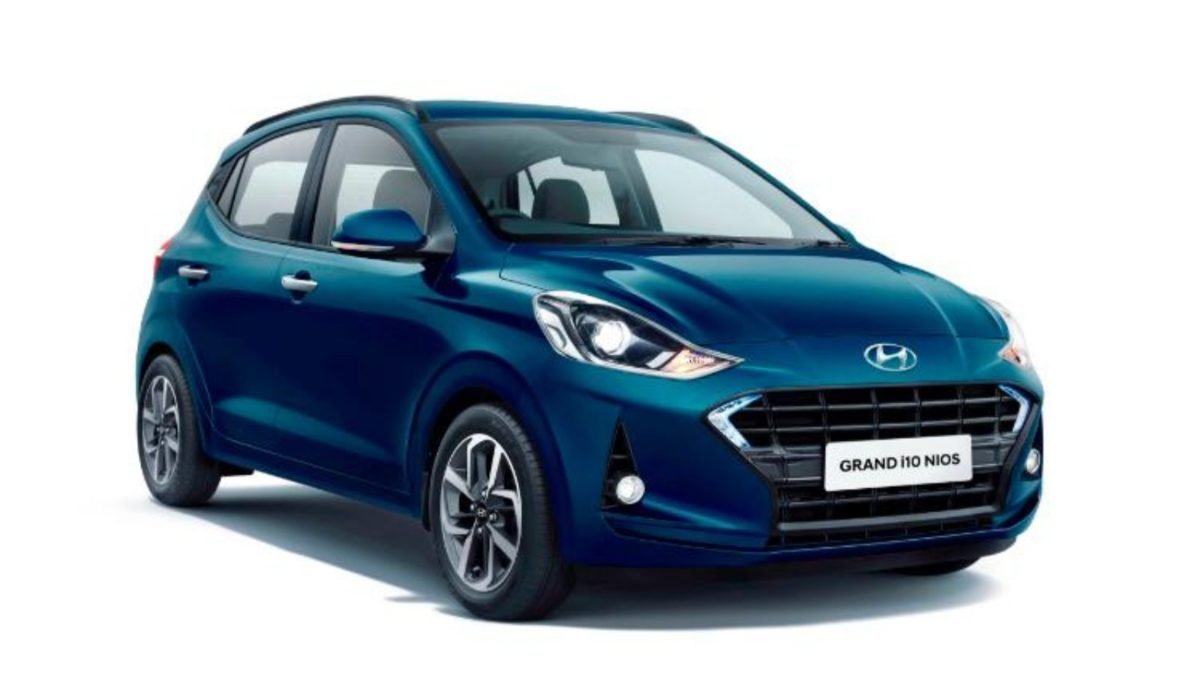 As mentioned above, the Hyundai Grand i10 NIOS Magna version is based on the corporate issue. But the regular Magna version, for a small premium, provides this special edition with some further features. A new 6.75 "touchscreen infotainment system instead of the old regular 2 DIN audio system is part of the additional features on the interior. Apple Car Play and Android Auto connectors are supported by this infotainment system.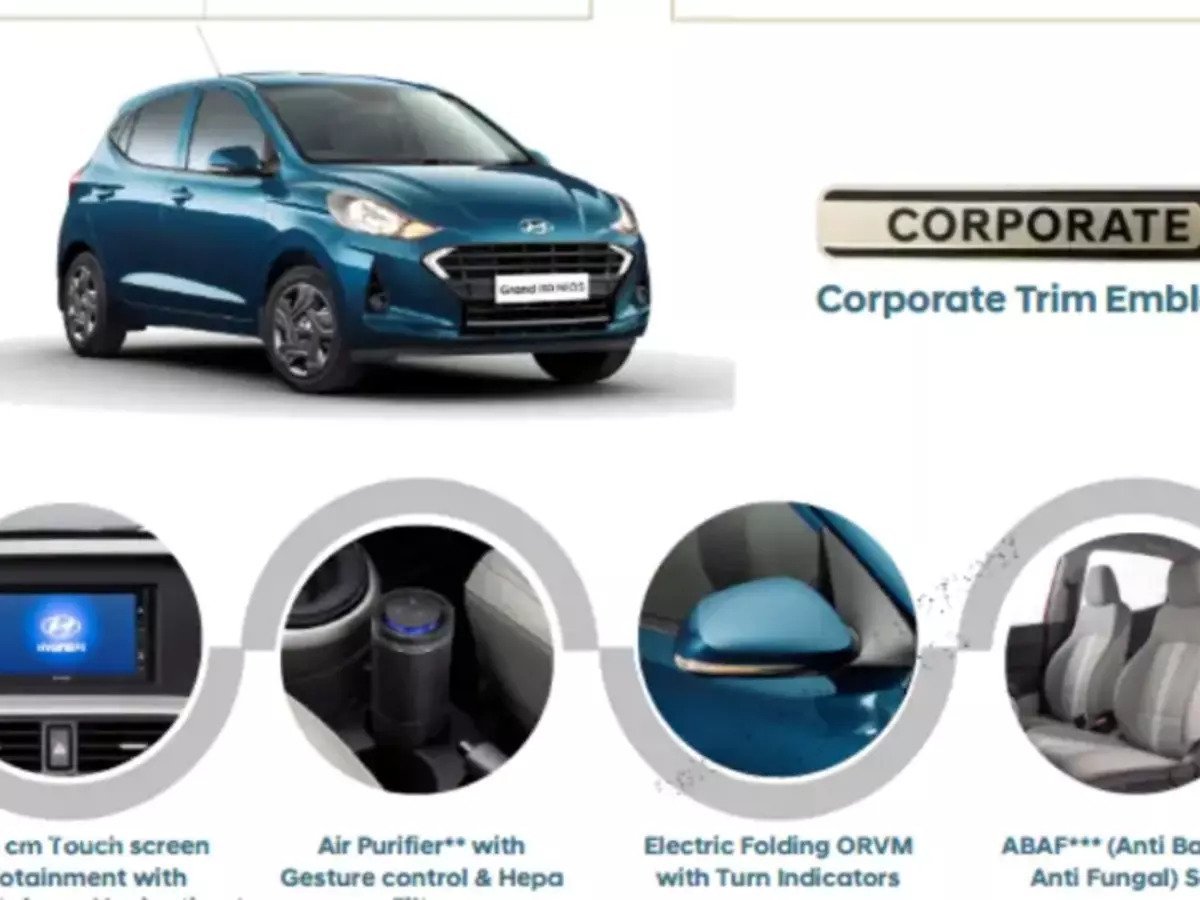 Well, we mentioned the ORVM already but did not say that it's also going to be electrically adjustable for these ORVM's. An in-cabin air purifier and anti-bacterial seats are also part of other internal updates that will be useful in this pandemic situation.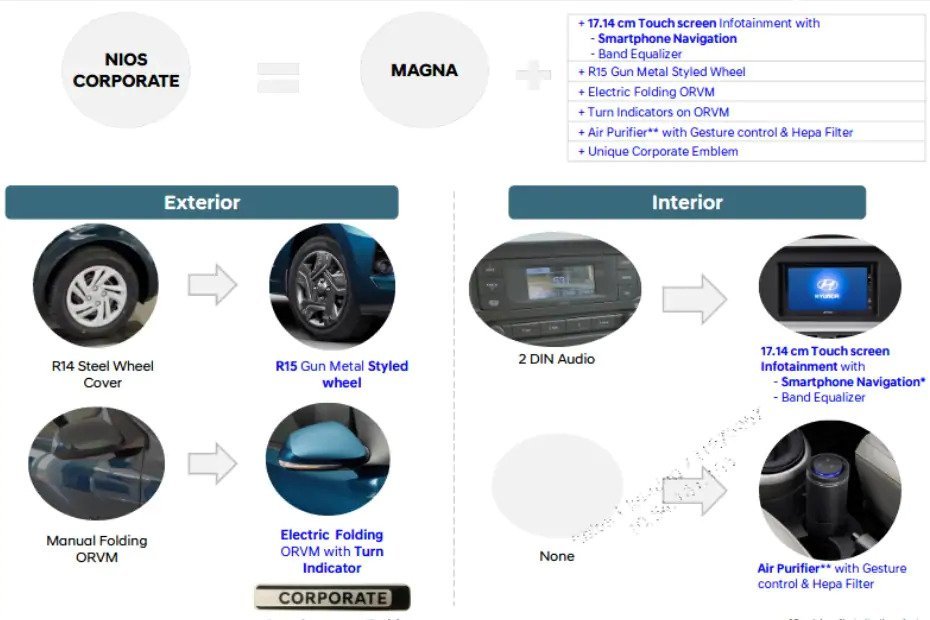 Now, before mentioning the price, we feel that these added features are the same thing that you pay on the standard Magna variants in the Hyundai Grand i10 NIOS Corporate Edition. In addition to the base Magna Corporate Edition, the variant in the corporate lineup will cost up to Rs 41,000 more but will also have other features like auto AC and projection headlamps.
So in general Hyundai Grand i10 NIOS Corporate Edition will be priced between 6.10 to Rs 7.19 lakh (ex-showroom Mumbai). At present, the Grand i10 is ranging from Rs 5,07 lakh to Rs 8.29 lakh (the former Mumbai showroom). Apart from these differences, the natural petrol engine of 1,2-liter, together with 5-speed MT or 5-speed AMT, produces 82 bhp of power and 114 Nm of torque, will be one thing that will be the same. The other alternative is the diesel engine with 1,2 liters and a manual gearbox with a capacity of 73 bhp and a torque of 190 Nm.
Tell us what you think about the Hyundai Grand i10 NIOS Corporate Edition. comment down below
Also, see
Land Rover Defender P400e – Plug-In Hybrid Variant Unveiled