Hyundai Verna Gets 0 Stars Safety Rating -Latin NCAP Crash Test
The 2021 Hyundai Verna, which is built in India and Mexico, has received a dismal 0-star rating from Latin NCAP (Latin New Car Assessment Programme). Although Latin NCAP did not indicate the actual origin of the crash-tested model, the Hyundai Verna is offered as the Accent in Latin American countries.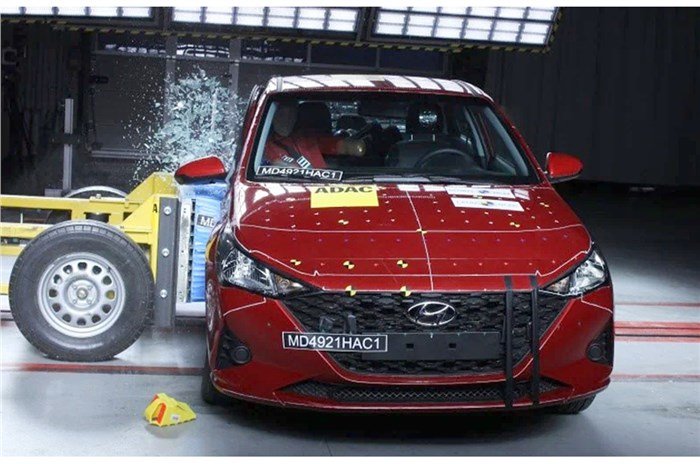 Only a driver's side airbag, seat belt pretensioners for both driver and passenger, ISOFIX child seat fixings in the rear seats and a driver side seat belt warning were standard safety features on the Hyundai Verna test model.
The Verna provided decent protection to the driver's and passenger's head and neck areas in the frontal-offset impact test, and while the driver's chest protection was adequate, the passenger's chest protection was low, resulting in a frontal collision score of 0 points. The footwell and bodyshell, on the other hand, were deemed stable and capable of withstanding additional loads.
Whiplash protection was likewise mediocre, scoring 1.57 out of 3 points. With 5.11 out of 8 points in the side impact test, the Verna provided marginal to good protection. In the frontal impact test, the overall score was 3.69, or 9.23%.
The Verna received a score of 6.21 out of a possible 12.68 percent for child occupant protection but overall the Hyundai Verna Gets 0 Stars Safety Rating. Hyundai did not propose a Child Restraint System (CRS) for the rear outward seats, which resulted in 0 scores in dynamic tests. Although some of the CRSs tested for installation failed, Latin NCAP said that with CRS installed, the Verna provided enough protection to a 3-year-old child dummy in rearward-facing child seats.
With a 53.11 percent score for pedestrian safety, the Verna provided marginal to good protection. Only the driver's side seat belt reminder received 6.98 percent in Verna's safety aid system.
Because of the non-recommendation of CRS and the lack of side airbags and ESC as standard, the safety rating would have remained the same even with dual front airbags, according to Latin NCAP. Hyundai Verna Gets 0 Stars Safety Rating.
In terms of safety features, the Hyundai Verna sold in India is slightly better equipped than the variant that was crash tested by Latin NCAP. As a result, the test findings do not relate to the model sold here.
In India, the Verna comes standard with dual front airbags, ABS with EBD, reverse parking sensors, impact sensing auto door unlock, driver and passenger seatbelt reminders and pretensioners, and ISOFIX anchorages. Side and curtain airbags, ESC, vehicle stability management (VSM), front parking sensors, TPMS, and rear disc brakes are all standard on top-spec Vernas.
The Latin-spec Verna, on the other hand, comes with passenger and side airbags, as well as ESC, as optional extras.
In other news, Hyundai is working on Verna's next iteration, which is expected to appear next year. The all-new car was recently spotted in South Korea undergoing testing.
Also, see