Lamborghini Huracan Sterrato Revealed
Before the Huracan Sterrato's public debut on November 30 at Art Basel in Miami, Lamborghini has shared a series of official images.
The Lamborghini Huracan Sterrato is most likely the brand's pinnacle internal combustion engine model. The concept for the Huracan Sterrato, an off-road version of the V10-powered supercar, was unveiled by Lamborghini in June 2019. Lamborghini has now completely revealed the exterior design by removing the concealment.
The Lamborghini Huracan Sterrato has roof rails, a snorkel mounted on the roof, two LED fog lamps, and side body claddings. The diffuser on the rear bumper has undergone some alterations that should improve the departure angle, and a larger roof scoop has been installed. Due to the apparent suspension upgrade, the Huracan Sterrato has much greater ground clearance than.
Lamborghini has also fitted new black wheels wrapped in robust Bridgestone Dueler tires to improve the all-terrain performance. There are also noticeable underbody guards at the front and back as well as the broad side skirts. Red body accents that extend onto the brake callipers are combined with the new khaki color on the Huracan. Lamborghini has made a point of emphasizing that its car is an all-terrain vehicle capable of navigating loose-soil areas.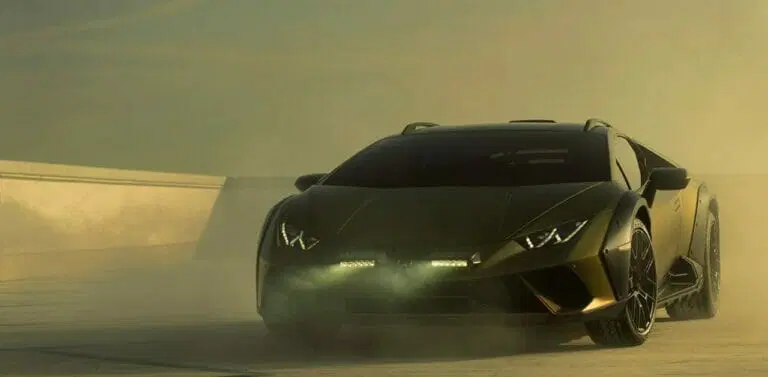 The 5.2-liter naturally aspirated V10 with 640 horsepower and a seven-speed automated transmission in the Serrato concept car was the same as the one in the Huracan Evo. Production-spec Sterrato models are predicted to retain the Huracan's rear-wheel steering system and come equipped with an enhanced LDVI (Lamborghini Dinamica Veicolo Integrata) driving mode system that performs better in slick weather.
The nearly seven decades of Lamborghini sportscars powered only by internal combustion are predicted to come to an end with the arrival of the Lamborghini Huracan Tecnica and Lamborghini Urus Performante this year. As a result, Lamborghini will introduce the Aventador's replacement in 2023, which will have a hybrid power boost. Officials from Lamborghini assert that the electrified powertrain will be far more potent than the existing model thanks to the addition of a new hybrid component. A heavily taxed, large-capacity V12 engine will continue to supply the majority of the power for the electrified drivetrain. The Huracan's replacement will also be hybrid-powered.
Also, see
Bajaj Pulsar 125 Carbon Fibre Edition Launched At A Price Of INR 89,254