Lamborghini Urus Performante Launched At A Price Of Rs 4.22 Crore
The Urus Performante, the newest super SUV from Lamborghini India, has been released with prices beginning at Rs. 4.22 crore (ex-showroom, India). The Urus received a mid-life update that gave birth to two model lineups: the comfort-focused Urus S and the handling-focused Urus Performante.
The 4.0-liter twin-turbocharged V8 that powers the Urus Performante is the same as the one in the current model, but it now makes 666 horsepower, 16 more than before. However, the torque figure stays the same at 850Nm. The Performante boasts a top speed of 306 kph and claims to be able to sprint from 0 to 100 kph in 3.3 seconds (claimed).
The Lamborghini Urus Performante has undergone the most significant changes, adopting a coil spring setup in place of the air suspension previously used. The three off-road driving modes—Sabbbia (Sand), Neve (Snow), and Terra (Mud)—are lost when the suspension is changed to sports; however, a single rally mode is added to the already-present Strada (Street), Sport, and Corsa (Track) modes.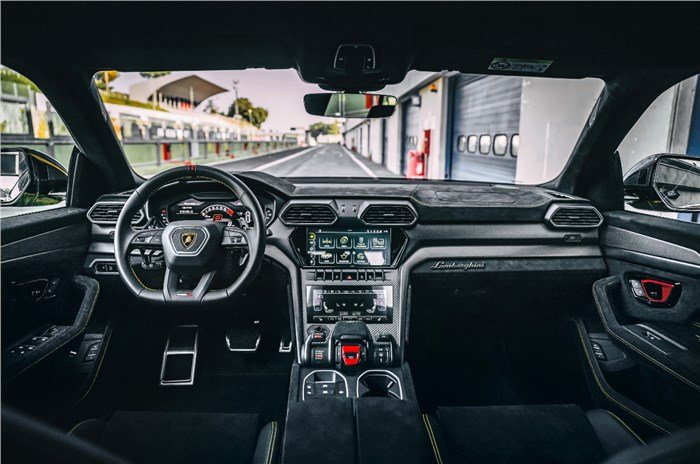 Now, 20mm lower, 16mm wider, and 25mm longer than the previous Urus Performante. Additionally, it can choose to have performance tires explicitly made for SUVs, the Pirelli P Zero Trofeo R.
The mid-life refresh includes minor aesthetic modifications like a new bonnet with cooling vents, a front bumper design that is a little more aggressive, and a rear bumper that has new side vents. Apart from a new design for the optional 23-inch alloy wheels, the silhouette hasn't changed much.
Black Alcantara is standard on the Urus Performante's interior, but leather is an option. There are 'Performante' emblems on the seats, doors, and roof lining, and the seats also get a new hexagonal pattern. Additionally, Lamborghini offers a Dark Package that gives numerous interior details a Matte Black finish.
The Lamborghini Urus Performante will face competition from vehicles like the Audi RSQ8, Aston Martin DBX 707, and Maserati Levante Trofeo. Once it reaches India, it will also compete with the recently launched Ferrari Purosangue.
Also, see
BSA Scrambler Concept Revealed
Follow us on Instagram – Here