Lamborghini Urus Performante Revealed
With 666 horsepower—16 more than the previous Urus—the Urus Performante, Lamborghini's newest super-SUV, is powered by the same 4.0-liter twin-turbo V8. However, the torque number has kept the same at 850Nm. The Urus Performante broke the production SUV record at the Pikes Peak International Hill Climb before it ever went on sale.
The cost is USD $260,000. (roughly Rs 2.07 crore). In India, it has not yet been introduced. According to Lamborghini, delivery of the Urus Performante will start before the year 2022 is out.
The Urus Performante has lost 47kg in weight. In addition to having more power, the super-SUV has a peak speed of 306kph and can sprint from 0 to 100 kilometres per hour in 3.3 seconds. Additionally, it may choose to have performance tyres made specifically for SUVs, the Pirelli P Zero Trofeo R.
Along with the already-existing Strada, Sport, and Corsa modes, Lamborghini has revised the drive modes on the Urus Performante to include a new Rally mode that is intended for off-road driving. The new mode has been adjusted to produce a slight amount of oversteer, according to Lamborghini.
Instead of the air springs that were featured on the previous model, the Urus Performante now utilises a coil spring setup. Additionally, the new Urus is 25mm longer, 16mm broader, and 20mm lower than the old one.
Two functional air vents and more pronounced lines are now included in the standard carbon fibre bonnet. Both a carbon fibre roof and partially exposed carbon fibre on the bonnet are options. The additional air vents in the Urus Performante's front bumper have also been designed to improve engine cooling.
Apart from a new design for the optional 23-inch alloy wheels, the Lamborghini Urus doesn't receive many modifications in terms of its frontal appearance. The new SUV's back bumper and vents have been given an updated look. Additionally, it boasts a redesigned rear spoiler that, according to Lamborghini, increases downforce by 38%.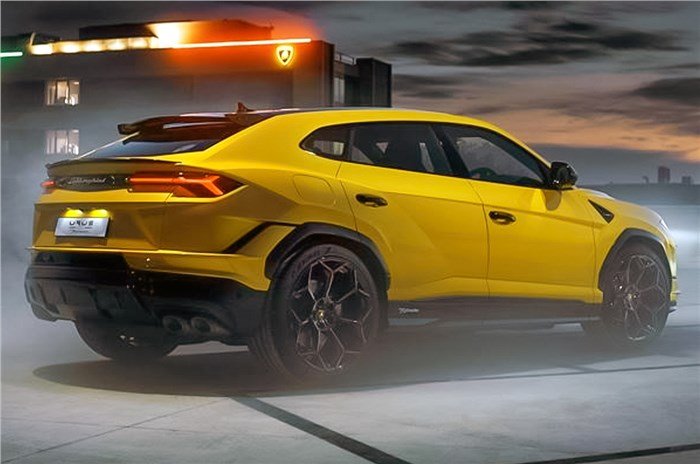 The seats in the Lamborghini Urus now have a new hexagonal pattern and come standard with Black Alcantara; leather is still an option. Additionally, Lamborghini offers a Dark Package that gives numerous interior details a Matte Black finish. Additionally, Performante badging is added to the super-seats, SUV's doors, and roof lining.
The next Lamborghini super-SUV will go up against vehicles like the Porsche Cayenne Turbo GT, Audi RSQ8, and Aston Martin DBX 707. It will also compete with the planned Ferrari Purosangue SUV, which will make its debut the following month.
Also, see
Tata Tiago XT Rhythm Launched At A Price Of Rs. 6.45 Lakhs
Follow us on Twitter