Minus Zero zPod Autonomous Driving Concept Unveiled
The zPod, which Minus Zero, an autonomous driving start-up based in Bengaluru, claims to be India's first driverless car, has been presented. The whole self-driving technology created by the artificial intelligence (AI) company is displayed in the zPod.
According to Minus Zero, it is a tech company rather than an automaker that will offer its autonomous driving technology to other producers in order to assist them improve their ADAS suite.
According to Minus Zero, the zPod is only a technological demonstration of what it is attempting to do. Its goals are to lessen traffic congestion as well as road accidents and the accompanying injuries and fatalities. Gursimran Kalra, COO of Minus Zero, uses Bengaluru as an example, claiming that the city "wastes 2.5 lakh litres of fuel every hour, every day just in traffic" and that the total cost of all the inefficiencies "leads to whopping $22 billion of losses to a single nation over a period of one year."
Unlike many autonomous cars, the zPod uses a system of six cameras instead of LIDAR (light detection and ranging), with two in the front and back and four on the sides.
The company also displayed its True Vision Autonomy idea, which navigates obstacles using the aforementioned cameras as sensors. According to Minus Zero, the idea can be used to any type of existing vehicle, including ICE and EVs. It claims that, as long as the vehicle has an engine control module, its autonomous driving technology can easily be added to already-registered vehicles.
With its new AI technology, which it refers to as "Nature Inspired AI" (NIA), Minus Zero says it will be able to address some of the major issues that have arisen during the development of autonomous vehicles, including costly hardware, the need for a lot of data, navigation through complicated traffic conditions, and unruly infrastructure. It will use physics-aware vision and predictive decision-making like a human brain, Minus Zero claims, adding that the current paradigm employed in AI research is prone to fail in situations it is not trained in.
As previously indicated, the Minus Zero zPod Autonomous Driving Concept vehicle can use its camera suite to travel in any location and situation. With its AI technology, Minus Zero asserts that it can scale up to autonomous level 5, or essentially have no human interaction when driving in real-world situations.
The zPod is a four-seater electric vehicle without any controls or a typical car's layout. The seats face one another. The AI handles all of the driving and evaluates all of the data from the images that are taken by the cameras in real-time to come to a judgement. According to Minus Zero, using the camera suite will assist reduce costs.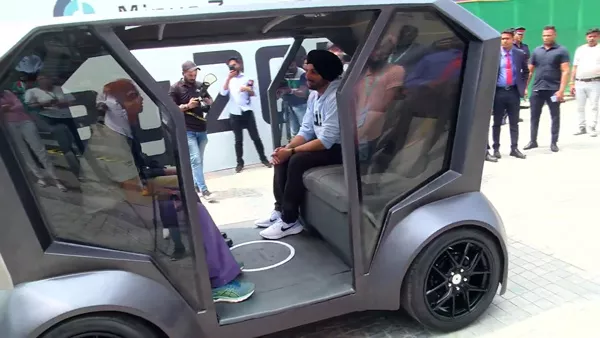 According to the report, in the near future, the zPod's and its AI technology's use cases will be restricted to on-campus mobility or travel that stays behind a geo-fence and stays off of public highways. The zPod can be employed in locations like academic buildings, neighbourhoods, tech parks, etc.
It's interesting to note that Minus Zero claims it has no plans to commercialise the zPod and that it was just intended to serve as a demonstration of the AI-based autonomous driving technology it has created. The company claims that the zPod might serve as inspiration for automakers to consider fresh options for non-driver-centric vehicle design.
Are you excited about the Minus Zero zPod Autonomous Driving Concept? Comment down below
Also, see
Honda Elevate To Make Its Global Debut Tomorrow
Follow us on Twitter – Here