Nissan GT-R50 production unveiled by Italdesign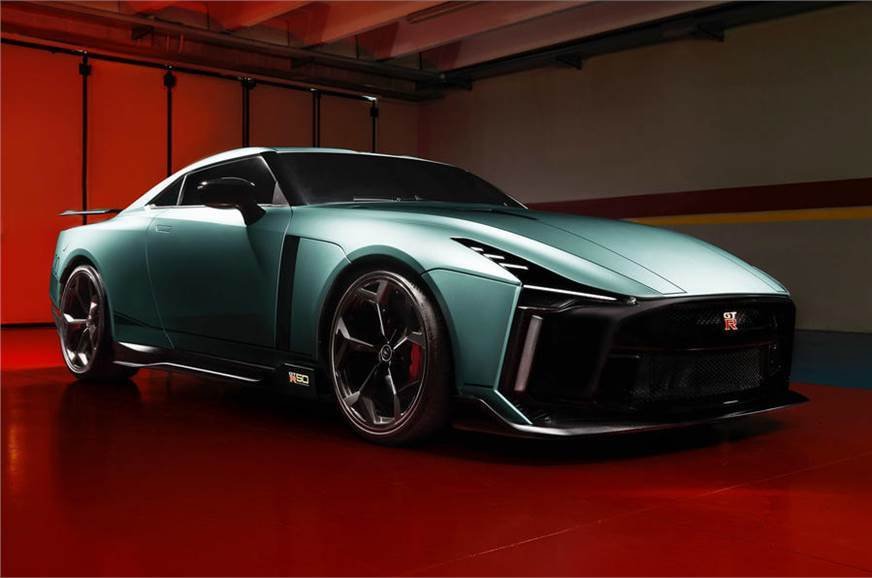 Italdesign's ultra-exclusive Nissan GT-R50–a partnership between Nissan and the beloved Italian styling house–was unveiled in production spec. The Nissan GT-R50 is first seen in concept form in 2018 and marks both the GT-R and Italdesign's 50th anniversaries.
The radically modeled variant, restricted to just 50 units, relies on Nissan's leading supercar's top-rung implementation of Nismo and is priced at Rs 8.23 crore. Italdesign says it has already taken a "significant number of deposits." Deliveries are set to begin early next year.

Italdesign's new Nissan GT-R50 is longer, wider, and lower to the ground than the regular car, with its roofline lowering by 54 mm. Italdesign elsewhere has simplified and aerodynamically enhanced some of the hallmark characteristics of the GT-R, with the GT-R50 receiving a wide, flexible rear wing that is not present on Nissan's mass-produced edition.
Buyers may also opt to display the GT-R logo from a selection of liveries influenced by the most famous vehicles, making it possible for any of the 50 vehicles to be a tailor-made design. Power comes from an improved 3.8-liter V6 variant of the GT-R Nismo, which has been modified to deliver 720hp and 780Nm of torque-up from the stock GT-R 600hp and 652Nm.

Improvements include the introduction of race-spec turbochargers and a larger intercooler, while crankshaft, pistons, bearings, conrods, and exhaust systems have all been reengineered to result in the change in performance figures.
Italdesign intended to demonstrate the production-spec car at the Geneva Motor Show earlier this year, but after the cancelation of the event, it was seen for the first time at the Tazio Nuvolari Circuit in Italy, where the company performs the dynamic tests required for the approval of the vehicle model.
Tell us what you think about it? Comment down
Also, see
BS6 Nissan Kicks 1.5 L and 1.3 L Petrol launched
2020 Honda WR-V facelift is likely to be available in two variants
Volvo Introduces Speed Limit of 180 kmph and 'Care Key' in its cars