Prodrive Hunter T1 Revealed
The first road-going version of Prodrive's latest Bahraini-backed Dakar Rally car, the BRX Hunter T1, has been unveiled. The first road car, built for Bahrain's Prince Salman bin Hamad Al Khalifa, is the first of a batch of 25 road-going T1s that will be built at Prodrive's Banbury headquarters over the next two years, with each car starting at £1.25 million (roughly Rs 12.5 crore) before local taxes.
The road-going Prodrive Hunter T1 has been dubbed "the Ferrari of the desert" by Prodrive chairman David Richards, who designed it to be the world's fastest cross-country production car. "Where we're going, we don't need roads," says a detailed Prodrive brochure.
Although there are dozens of differences, the close relationship between the road and rally models is obvious. Both cars have a body designed by Ian Callum, who used to work for Jaguar and is now based near Prodrive's Banbury headquarters. The Prodrive Hunter T1 is 4,600mm long and 2,300mm wide, with an aerodynamically oriented fastback shape and a high wing above the rear window to generate downforce, but it is at least 100mm shorter than its rally sibling, standing at 1,850mm tall.
The road car is built on the same tubular steel spaceframe chassis as the three-team cars competing in the Dakar this year. The 2022 T1s are similar to the 2021 models but are significantly modified, and the road car adheres to the most recent specification. They have much larger tyres, with a 38-inch diameter on a 17-inch wheel, which should help avoid the dozens of punctures that plagued last year's campaign. A spare tyre can be stored in the sidepod ahead of each rear wheel.
All models feature Prodrive's ultra-long-travel twin-shock coil suspension in the front and rear, as well as air jacks for quick tyre changes – a must in the desert running where assistance isn't always available.
Although most of the car's headline specifications are similar to those of the rally cars, there are many differences in the details, according to Prodrive engineer Mark Paterson, who is in charge of the road car programme.
Because "prospective owners are the kind of people who spend weekends driving in the desert," said Paterson, the interior has to sound deadening wherever possible, the competition seats have been replaced by slightly more comfortable designs, the new fascia is configured so the car can be driven by people of varying skills, and the massive 480-litre rear fuel tank can be shrunk to give extra boot space. "It's possible they'll need some luggage."
The Prodrive Hunter T1's engine is a dry-sumped 3.5-litre twin-turbocharged Ford V6 re-built and modified at Prodrive with bespoke engine control systems.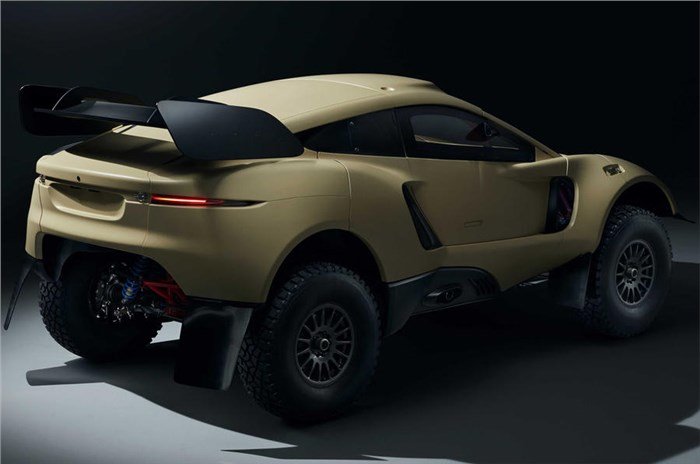 The Prodrive Hunter T1 is a front-engined aircraft with a position so close to central that the engine cover protrudes half a metre into the cockpit. The road car is said to have a power output of over 600 horsepower, which is around 200 horsepower more than the FIA regulations allow for pure rally cars, and torque of around 700 Nm. Although both engines redline at 6,500 rpm, the rally car's shift lights are set to 5,500 rpm as torque drops above that. The car has permanent four-wheel drive and a six-speed paddle shifter gearbox.
The company estimates that it will take less than four seconds to accelerate from zero to 100 kilometres per hour, with a top speed of nearly 300 kilometres per hour.
Prodrive already has "three or four" buyers interested in cars, according to Richards, and expects more to contact them once the car is unveiled. Rather than appointing dealers, Prodrive will deal directly with customers. "The people who want one of these aren't going to be like regular car buyers," Richards said. "They'll be able to locate us."
Are you excited about the launch of Prodrive Hunter T1? Comment down below
Also, see
2022 Renault Kwid Launched At INR 4.49 Lakh