Toyota Hilux Unofficial Bookings Open
The Toyota Hilux was sighted during a commercial shoot in Gurugram, Haryana, ahead of its introduction. The Hilux was entirely uncovered and covered in a vivid red hue. The Toyota Hilux is scheduled to hit the market in January 2022. Some Toyota dealers in India have begun taking unauthorized Toyota Hilux reservations, with prices ranging from 50,000 to 2 lakhs. In India, Toyota is yet to launch formal reservations for the Hilux. In India, Toyota's Hilux will compete against the Isuzu D-Max in the niche sector of lifestyle pickup trucks.
The Toyota Hilux, like the Innova and Fortuner, will be built on the IMV-2 platform. However, this truck is substantially longer than the two cars, measuring just under 5.3 meters in length and with a wheelbase of over 3 meters, making it a road giant. This truck will be around the same width as the Indian Fortuner.
This vehicle has a big hexagonal grille at the front that is covered with plastic.
The headlights protrude from the grille and follow the edge of the fender elegantly.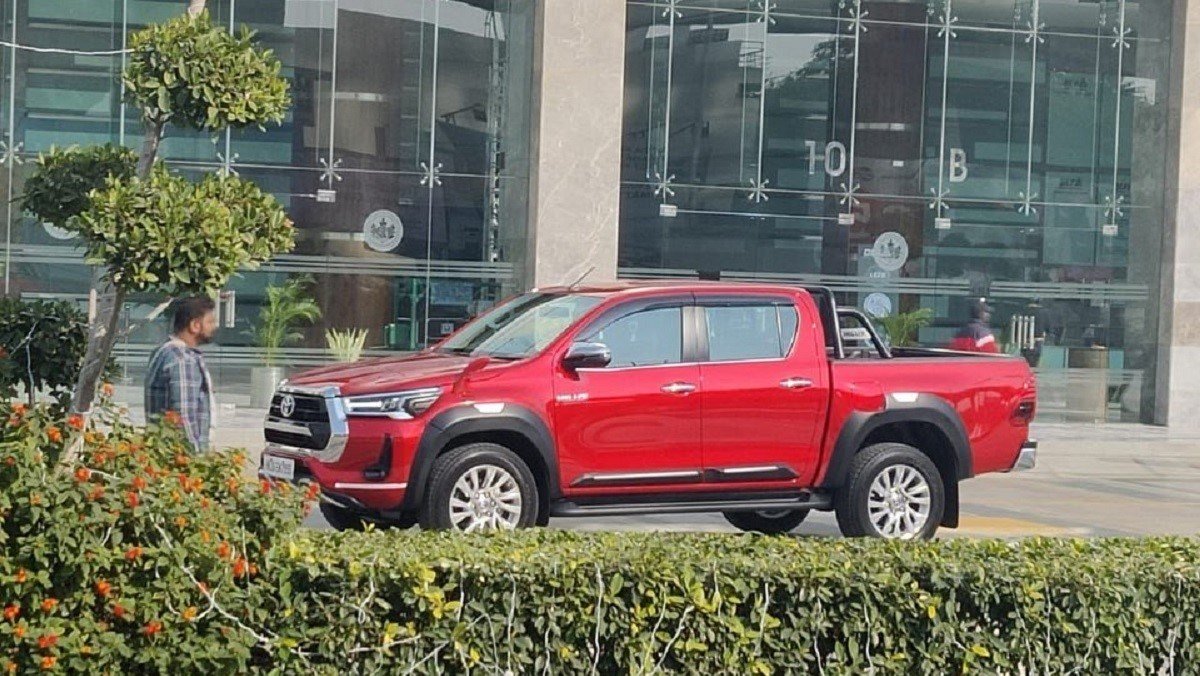 The flared wheel arches are only visible from the side. In addition, we get to see a side step. The chrome finish extends to the rearview mirrors and door handles. A body-colored fender mirror is also included. The back, like the backs of other pickup trucks, is plain, with modest taillights and a cargo bed gate.
Overall, this car's tough and off-road stuff is perfectly crammed within its round arches. It has a good approach angle and a strong ground clearance. The Fortuner and the Innova have the same basis as the Hilux.
We anticipate seeing the same 2.4L diesel engine that produces 150 horsepower or the larger 2.8L diesel engine that produces 204 horsepower. The Hilux could come in two-wheel-drive and four-wheel-drive versions. The transmission options are still unclear, as both engines have been sold in our market with either a manual or automatic transmission.
Are you excited about the bookings of Toyota Hilux? Comment down below
Also, see
Tata Nexon Long Range EV Variant To Launch In 2022
2022 Skoda Slavia To Launch By March