Volkswagen ID Buzz LWB Revealed
Volkswagen has unveiled the long-wheelbase ID Buzz, a 7-seat electric MPV it describes as a contemporary interpretation of its legendary Samba bus. The huge, rear-wheel-drive van will be the first Volkswagen to be equipped with a freshly enhanced 286hp rear electric motor, a larger 85kWh battery, and the largest panoramic glass sunroof the German automaker has ever made.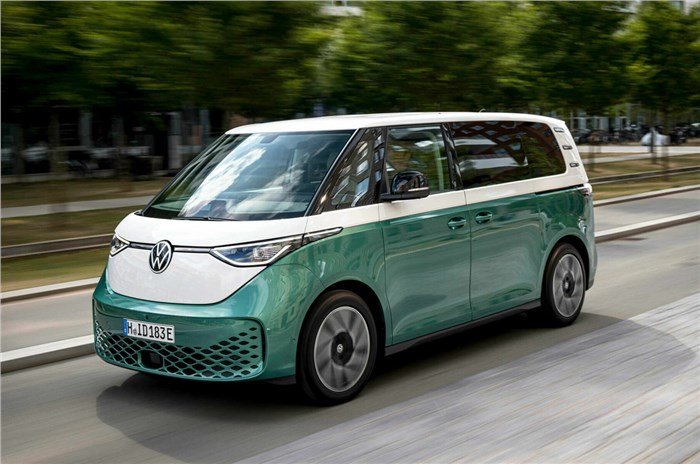 The LWB's 4,962mm length makes it 250mm longer than the conventional ID Buzz, which was introduced in 2022. This increase is made possible by extending the wheelbase by 250mm, from 2,989mm to 3,239mm. With expanded proportions and, for areas where the regulatory environment allowed, an illuminated VW emblem at the front, the Volkswagen ID Buzz LWB mimics the basic model's retro-inspired design.
Three distinct interior configurations are available for the LWB model, including a 5-seater, a 6-seater, and a 7-seater with a two-plus-three-plus-two layout. The ID Buzz's standard-wheelbase 5-seat version's 1,340 litres of nominal luggage space has been increased by 219 litres, while the 7-seat version's capacity drops to 306 litres.
The central Infotainment display in the cabin has increased in size from 10 inches to 12.9 inches. For simpler adjustment at night, the touch-sensitive sliders for the audio level and air conditioning are also illuminated. The panoramic sunroof, on the other hand, has a liquid-crystal function that can be electronically regulated to change from clear to opaque using a slider controller in the headliner.
The ID Buzz LWB will first be offered for sale as a rear-wheel-drive vehicle with a maximum torque of 286 horsepower. Volkswagen has not yet disclosed the kerb weight, but it has stated that the 0-100kph time is 7.9 seconds, and the top speed is 160kph. Customers have a choice between a 77kWh or 85kWh battery, both of which are capable of 11kW AC and 200kW DC charging. Official claims regarding energy usage or range have not yet been made.
Volkswagen predicts that the top-of-the-line ID Buzz GTX, with four-wheel drive and a large wheelbase, will have up to 360 horsepower and a 0-100kph time of 6.4 seconds by 2024. Volkswagen intends to sell the ID Buzz LWB in established markets like the US and Canada that don't accept the ID Buzz with a conventional wheelbase.
Volkswagen's first ID model in India will be the ID.4 SUV, which has been undergoing testing here for some time, rather than the ID Buzz, which is not expected to arrive in India anytime soon. Ashish Gupta, brand director at Volkswagen India, told us earlier this year that "it's a matter of when and not if" the ID 4 will come to India, despite the fact that Volkswagen's global headquarters have not yet approved its launch.
Are you excited about the Volkswagen ID Buzz LWB? Comment down below
Also, see
Mercedes Benz A Class Limousine And AMG A 45 S Facelifts Launched
Follow us on Twitter – here