VW Polo Could Be Imported In GTI Form
The VW Polo GTI hot hatch was first introduced in India in late 2016, and it's possible that the nameplate will return. Though Polo's current production in India has ended, the newer, sixth-generation Polo, which is currently on sale elsewhere, could be introduced to Indian buyers as a full import in 200hp-plus GTI form. Though VW India's brand director, Ashish Gupta, ruled out local production of the latest Polo, he did hint that the company was considering a limited-run launch of the GTI.
The fifth-generation Polo-based GTI has priced at Rs 25.99 lakh when it was launched over five years ago. The hot hatch was introduced in a three-door body style and featured a 192hp 1.8-litre TSI turbo-petrol engine with a top speed of 233kph and a claimed 0-100kph time of 7.2 seconds.
The Polo GTI, which was only available in limited quantities as a CBU (completely built-up unit), saw brisk sales after the price was slashed by a full Rs 6 lakh following a revision in tax rates with the implementation of GST in mid-2017.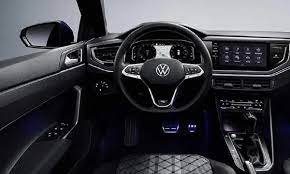 Other limited-volume, high-price imports from Volkswagen, such as the T-Roc (launched at Rs 19.99 lakh and later marked up to Rs 21.35 lakh) and Tiguan Allspace (launched at Rs 33.12 lakh), have seen success in recent years. Price, then, does not appear to be a barrier these days, particularly for brands with a high global recall value.
As a result, under the government's 2,500-unit homologation-free rule for CBU imports, Volkswagen India is considering launching the new VW Polo GTI.
Though the PQ25 platform-based fifth-generation Polo has continued to be sold in India over the years, the hatchback was upgraded to the company's modern MQB A0 architecture for global markets in 2018, with a full generation change. VW also dropped the three-door model from the Polo lineup as a result of this.
In 2021, this international-spec model received a refresh that brought its design and styling in line with that of its larger sibling, the Golf. The latest GTI version of the hatchback is powered by a 2.0-liter TSI engine with 204 horsepower and a claimed 0-100kph time of 6.5 seconds. A 7-speed DCT auto gearbox and an electronic differential still send power to the front wheels.
While the prospect of importing the new GTI is exciting, confirmation that the new VW Polo, in its more affordable standard guise, will not be manufactured in India will undoubtedly be a disappointment to the large base of Polo fans.
The market for other model types has shrunk as consumer interest shifts to SUVs, and VW has made it clear in the past that its primary focus is on its 'SUVW' strategy, which has recently seen the brand introduce the Taigun and locally assembled Tiguan SUVs.
Furthermore, government regulations have had a significant impact on the hatchback segment, according to Ashish Gupta. "The sub-4m rule is essentially putting the segment out of business. Making a business case for global products and bringing them under the sub-4m category is nearly impossible. As a result, it's a significant challenge for all manufacturers who don't have India-specific products," he explained.
The previous VW Polo slid under the 4m mark with ease, but the latest model stretches the tape to 4.053m. This will result in the model being placed in a higher tax bracket, potentially pricing it out of the segment. It's also not feasible to reduce the overall length to less than 4m. Re-engineering the bumpers, developing new production tools, and undergoing new crash test validation, all of which is a very expensive exercise, is required to shave what may appear to be a minor 5cm.
"It's almost a completely new [product] development." Then it wouldn't make sense for us, or, more importantly, for our customers," Gupta explained.
Also, see