2020 Kia Stinger Gets Midlife Design Refresh
The Kia Stinger facelift was announced later this year ahead of its launch in its South Korean home market. Kia's luxury sports sedan got a slight cosmetic makeover along with some cabin changes.
The cosmetic improvements to the Stinger are slight and if you don't notice them at first glance, you can be forgiven. The headlamps and the Tiger Nose grille are subtly modified up front, and the car in the pictures also wears a special badge on the nose instead of the Kia emblem, but it is likely to be for the Korean market only.
The new alloy wheels are the only point of difference along the sides, and the reprofiled tail-lamps at the rear. In addition, with a sportier rear diffuser and wider exhaust mufflers, higher versions of the Stinger could be available.
Kia has also rolled out new cosmetic packages for the revised Stinger 's output models – the Black Package for the US market, and the Dark Package for other markets. The packs make the car with darkened cosmetic parts to be customized. The Dark Package adds to the Stinger in gloss black finished diffuser components and wide-borne exhaust mufflers, while the Black Package adds in darkened alloys, a rear spoiler, and polished black wing mirrors and side skirts.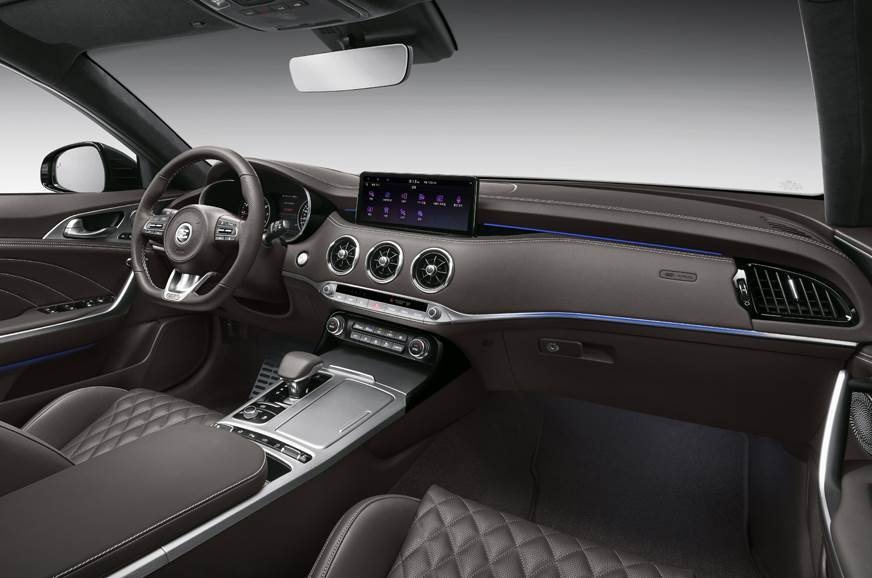 The doors open, and the cabin 's simple layout remains unchanged. The most significant improvement is the touchscreen machine with a 10.25-inch monitor that is wider. Many styling changes include updated surface finishes and a rear-view mirror that is frameless. The ambient lighting system has also been upgraded and is now providing 64 color settings. There are new choices for upholstery too.
Kia did not reveal information about the modified Stinger engines. Nevertheless, the same combination of four-cylinder diesel and petrol engines is likely to be carried forward in regular form, with the high-performance versions featuring a twin-turbo, 3.3 liters, petrol V6 engine.
Coming to the market with new models, Kia is expected to launch next month's all-new Sonet compact SUV, its third model for India. The carmaker revised the Seltos SUV earlier in the year, bringing in more gear and streamlining the line-up of models. The Carnival MPV was unveiled earlier this year too.
Are you excited about the 2020 Kia Stinger? Comment down below
Also, see
Kia Sonet Specifications Leaked-2 Petrol, 2 Diesel