2021 Ford Bronco Sport SUV revealed
Ford took the wraps off the Bronco Sport, an all-new retro-styled crossover that sits lower than the brand new Bronco. Not to be confused with the current off-roader flagship simply known as the Bronco, the Bronco Sport is a more road-focused product targeted at consumers who want the same rugged looks but with a more comfortable daily driving manner.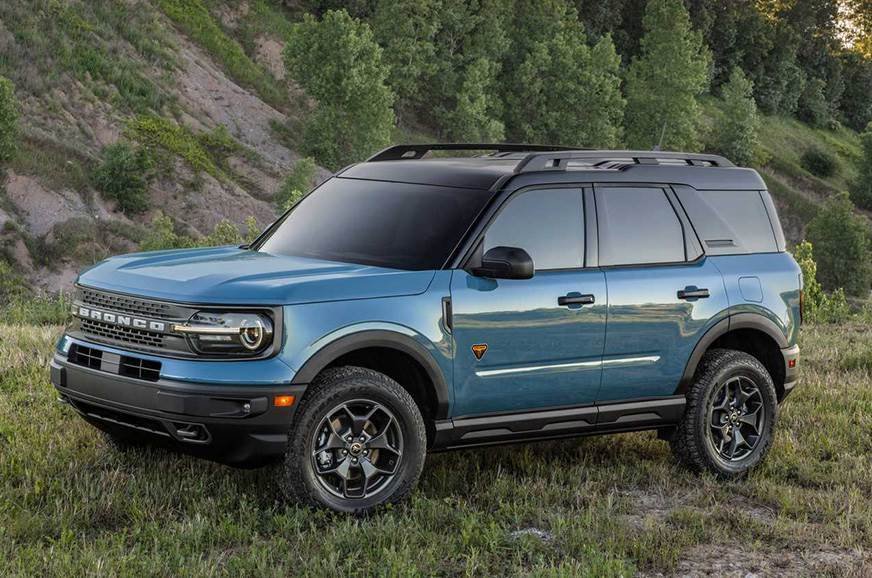 The Bronco Sport is under the larger Bronco SUV, and will only be offered as a five-door version. Although the looks are somewhat similar, the main difference is the use of a monocoque chassis instead of a body-on-frame chassis as seen in her sibling Bronco hardcore 4×4. It makes it a crossover, in essence, and in reality, the Bronco Sport shares its underpinnings with the internationally marketed Ford Escape or Kuga SUV.
The Ford Bronco Sport measures 4,386 mm in length and 2,087 mm in width and has a 2,667 mm wheelbase. Such measurements make it significantly larger than that of the Jeep Compass SUV being sold in India. Higher versions of the Bronco Sport give ground clearance of 224 mm along with an approach angle of 30.4 degrees, a starting angle of 33.1 degrees, and a break over angle of 20.4 degrees, with a water fording capability of 599 mm.
While it imitates the look of the larger Bronco, the Bronco Sport is only available in a hard-top five-door body style. It is filled with style signs from the Bronco family and prominent body cladding, with shorter overhangs than the Ford Escape, which helps clear off-road obstacles. The Bronco Sport features fender vents and stepped roof design, or as Ford calls it 'Safari style roof,' which provides more headroom for the second row and greater cargo space. At the rear, you'll find a set of vertical taillamps with prominent Bronco badges and a more realistic openable glass arrangement that was also used on the original Bronco SUV.
Featuring easy-to-reach buttons and more parts common to other Ford crossovers, the interior features more of a simple style than the blatantly retro full-size Bronco. The 2021 Ford Bronco Sport comes with an 8-inch infotainment screen, powered by infotainment system Ford SYNC3.
The 2021 Ford Bronco Sport will also come with a slide-out table which can be used as a workbench for improvisation. The SUV will also feature a washable rubber floor and a class-exclusive 400-watt inverter.
The 2021 Ford Bronco Sport comes with two engine options-starting with a 1.5-liter EcoBoost three-cylinder engine delivering 181hp. The versions of the Badlands and First Edition come with a decent 245hp 2.0-liter EcoBoost engine. Both engines come with a standard automatic 8-speed gearbox, and higher models also provide paddle shifters.
All Bronco Sport models come with a trail-ready suspension configuration, along with a terrain control system featuring up to seven GOAT driving modes including Standard, Eco, Sport, Slippery, and Sand.
The 2021 Ford Bronco Sport also provides a Trail Control system that acts as off-road cruise control and manages acceleration and braking at speeds up to 32kph forward or 10kph in reverse when enabled. The Bronco Sport can also be fitted with an optional 'off-road camera' showing a live video stream on the infotainment screen, so you can see hazards that would normally be hidden from view.
The Bronco Sport's safety features include pre-collision assistance with automatic emergency braking, forward collision warning, blind-spot monitor, rear cross-traffic alarm, lane protection, rear-view camera, and automatic high-beam headlamps. Optionally, with stop-and-go and lane-centering, evasive steering assists, and voice-activated touchscreen navigation you can add adaptive cruise control.
The most direct competitor of the 2021 Ford Bronco Sport, the Jeep Compass Trailhawk is on sale in India, but there is no news of the upcoming Ford SUV coming up here anytime soon.
Are you excited about the 2021 Ford Bronco? Comment down below
Also, see
BS6 Mahindra Mojo 300 Teased. Launch Imminent