2021 Lamborghini Sián Roadster with 808bhp Unveiled
The Lamborghini Sián Roadster was revealed, and all 19 units of the limited version of the open-top super sports car were sold already.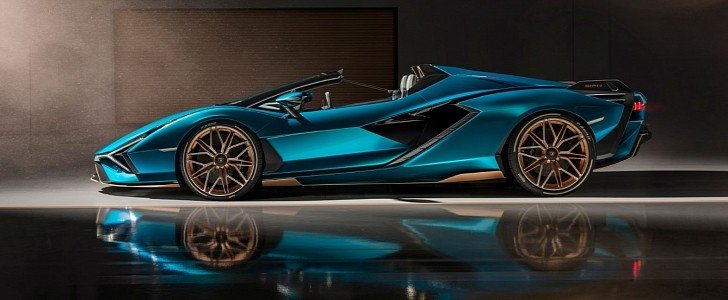 The 2021 Lamborghini Sián Roadster is design-wise influenced by the idea of the Terzo Millennio and has striking Y-shaped headlights up front, a low splitter, and a sharply raked windscreen.
Although the lateral profile is dominated by the massive air intake for the big engine, the rear of the car has six hexagonal taillights, again influenced by Countach. The rear wing is built into the body and only extends when necessary. The bold concept was inspired by the aerodynamic performance. Lamborghini says the roadster is not losing any aerodynamic performance compared to the coupe version.
There are no improvements to the inside. The air vents are printed in 3D and the Ad Personam department of Lamborghini works to personalize the car for every Sián Roadster customer.
Automobili Lamborghini's most potent road-legal model to date is also a hybrid. The 6.5-liter V12 engine produces 785 HP at 8500 RPM per unit. To achieve a total combined output of 819 HP, a 48-volt e-motor, providing 34 HP, is built into the gearbox.
The 2021 Lamborghini Sián Roadster will cover the sprint of 0-100 km / h in 2.9 seconds and hit a top speed of more than 350 km / h. It has a 2.0 kg / HP Weight Power ratio. But what is remarkable is the workings of the hybrid system. This uses a supercapacitor, mounted between the engine and the cockpit.
Lamborghini says it's three times more powerful than the same weight battery and three times lighter than the same capacity battery. During both charging and discharging cycles, the supercapacitor, and the electric motor weigh just 34 kg (combined), and output is said to be comparable. There are more interesting features on the rear, including the active cooling vanes, using special materials patented by the Italian maker.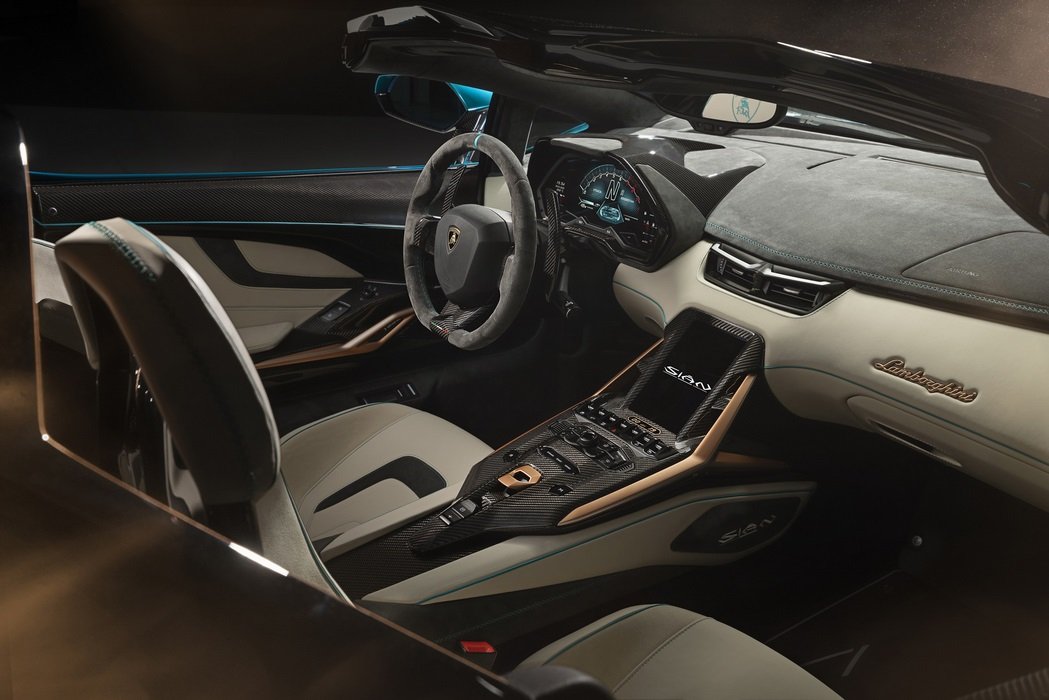 The operation of the vanes is triggered by the reaction of material elements to the exhaust system-induced temperature which causes them to rotate and provide cooling.
The Sián earned a price of $3.6 million (Rs. 27 crores). So, plan to cost the 2021 Lamborghini Sián Roadster a little more. What is to fight about though? Both 19 units of this very unusual car were already accounted for.
Are you excited about the 2021 Lamborghini Sián Roadster? Comment down below
Also, see
Toyota Corolla Cross RAV4-based, unveiled
2021 Mercedes-Benz S-class MBUX system fresh details unveiled