2022 Maserati Grecale Revealed
Maserati has unveiled its all-new Grecale SUV, following parent company Stellantis' announcement that the brand, along with Alfa Romeo, DS, and Lancia, will only produce electric vehicles starting in 2025. The 2022 Maserati Grecale has been designed to accommodate pure-combustion, hybrid, and fully electric drivetrains, giving it flexibility similar to that of its German rival, the Porsche Macan, which will receive a pure-EV version in 2023. In Maserati's SUV lineup, the Grecale is positioned below the Levante.
The Grecale's design hints at what other models in Maserati's new-era lineup will look like; it's a close match to the larger Levante, but the influence of the new MC20 is visible in its "low and imposing grille" and silhouette, which "takes on a vertical rather than a horizontal aspect."
The new boomerang-shaped taillight design – said to be inspired by the Giugiaro-designed 3200 GT sports coupe from 1998 – and a new-look exhaust round out the rear end. The performance-oriented Trofeo model is distinguished by a 34mm wider rear track than the standard Grecale GT and Modena models, as well as bespoke bumpers and chrome detailing on the front grille.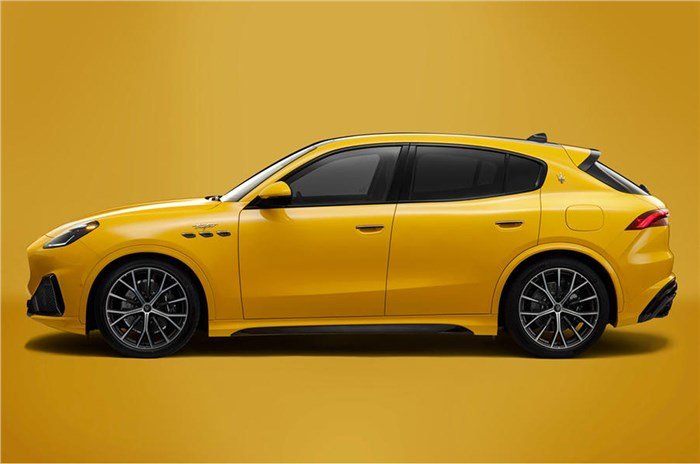 The cabin is a significant departure from previous Maserati models, owing to the use of a new four-screen setup that provides enhanced digital functionality while also allowing for a more minimalist, switchgear-light design.
The driver's display is digital by default, with a 12.3-inch central infotainment screen, an 8.8-inch climate control touchpad, and a new digital clock prominently displayed at the top of the dashboard. The bulk of the physical controls has been removed, making room for a larger central armrest and a dedicated phone charging cubby.
The GT has a more minimalist design and warm colours, whereas the Modena has bespoke embroidery, trim elements, and stitching. Exposed carbon fibre panels, perforated leather seats, and contrast stitching distinguish the Trofeo.
The 2022 Maserati Grecale will be available with three engine options from the start. The Grecale GT and Modena get two versions of a twin-turbocharged 2.0-litre mild-hybrid petrol engine, while the Trofeo gets a retuned version of the 3.0-litre 'Nettuno' V6 first seen in the MC20 supercar.
The base GT variant's 2.0-litre four-cylinder engine produces 300hp and 450Nm and is mated to a belt-integrated starter-generator (BiSG) and a 48V battery in the boot to improve the economy and provide an electrical power boost under hard acceleration.
The GT variant has a 0-100kph time of 5.6 seconds, as well as an engine note that "retains the usual characteristics of any other Trident-brand car," according to Maserati. The same engine is tuned for 330 horsepower and 450 Nm of torque in the Modena, resulting in a 0-100kph time of 5.3 seconds.
Meanwhile, the Trofeo's V6 engine produces 530hp and 620Nm, reducing the 0-100kph sprint time to just 3.8 seconds, faster than the BMW X3 M Competition.
The V6 engine uses the same pre-chamber combustion technology as the full-fat MC20 engine, which aims to improve both performance and efficiency, but has been tweaked to fit its more mainstream positioning. It has a wet rather than dry oil sump and can deactivate the right cylinder bank at a cruise for reduced consumption – this feature required a 'complete redesign' to accommodate collapsible tappets that allow the valvetrain on that side of the engine to be deactivated independently.
All engines send their reserves to both axles via an eight-speed ZF automatic transmission, with a self-locking limited-slip differential standard on the Modena and Trofeo and optional on the GT.
Along with the standard Grecale, Maserati also unveiled the all-electric Grecale Folgore, which will compete in international markets in 2023 against Porsche's upcoming Macan EV and the Audi Q6 e-tron. It will be one of six new electric Maserati models that will be available by 2025.
The 2022 Maserati Grecale Folgore's technical specifications are still being kept under wraps this far out from its launch, but Maserati claims it will have up to 800Nm of torque, which is almost as much as the Audi e-tron S. Inside and out, the Grecale Folgore will be nearly identical to the combustion car, with the exception of an exclusive Rame Folgore paint finish that changes colour depending on the angle of light and the interior's use of recycled fishing nets.
The 2022 Maserati Grecale is 4,846mm long, 1,670mm tall, 2,163mm wide, and has a 2,901mm wheelbase, making it similar in size to Alfa Romeo's similarly conceived Stelvio SUV – no surprise, given that it shares the acclaimed Giorgio underpinnings.
A new vehicle dynamic control module (VDCM) serves as "a top-ranking orchestral conductor" for all dynamic elements of the chassis, with six levels of adjustment over a 65mm height range – sitting lowest in park mode and highest in Off-road – and a new vehicle dynamic control module (VDCM) serves as "a top-ranking orchestral conductor" for all dynamic elements of the chassis. The system's predictive intervention in suspension movements varies depending on the drive mode (Comfort, GT, Sport, Race, or Off-road), according to Maserati, and provides "levels of performance and integration that could not have been achieved in the older architecture."
Dual-cast perforated brake discs with performance six-piston callipers at the front and four-pots at the rear are standard, but higher-spec cars get dual-cast perforated discs with performance six-piston callipers at the front and four-pots at the rear.
The 2022 Maserati Grecale will be joined in dealerships by the long-awaited second-generation Gran Turismo sports car – which will also be available with an electric drivetrain – as well as all-new versions of the Quattroporte and Levante, each with a full range of drivetrain options, due in the coming years.
Are you excited about the 2022 Maserati Grecale? Comment down below
Also, see