2022 Range Rover Revealed
The much-anticipated fifth-generation Range Rover luxury SUV has finally been revealed by Land Rover. Although it may not appear so at first appearance, Land Rover's flagship model has been entirely rebuilt, updated, and upgraded in every way, as well as being significantly electrified. Before its global market introduction in April of next year, the new Range Rover will make its premiere after a five-year, seven million-hour testing campaign.
This 2022 Range Rover will lead a complete makeover of Land Rover's lineup, with completely electric versions of each model available by the end of the decade. The new Range Rover's pure-electric variant, which is set to debut in 2024, will be the brand's first all-electric vehicle. The new Range Rover comes in two body styles: regular and long-wheelbase, with the latter offering seven seats for the first time. At launch, it will be offered with a variety of petrol and diesel engines, with a plug-in petrol hybrid to follow in around three months.
The Range Rover's characteristic appearance is mostly unchanged, with a rising shoulder line, low overhangs, a 'floating' roof, and a clamshell bonnet, although there are significant alterations between it and the previous model.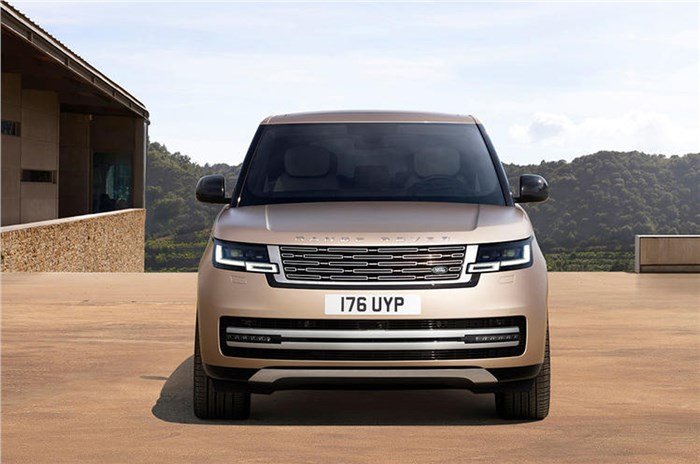 The addition of a large gloss black panel at the back, which incorporates vertical brake lights on the side and indicators in a bar across the top, both of which are invisible when not in use, is the most evident differentiation. This new setup will become a Range Rover "signature," implying that it will appear on the next-generation Evoque, Range Rover Sport, and any Velar successor in the future. Each headlight cluster has 1.2 million individual mirrors that reflect light from a rear-mounted mirror, while the taillights are supposed to feature the most powerful LEDs in existence.
The previous car's 'gill' features and grille have been changed, and the Velar's pop-out door handles give it a sharper appeal. The new Range Rover's design reflects an emphasis on greater aerodynamic efficiency, and as a result, the new car has a drag coefficient of as low as 0.30, representing a 12 per cent improvement. The new back-end architecture keeps a lot of functionality and utility. The split-folding tailgate functions normally, with the lower half folding down and the back screen lifting up.
The 2022 Range Rover's interior has also been entirely redesigned. The styling is similar to that of recent Land Rover models, but the emphasis is on luxury and extravagance.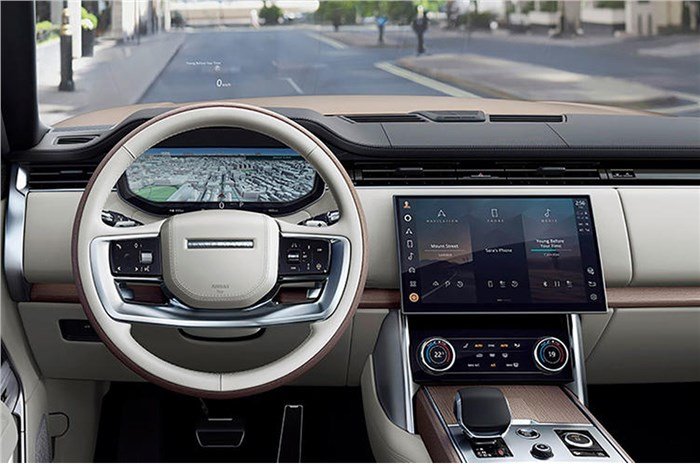 The majority of the essential controls and functions are housed on a new floating 13.1-inch infotainment screen. It is equipped with the most recent version of Land Rover's Pivi Pro operating system. It has a configurable three-tab home screen that allows you to access 90% of operations with only two presses, and haptic feedback is now standard across the board. All models come with wireless smartphone mirroring and Amazon Alexa speech recognition.
A new 13.7-inch high-definition digital instrument cluster and an improved head-up display are also included. Thankfully, the climate control has physical dials on a touch-based screen, the steering wheel is all-new, and the centre console with a stubby gear lever has a clean and simple look. Passengers can use a pair of 11.4-inch touchscreens and an 8.0-inch touch control panel in the back.
The standard model is 75mm longer than before, at 5052mm, allowing for more legroom in the back, while the long-wheelbase option adds 200mm to the space between the axles. The extended variant has more than one metre of legroom in the middle row, and Land Rover claims that even six-foot-tall adults can sit comfortably in the new third row.
The 2022 Range Roverr is the first vehicle to utilise JLR's innovative MLA 'Flex' design, which provides 50% higher torsional stiffness and 24% less structure-borne noise than the previous Range Rover, thanks to the use of mixed metals and a system of 'rings' incorporated into the body shell for optimal rigidity.
The frame is made up of 80% aluminium, with steel used extensively in important locations for better crash protection and sound dampening. Even with a full-length, standard panoramic sunroof, the increased rigidity was reached. The structure has also been intended to maximise efficiency: 'aero shields' run the length of the car's underbody to efficiently channel air towards the back, and even the rear suspension elements have their own aero-optimized covers that "provide a controlled separation of the underbody airflow."
Overall, the MLA structure is slightly heavier than its predecessor, but it allows the fifth-generation Range Rover to be supplied with both internal combustion and electric powertrains, thanks to advances in several key areas.
The Range Rover's powertrain lineup has been reshuffled: no four-cylinder alternatives are now available, the plug-in hybrids employ a whole new powertrain with much-increased performance, and the top-tier model ditches its supercharged 5.0-litre V8 in favour of a twin-turbo BMW unit.
The lineup starts with a trio of 3.0-litre Ingenium straight sixes (two petrol and three diesel), all with 48V mild-hybrid assistance and power outputs ranging from 246 horsepower in the D250 diesel to 395 horsepower in the P400 petrol.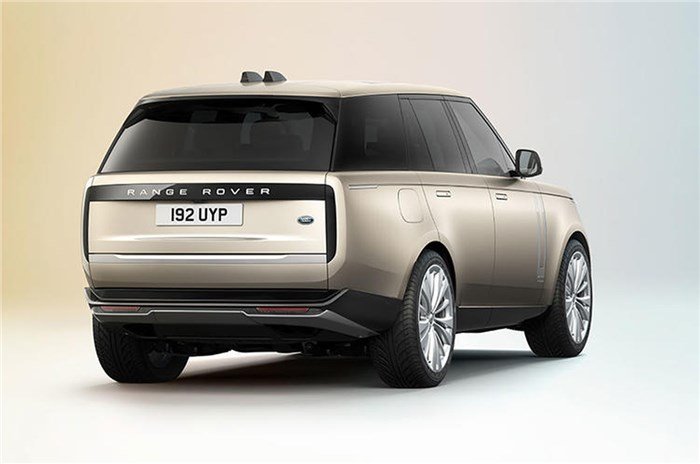 These will be joined by a petrol-electric plug-in hybrid option with a new floor-mounted 38.2kWh battery with a WLTP-certified electric range of 100km, giving the Range Rover one of the longest electric ranges of any PHEV on the market, three months after launch. According to Land Rover's study, the new 'Extended Range' PHEV variant, which is based on a six-cylinder engine for the first time, has combined outputs of 434hp and 620Nm or 503hp and 700Nm and is capable of covering 75 per cent of all travels with the engine off.
It also has a 50kW charging capacity, allowing for an 80 per cent charge in less than an hour, as well as a brake regeneration system to help top up the battery.
The performance-oriented V8, which now shares its motor with BMW's most powerful models as part of a new powertrain-sharing deal between the two companies, rounds out the lineup. The new V8 variant has 523 horsepower and 750 Nm of torque and can accelerate to 100 kph in 4.6 seconds from a standstill. All engines come with an eight-speed ZF automatic transmission with a low-range function for towing and off-road driving at low speeds.
The 2018 Range Rover's suspension and steering have been totally redesigned, and despite significant improvements in on-road refinement, Land Rover insists that its flagship is just as capable off-road.
It includes a specific Wading mode that allows it to drive through water up to 900mm deep (matching the far more durable Defender), 29 and 34.7-degree departure and approach angles, and can drive at angles up to 45 degrees. The model's 295mm ground clearance may be increased by 145mm by using the highest of the model's four suspension settings. A 48V anti-roll system with 1400Nm of torque on the Tarmac eliminates excessive body roll during severe cornering. It also comes with basic all-wheel steering.
The 2022 Range Rover features a five-link rear axle for the first time, allowing for more adjustability, as well as twin-valve Bilstein dampers with fully adjustable rebound and compression settings and the ability to react to bumps in five milliseconds. At cruising speed, the car automatically lowers by 16mm to improve aerodynamics.
Along with the ordinary Range Rover, Land Rover's in-house Special Vehicle Operations division has unveiled the top-of-the-line Range Rover SV.
The SV replaces the old car's top-of-the-line SVAutobiography specification with a choice of four or five 'executive class' seats in both normal and long-wheelbase versions. A centrally located table rises from the centre console in the back of the four-seat car and can be folded and swivelled to suit either rear passenger. The two back touchscreens have been enhanced to 13.1-inch displays as well.
The SV still has a champagne cooler in place of a central seat. The SV sports 23-inch wheels, the largest ever fitted to a Range Rover, and a 'duotone' interior with separate colours and materials for the front and rear seats.
The 2022 Range Rover will go on sale worldwide in the second quarter of 2022, and it is expected to arrive in India later that year, given that its predecessor was also available here.
Land Rover has revised and streamlined its model lineup until 2021, introducing the facelifted Discovery as well as upgraded versions of the Range Rover Velar and Range Rover Evoque.
Are you excited about the 2022 Range Rover? Comment down below
Also, see
Skoda Kamiq Rally Concept Teased