Bentley Bentayga Speed unveiled -World's Fastest SUV
The redesigned, range-topping Bentayga Speed SUV has been unveiled by Bentley. The comprehensive facelift brings the Speed model into line with the rest of the Bentayga range, featuring new styling, a refurbished interior, and efficiency-enhancing powertrain.
The Bentley Bentayga Speed is powered by a 6.0-liter, 635hp, and 900Nm W12 engine. It propels the Speed in 3.9sec from 0-100kph and on to a peak speed of 306kph-making it the fastest SUV in the world. Retaining the W12 engine means it won't be sold in markets such as the UK and Europe, with Bentley instead opting to send it to "regions where demand for 12-cylinder SUVs remains high," including the US, the Middle East, and Asia-Pacific.
While the power output remains unchanged, the argument is that new cylinder-deactivation technology would offer "major economic benefits under part-throttle cruising conditions" as well as CO2 emissions reduction. The ECU deactivates, where possible, six cylinders at a time and alternates between the two to avoid cooling down, which would make them less powerful.
Also, the SUV now offers a coasting functionality which disconnects the engine at cruising speed from the gearbox to minimize fuel consumption.
There are four driving modes available – Comfort, Sport, Custom, and Bentley – following Bentley's engineers' recommendations. Recalibrated sport mode to boost throttle response and gearshifts, which Bentley says gives "a more fluid and engaging drive."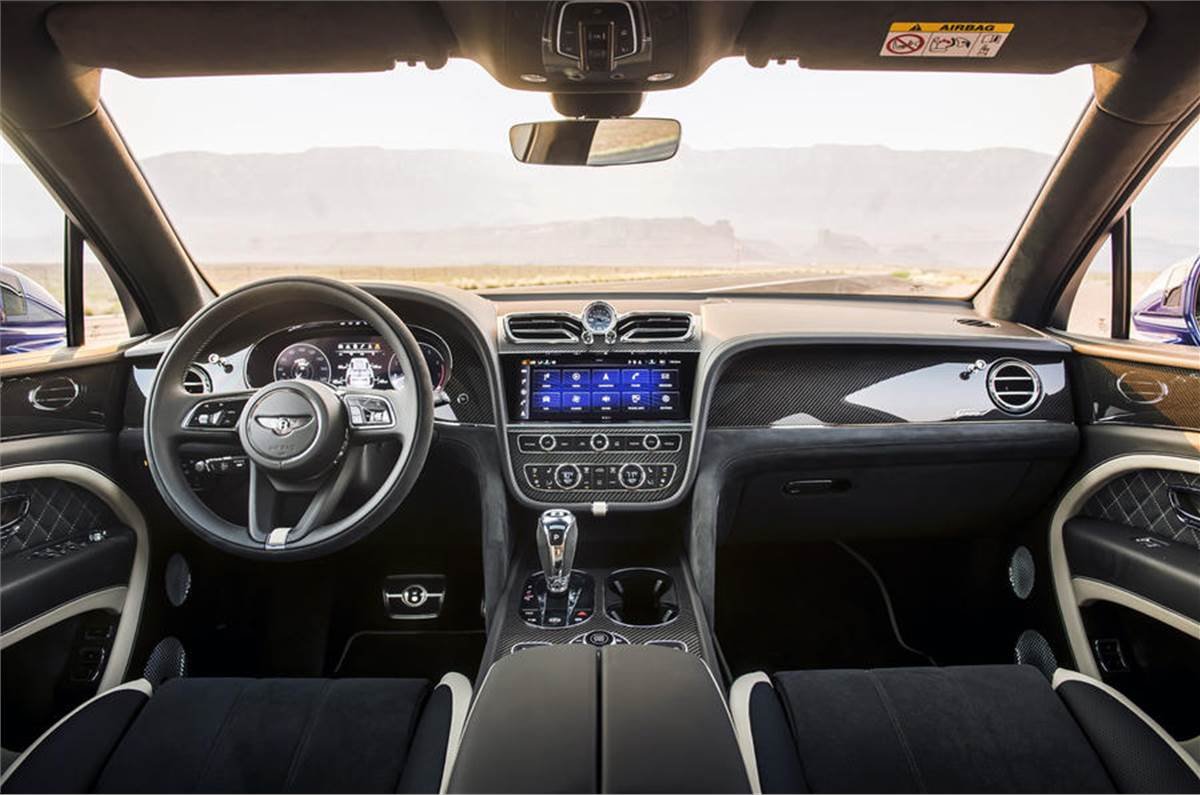 Like the Bentayga standard, Speed adopts the latest 48V electronic active roll-control system from Bentley which aims to ensure flat car corners with full contact between the tires and the ground. It operates in tandem with a recalibrated torque-vectoring system to boost responsiveness and performance on turn-in.
A collection of optional carbon-ceramic brake disks is Bentley 's largest make, offering 6,000Nm of stopping force and able to withstand temperatures up to 1,000deg C.
The styling of the Bentley Bentayga Speed was modified in line with the fresh-faced V8 Bentayga, now more clearly aligned with the Flying Spur and Continental GT with elliptical light designs, a large 'matrix' grill and clamshell top. Tinted headlights, dark interior info, a tailor-made body kit, 22-inch wheels, and a bigger spoiler than the regular car describe the Speed.
The optional styling kit for Black Specification replaces all chrome trim elements with chrome or carbon fiber pieces like the front splitter, side sills, plates, and rear diffuser. The cabin is virtually similar to the Bentayga model, but features optional Alcantara upholstery, brightly colored contrasting accents throughout, and seat scripts with 'Speed.'
The Speed elsewhere adopts a new 10.9-inch central touchscreen from the Bentayga, an upgraded infotainment system, smartphone connectivity, and a digital instrument panel. An integrated sim card ensures that drivers and passengers can access a variety of online services without having to attach a computer.
Although Bentley is expected to carry the regular facelifted Bentayga down to India, there is no official word yet about the Bentley Bentayga Speed. While, the Bentley Bentayga pre-facelift was offered in three models in India-W12, V8, and Diesel. The Bentley Bentayga Speed compare with other high-power ultra-luxury SUVs, such as the Rolls-Royce Cullinan and Range Rover SVAutobiography, in terms of rivals.
Tell us what you think about the Bentley Bentayga speed. Comment down below
Also, see
2020 Kawasaki Versys 650 Launched- Price & Specification
2020 MG Gloster Official Video Teaser Released