Genesis X Convertible Concept Unveiled
In an effort to demonstrate its dedication to environmentally friendly luxury car ownership, Genesis has unveiled an electric convertible prototype named the X Convertible. The final of Genesis' three concept cars, the four-seater convertible, shows the company's commitment to luxury, sustainability, and cutting-edge technology.
The X Convertible comes after the high-performance X Speedium concept from this April and the two-door coupe X concept from 2021.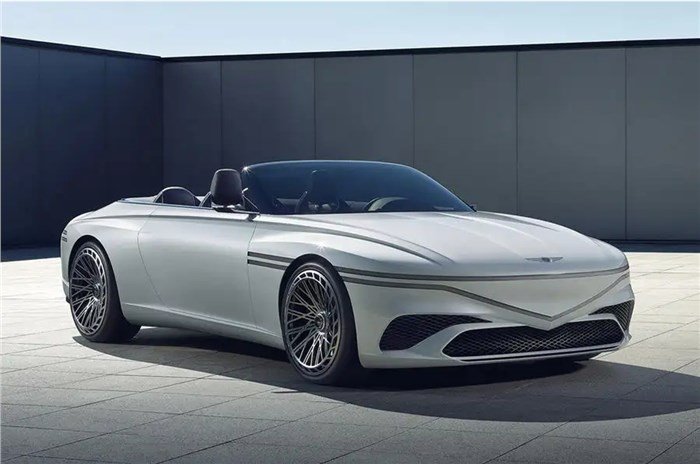 "It is the normal progression of Genesis to expand the athletic and emotional facet of our design philosophy by establishing an emotional trilogy: the X family," stated Luc Donckerwolke, chief creative officer for the Genesis X Convertible. Convertibles are the best vehicles for taking in the scenery, and electric powertrains have provided us the ideal environment for doing so.
The brand's ambition to develop vehicles with even deeper emotional resonance has been further advanced, he continued, "with the Genesis X Convertible, we have built upon the astounding success of the X Concept and X Speedium Coupe."
The Genesis X Convertible concept, according to Hyundai's premium division, represents the most recent development in its "Athletic Elegance" design language. Genesis refers to it as having a "typical 'Coke bottle' shape" from above because of its short overhangs, long hood, and long wheelbase.
The front end of the Genesis X Convertible features a distinctive quad-LED light design that was inspired by Genesis' early internal-combustion models. The tailgate is shaped like the wings and crest of the Genesis logo, and it has the same quad taillights at the back as the X Speedium Coupe and the X Concept.
The use of unique wheels with a concave aero dish has improved cooling for the brakes, and the cooling function for the powertrain and batteries has been moved lower in the front bumper.
The concept's exterior is painted a bright white colour, which Genesis claims was influenced by the white crane, which is a South Korean emblem of sanctity and grandeur.
The current concept's four individual seats are composed of wool fabric that can be recycled, continuing the brand's hints about its push for sustainability throughout the cabin. Giwa Navy and Dancheong Orange, the major colours chosen, were both inspired by traditional Korean roof construction. The centre console features a sizable wraparound digital instrument cluster.
Genesis was reportedly seeking to join the Indian market in 2019 and its initial vehicle would probably be an SUV. Although Genesis currently has two SUVs available for purchase worldwide—the GV80 and GV70—it is unknown which model will be introduced in India first.
The G80 sedan has been observed testing in India, thus a later India debut may be planned even though it is unknown if Genesis plans to introduce its sedan lineup there.
Are you excited about the Genesis X Convertible? Comment down below
Also, see
Follow us on Instagram – Here