Porsche 911 Dakar Revealed
At the Los Angeles auto show, Porsche revealed its brand-new 911 Dakar. The flagship coupé of the company, the 911, has undergone significant modifications to create the Porsche 911 Dakar, which is intended to offer a quick off-road speed with little loss of on-road performance. Porsche created the 911 Dakar as both a spiritual successor to its 911 Safari, which won the 1984 Paris-Dakar rally and as a tribute to it.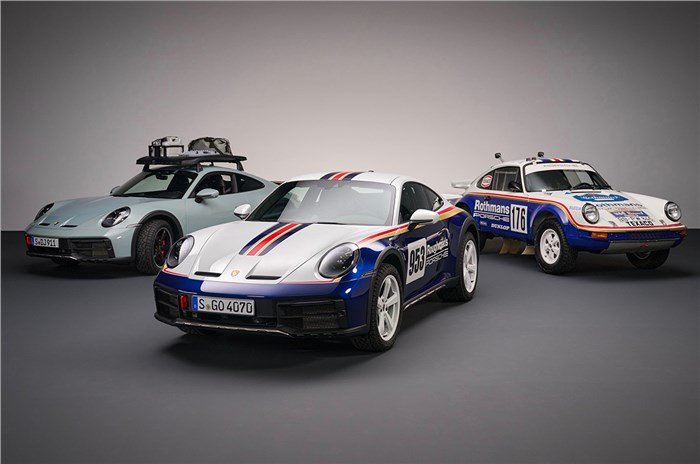 The Porsche 911 Dakar underwent a protracted development process before making its public premiere at the Nürburgring in prototype form more than two years ago. It has an unconventional exterior that is inspired by the most extreme off-road vehicles on the market. These include the front and rear red aluminium towing lugs, greatly expanded wheel arches, and front,
The optional roof rack, which has a 12V outlet for the LED lighting, the carbon fibre-reinforced plastic rear spoiler, a boot lid taken from the lightweight GT3, and other exterior features. Customers can choose the optional Rally Design Package, which adds a distinctive two-tone white-blue paint scheme with red and gold stripes and is based on the Dakar winner's well-known Rothmans livery, in addition to the exclusive Shade Green colour scheme that Porsche will offer for the 911 Dakar.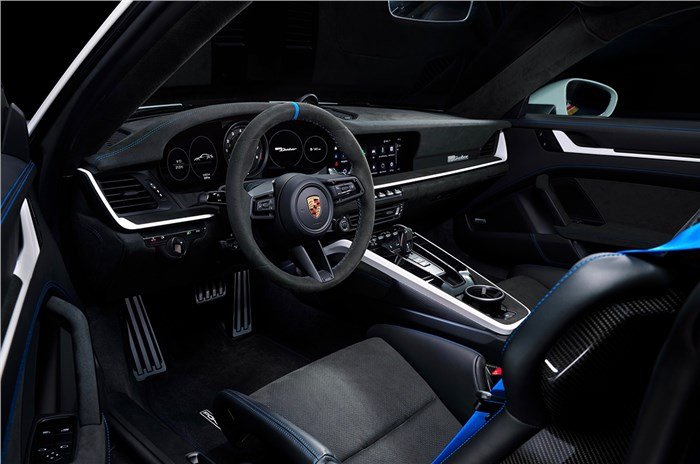 The 911 Dakar's interior features bucket seats up front, an optional roll-over bar, six-point seat belts, and a fire extinguisher. This is done to keep the car's interior lightweight.
The Porsche 911 Dakar is most closely connected to the four-wheel-drive 911 GTS and has the same 3.0-litre twin-turbo flat-six engine and 8-speed dual-clutch automatic transmission as that vehicle. As a result, the 911 Dakar can accelerate from 0 to 100 km/h in just 3.4 seconds. The 911 Dakar has undergone considerable chassis and body modifications from Porsche, setting it apart from its normal brother.
The off-road-capable sports car can be lifted by another 30mm, further enhancing ground clearance and enhancing approach and departure angles. It is 50mm higher off the ground than a 911 Carrera S. According to Porsche, the suspension is "not meant only for driving over obstacles at low speed" and can be utilised for "ambitious off-road adventures" at speeds of up to 170kph.
Additionally, the manufacturer has fitted the 911 Dakar with specially designed Pirelli Scorpion All-Terrain Plus tyres with 9mm-deep treads and incredibly durable reinforced sidewalls. Pirelli P Zero tyres will also be an option for regular on-road driving. Porsche believes that despite their off-road focus, the tyres allow for exciting on-road dynamics.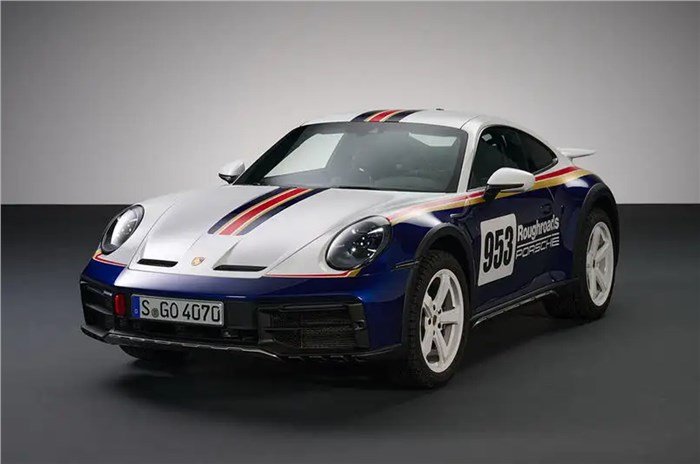 Rear-wheel steering, GT3 engine mounts, and active roll control are all included in the 911 Dakar. The vehicle also gains two new driving modes: Rally, which sets the suspension at its full height and evenly distributes power between the front and rear axles and is suited for loose, uneven roads, and Off-road. A new Rally Launch Control feature that maximises acceleration on sloping terrain is available in both modes.
In order to compete with EV SUVs like the BMW iX, Porsche is currently developing an all-electric SUV that will sit above the Cayenne. Like the third-generation Panamera, the new electric SUV will be built on the Scalable Systems Platform (SSP) of the Volkswagen Group. The business has yet to announce launch dates for pure-electric versions of the 911 sportscar and Cayenne SUV, but it plans for pure-EVs to make up 50% of its global sales in 2025 and 80% in 2030.
Are you excited about the Porsche 911 Dakar? Comment down below
Also, see
2022 Jeep Grand Cherokee Launched At A Price Of Rs 77.5 Lakh
Follow us on Instagram – Here