Skoda Vision 7S EV SUV Concept Revealed
The all-electric, seven-seat Vision 7S SUV concept from Skoda has been presented. With a 7-seat SUV based on this concept going into production by 2026, the concept previews many firsts for Skoda, including its new logo and the Modern Solid design language.
Recently hired Skoda CEO Klaus Zellmer referred to the Skoda Vision 7S EV concept as a "completely new" offering for the Czech automaker since it has a revolutionary new design language known as "Modern Solid." Strong vertical components, curving surfaces, and few cuts and creases are all characteristics of the design language. This is a change from Skoda's present designs, which feature several folds and cuts that make the cars challenging to construct and expensive.
The new Skoda vehicles' faces are another thing that's different; the new nose lacks a typical grille or framing. The lack of a formal grille in the design language was done to prepare it for the electrified or electric age, when it is not necessarily necessary to have a huge aperture in the bonnet, where an engine would have been located.
"The ribs and frame of the grille have been done away with to make the design language appropriate for the electric age," says Oliver Stefani, head of design at Skoda, in support of this.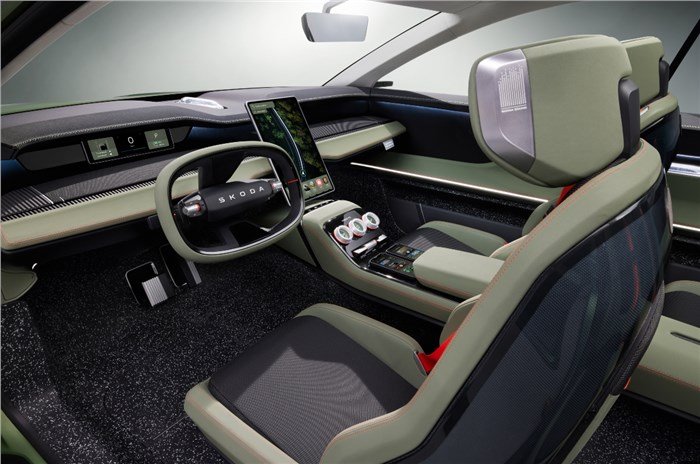 Future Skodas will also have wonderfully detailed T-shaped headlights and taillights in addition to the new "grille."
Skoda also showed off a fresh interior design, with an oval-shaped steering wheel and center boss, a button-free interior, and a large central touchscreen that can be used in either portrait or landscape orientation in the Vision 7S. The placement of the middle rear-facing kid seat in what would often be a blank area is the most intriguing aspect, though. Skoda would claim it's just shrewd.
Thanks to an 89kWh battery that can be charged at up to 200kW, the Skoda Vision 7S EV concept has a stated WLTP range of more than 600km. Before the Volkswagen Group switches to the Scalable Systems Platform (SSP) architecture in 2025, the production version of this concept will be one of the last cars to utilize the modular MEB platform. The Skoda Vision 7S EV will essentially replace the Skoda Kodiaq with an electric vehicle, and according to our sources, it may rank higher in the model lineup.
The Enyaq iV SUV was recently imported by Skoda for testing purposes, and the firm intends to debut it in India sometime next year as a completely imported model.
Are you excited about the Skoda Vision 7S EV launch? Comment down below
Also, see
Lexus Certified Programme For used Car Launched In India
Follow us ion Instagram – Here