2021 Mercedes-Benz S-class interior revealed
The next-generation Mercedes-Benz S-class (W223), which is expected to make its debut later this year, will feature a "revolutionary" interior design that will incorporate modern technologies and design features to provide unparalleled comfort levels. Mercedes has released a series of 2021 Mercedes-Benz S-class interior teaser images and provided additional details on some of the new features of 'luxury and well-being.'
Mercedes says 2021 Mercedes-Benz S-class interior has been designed to offer "a feel-good atmosphere with a lounge character" The company claims that both interior architecture and yacht construction have taken construction indications. This claims that the interior offers "a third location" which serves as a "home/workplace refuge."
There is a brand new dashboard concept, including an ergonomic interface system. The interior contains large trim elements integrated into the dash and as part of the 'First Class rear package' are provided in the rear of the vehicle. They are made of wood veneer with open-pore aluminum inlays.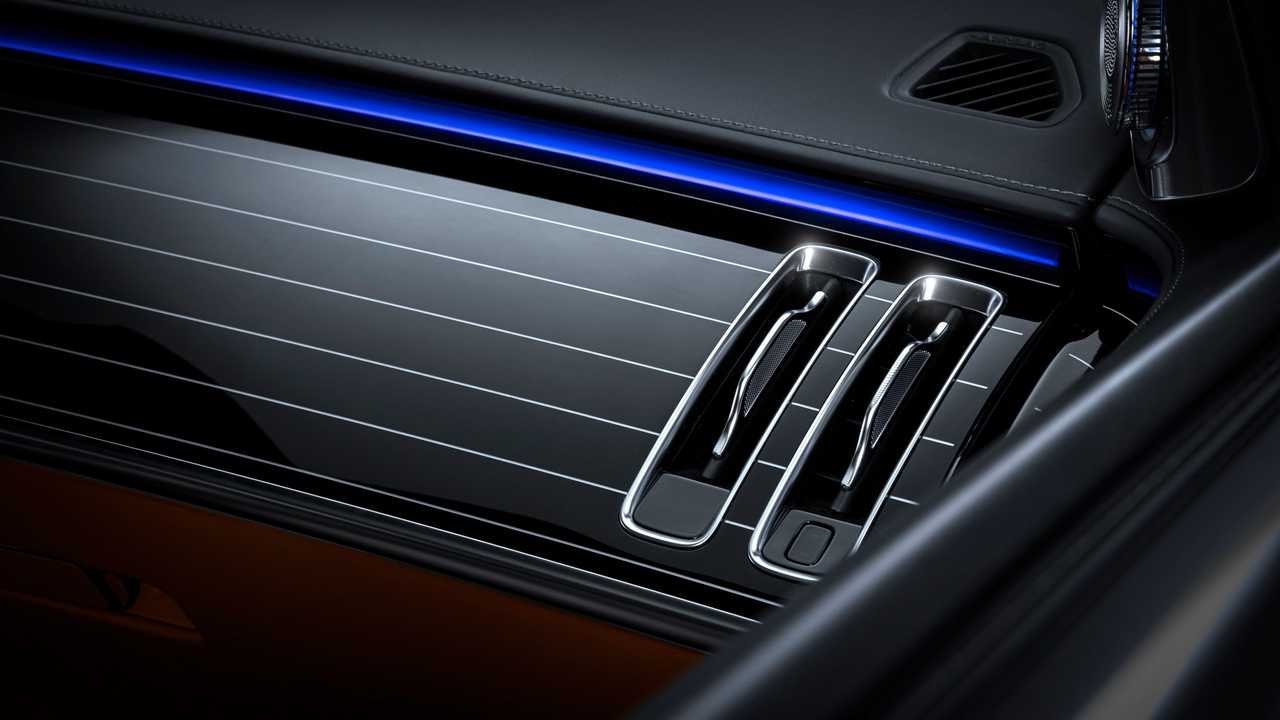 Also, Mercedes will incorporate new iterations of the 'Energizing Comfort' technologies into the vehicle. They include a new air-filtering system that filters out fine dust, pollen, and odors, and shows outdoor air quality in some markets.
Additional programs are also available which alter various interior settings, such as massaging seats. The new 'coach' feature will synchronize with fitness and wellness trackers by analyzing data on the sleep quality or stress level of an owner to recommend comfort settings for scheduled trips.
Previously, the German carmaker announced that the seventh generation of their flagship sedan would be the first to feature a new version of their Mercedes-Benz User Interface (MBUX) infotainment.
The new MBUX can be connected to the Mercedes smartphone app, enabling owners to set up and enable up to seven different profiles – desired automatic seat, radio and lighting settings – by scanning a QR code at the entry. Mercedes has also been improving the reliability of its infotainment as part of the upgrades.
As well as requiring a PIN to allow such features, a combination of fingerprint, face, and voice recognition will be used to provide access to individualized settings or digital payment process verification.
There are 27 fewer traditional buttons and switches in the new S-class compared to the current model, with a heightened focus on swiping, voice control, and hand gestures. However, certain functions can be controlled using common physical controls, such as the headlights and windscreen wipers. Augmented reality would also feature three-dimensional directional arrows projected onto the road ahead to will the driver's need to take his or her eyes off the road.
Also, rear passengers will have access to the same infotainment functions as those on the front, controlled via up to three touchscreens; each of which can be specified with OLED technology and haptic touch feedback.
It is planned that the all-new S-class (W223) will get a range of powertrain options including petrol, diesel, and hybrid. The development of the new S-class is expected to begin shortly after its world premiere in September 2020 at what Mercedes-Benz calls its "most advanced facility"-Sindelfingen's Factory 56. The company has also announced that it will begin producing the all-electric S-class variant – the Mercedes EQS – at the same facility in 2021.
Mercedes-Benz India previously confirmed its plan to launch the new-gen S-class by next year. The Mercedes-Benz S-class competes in terms of competition with the BMW 7 Series, the Audi A8, and the Jaguar XJ.
Tell us what you think about the 2021 Mercedes-Benz S-class interior. Comment down below
Also, see
2020 Mahindra Marazzo BS6 To Launch Soon – M2, M4+, and M6+ Trims